Early East Coast Snowstorm Knocks Out Power for 2.5 Million
CAMP SPRINGS, Maryland, October 30, 2011 (ENS) – Dubbed Winter Storm Alfred, a rare October storm dumped lots of wet, heavy snow over the Northeast from Rhode Island to Maine before moving north into Canada late Sunday.
About 2.5 million homes in the Northeast are without light and heat as snowfall and strong winds, combined with tree branches still full of leaves, took down wires across the region.
The small town of Plainfield, in western Massachusetts was buried under the deepest snowfall, 30.8 inches, with 26 inches in Windsor and 24 inches in Savoy.
Southern Vermont and coastal Maine received more than a foot of snow today. Storm Warnings and Hurricane Force Wind Warnings are in effect for the waters off Maine.
Widespread Frost and Freeze Warnings are in effect behind the storm extending southward to Mississippi.
West Milford, New Jersey, about 45 minutes northwest of New York City, saw 19 inches.
New York's Central Park recorded 2.9 inches of snowfall during the storm. This is the first time since records began in 1869 that an inch or more of snowfall has been recorded during the month of October. Thousands of trees in parks throughout the city have been damaged, creating an elevated and ongoing danger of falling branches and trees.
New York Governor Andrew Cuomo Saturday declared a state of emergency in 13 New York counties as heavy snow, ice, and rain crippled transportation and power delivery.
"With serious snowfall and wind sweeping through parts of New York, the state of emergency declaration will help deploy state resources to communities that have been hit the hardest by this storm," Governor Cuomo said. "We are communicating with local governments to coordinate our response efforts and we will mobilize resources as needed to areas experiencing the most severe conditions. I urge New Yorkers to have safety as their top priority and avoid driving on icy roads or during heavy snowfall."
AccuWeather.com Meteorologist Brian Edwards says temperatures are up the mid-40s and 50s Sunday for most of the region, but melting snow that re-freezes when temperatures drop at night causes black ice, Edwards warns.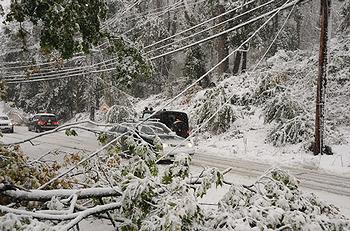 Power lines down across snowy road in New Jersey (Photo courtesy FirstEnergy)
Power and transportation have been distrupted throughout the Tri-State and New England areas since Saturday afternoon. Icy roads, downed trees and power lines are delaying the recovery process. People are reminded to stay away from downed power lines.
Amtrak is currently holding all eastbound trains that travel between New York and Boston in Penn Station, New York, due to signal issues on Metro North's New Haven Line. Several other Metro North lines are also experiencing delays or suspensions.
In New Jersey, Governor Chris Christie Saturday declared a state of emergency throughout the state. The storm conditions have resulted in over 60 incidents on roadways and 20 full road closures so far.
IN New Jersey, PSE&G reports that 324,000 of its customers were still without power at noon, Sunday. Bergen, Essex, Passaic, Union and Middlesex are the most affected counties. The company says full restoration may not be completed until Wednesday.
Power failed for about 765,000 customers of six companies – Jersey Central Power & Light, Met-Ed, Mon Power, Penelec, West Penn Power and Potomac Edison.
Before the storm began, the companies positioned linemen, dispatchers, hazard responders, damage assessors, mechanics, supervisors and call center representatives, including those from sister utilities to the west, to respond to expected outages. Power is back on for about 275,000 customers as of Sunday evening.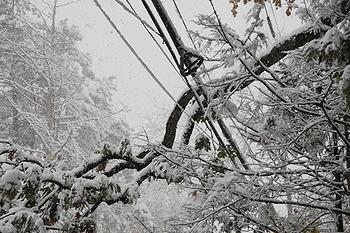 Trees fell on power lines across the Northeast (Photo courtesy FirstEnergy)
Additional staff brought in to help speed the restoration are working 24/7 to repair the damage, but the six utilities said in a joint statement, "Due to the widespread damage to electrical facilities, it could be Friday of this week before the majority of customers in the hardest-hit areas such as northern New Jersey and eastern Pennsylvania have power restored."
Customers of Jersey Central Power & Light who remain without power can pick up water and ice free of charge at multiple Kings and ShopRite locations throughout northern New Jersey as storm-restoration efforts continue.
Massachusetts Electric of National Grid says 400,000 are still without power. All available emergency, restoration and tree trimming crews are in the field along with contractors and crews from as far away as North Carolina. Western Massachusetts Electric reports 133,799 customers are affected.
Connecticut Light & Power reports 798,000 customers without power. Governor Dannel Malloy called Winter Storm Alfred "an historic storm" whose heavy, wet snow downed trees and power lines that created the largest number of power outages in the state's history, surpassing even Tropical Storm Irene two months ago."
"Never before in anyone's recollection or in history has such a storm hit the state so early," Malloy said Sunday morning. "This is the largest number of power outages that we have ever experienced."
Michael Mann, director of the Penn State Earth System Science Center, last February linked monster snowstorms with climate change, "This is what the models project," he said, "that we see more of these very large snowfalls."
Copyright Environment News Service (ENS) 2011. All rights reserved.
© 2011 – 2012, Jim Crabtree. All rights reserved.