38,000 Clean Air Act Violations in Texas Draw Lawsuit Threats
DALLAS, Texas, October 27, 2011 (ENS) – Environmental groups have notified the Energy Futures Holdings Corp. and its subsidiary, Luminant Generation Company, that they intend to sue the company for more than 38,000 alleged violations of the Clean Air Act at two Texas coal-fired power plants.
The notice filed by the public interest law firm Earthjustice targets the Monticello power plant located in Titus County.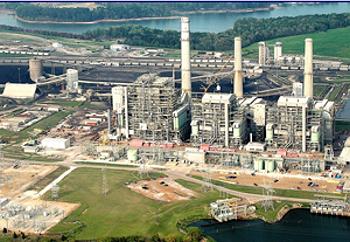 Luminant's Monticello coal-fired power plant (Photo courtesy Power)
The Environmental Integrity Project, on behalf of the Sierra Club, filed a notice targeting the Big Brown power plant located in Freestone County.
The formal notices of intent to sue filed today are a legal prerequisite to initiating a federal Clean Air Act citizen suit.
The notices provide Luminant with the allegations of wrongdoing and also provide a 60-day window for the U.S. Environmental Protection Agency to consider intervening in the suit.
In September of 2010, the groups sued Luminant for similar violations at its Martin Lake power plant in Rusk County, Texas; that case is pending.
The environmental groups seek to compel Luminant to bring its power plants into compliance with its air pollution permits.
"It's high time for Luminant to act like a good neighbor and stop dumping harmful pollution on its neighbors within the state and outside the state," said Earthjustice attorney Suma Peesapati.
Today's notices target excessive levels of particulate matter, or soot. The company monitors the opacity of its smokestack emissions in order to meet safe soot levels.
Luminant's own data shows that the Monticello power plant violated its allowed opacity limits nearly 18,000 times during the past five years.
According to company data, the Big Brown power plant violated its opacity limits over 20,000 times in the past five years and its particulate matter limits 370 times in the past three and a half years.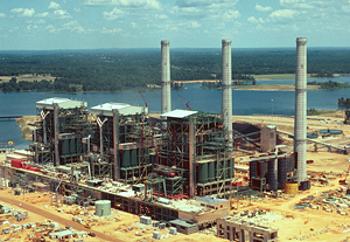 Luminant's Martin Lake coal-fired power plant (Photo courtesy TXU)
Energy Futures Holdings says that at its portfolio of energy companies: TXU Energy, Luminant and Oncor, "we have long and proud history of protecting our environment and serving our communities where we live and work."
In 2007, when TXU became Luminant through a leveraged buyout, the company promised to become a leader in environmental stewardship for Texas. However, three of Luminant's coal plants – Big Brown, Monticello, and Martin Lake – are the top three industrial polluters in Texas among nearly 2,000 industrial plants.
In total, these three power plants emit more than 25 percent of the state's industrial air pollution and more than 46 percent of the state's coal plant pollution, according to data Luminant filed in 2009 with the Texas Commission on Environmental Quality.
"Breathing excessive levels of harmful air pollution should not be a way of life for the people who live and work near Luminant's plants," said Environmental Integrity Project attorney Erin Fonken. "Luminant must be held accountable for its thousands of violations and clean up its act."
Earlier this year, Sierra Club provided Luminant with reports based on the company's own data demonstrating that Big Brown, Monticello, and Martin Lake also contributed to unsafe levels of sulfur dioxide near all three coal plants. The sulfur dioxide levels were demonstrated to be far higher than national ambient air quality standards set by the EPA.
The data showed that, in a 5-mile radius surrounding the Big Brown plant, sulfur dioxide levels can reach nearly triple what is safe to breathe.
"Luminant operates some of the dirtiest coal-fired power units in the country," said Dr. Neil Carman of the Sierra Club. "Collectively, the Monticello, Big Brown, and Martin Lake coal plants emit approximately 4,000 pounds per year of toxic mercury, over 185,000 tons per year of asthma-causing sulfur dioxide, and over 33,000 tons per year of smog-forming nitrogen oxides. Time is running out. Luminant must clean up these plants now."
Late Thursday, the Sierra Club filed a notice of intent to sue the U.S. Environmental Protections Agency if the agency fails to comply with its duty to ensure that Texas implements the Clean Air Act for the cities of Houston and Dallas-Fort Worth.
Jen Powis of the Sierra Club said, "The suit today alleges that Texas and the EPA have failed by missing 30 different deadlines regarding rules for the two largest non-attainment regions in Texas: Dallas-Fort Worth and Houston. Texas polluters do not deserve special treatment. They must follow the law just like everyone else."
For more than 20 years, the Dallas-Fort Worth and Houston-Galveston areas have consistently been in violation of national clean air safeguards for smog.
Today's notice takes aim at the failure of the Texas Commission on Environmental Quality and the EPA to propose or implement adequate State Implementation Plans, or SIPs, that would regulate more than 26 different sources of pollution, including refineries and the petrochemical industry along the Houston Ship Channel
The Sierra Club's notice also addresses four separate failures by TCEQ to propose a plan for complying with the Clean Air Act. The notice asserts that the U.S. EPA is legally required to step in to correct these failures.
Copyright Environment News Service (ENS) 2011. All rights reserved.