More Tornadoes Wreak Havoc Across Oklahoma, Kansas, Missouri
OKLAHOMA CITY, Oklahoma, March 24, 2011 (ENS) – Severe thunderstorms are exploding across Oklahoma and Kansas this evening accompanied by tornadoes and hail the size of baseballs.
Weather sirens are wailing their warnings across Oklahoma City as Oklahoma Governor Mary Fallin declared a state of emergency for 14 counties damaged by tornadoes and severe storms earlier this week.
A large tornado is reported on the ground near Hinton and is moving toward Oklahoma City. Tornadoes have been reported this afternoon in Fairview, Calumet, and El Reno, Oklahoma.
Canadian County and Oklahoma County are currently under a tornado warning, and a small twister swelled into a large tornado within minutes this afternoon near the town of Chickasha in the south central part of the state.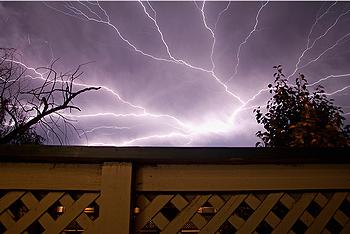 Lightning storm over Tulsa, Oklahoma, May 23, 2011 (Photo by Ashwin Ravi)
National Weather Service forecasters expect an "explosive line of showers and thunderstorms to develop across central Kansas and into Oklahoma, where the storm prediction center in Norman, Oklahoma, has issued a high risk warning said Dan Hawblitzel, a meteorologist with the National Weather Service in Kansas City.
The storm emergency extends far past the borders of Oklahoma. The National Weather Service has issued a Particularly Dangerous Situation tornado watch for an area covering parts of southern Kansas to northern Texas.
In western and southern Kansas, several supercell thunderstorms have developed with a significant threat for tornadoes, damaging winds and hail, and severe storms are approaching Wichita.
Accuweather forecasters are predicting that tonight thunderstorms will approach Joplin, Missouri, which was devastated by a tornado on Sunday that left 123 people dead, 200 people missing, and more than 400 others injured.
Hawblitzel said, "The winds will be increasing in the lower atmosphere overnight about 1 am, heading into western Missouri overnight." He warns that because the tornadoes are expected to occur at night, residents should be vigilant all night long. But the storms only grazed Joplin, without major problems.
Tornado threat map, May 24, 2011 (Map courtesy National Weather Service)
If a tornado strikes while you are in a building, the Federal Emergency Management Agency recommends, "Go to a pre-designated shelter area such as a safe room, basement, storm cellar, or the lowest building level. If there is no basement, go to the center of an interior room on the lowest level such as a closet or interior hallway away from corners, windows, doors, and outside walls.
Put as many walls as possible between you and the outside. Get under a sturdy table and use your arms to protect your head and neck. Do not open windows.
If you are in a vehicle, trailer or mobile home, FEMA says, "Get out immediately and go to the lowest floor of a sturdy, nearby building or a storm shelter. Mobile homes, even if tied down, offer little protection from tornadoes."
If you are outside with no shelter, FEMA says, "Lie flat in a nearby ditch or depression and cover your head with your hands. Be aware of the potential for flooding. Do not get under an overpass or bridge. You are safer in a low, flat location."
"Never try to outrun a tornado in urban or congested areas in a car or truck," FEMA advises. "Instead, leave the vehicle immediately for safe shelter. Watch out for flying debris. Flying debris from tornadoes causes most fatalities and injuries."
Waves of storms and tornadoes have been sweeping across the Midwest this week. Thunderstorms hit the city of St. Louis, Missouri and surrounding counties on Sunday. At its peak, 65,000 customers were without power in St. Louis, St. Charles, Franklin and Jefferson counties, and 17,250 currently customers remain without power. There are numerous reports of roof damages in Franklin County and reports of downed trees and power lines throughout the area.
Currently, severe thunderstorms with damaging winds, hail and tornadoes continue to develop across eastern Colorado. Over the next two to three hours, forecasters warn, the threat for damage with the storms will continue between I-25 and the Kansas State Line.
Copyright Environment News Service (ENS) 2011. All rights reserved.