Obama Moves Federal Fleet to Alternative Fuels, EVs
WASHINGTON, DC, May 24, 2011 (ENS) – All new light duty vehicles leased or purchased by the U.S. government must be alternatively fueled by the end of 2015, President Barack Obama directed Tuesday.
In a formal Memorandum, issued in Washington while he is on a state visit to the UK, President Obama specified that by December 31, 2015 government agencies must acquire new cars or light trucks that are hybrid or electric, or run on compressed natural gas, biofuel or fuel cells.
"The Federal Government operates the largest fleet of light duty vehicles in America. We owe a responsibility to American citizens to lead by example and contribute to meeting our national goals of reducing oil imports by one-third by 2025 and putting one million advanced vehicles on the road by 2015," President Obama says in the memo.
"Living up to that responsibility means the Federal fleet should operate only as many vehicles as needed to work efficiently, leveraging Federal purchasing dollars to build manufacturing capacity for more alternative fueled vehicles, and reducing petroleum consumption through efficiency and alternative fuels," the memo says.
In conjunction with the Memorandum, the General Services Administration, which manages Federal fleets and buildings, launched a pilot project to incorporate electric vehicles and technologies.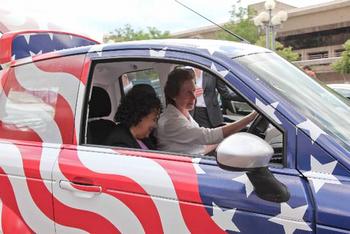 GSA Administrator Martha Johnson drives a patriotic Think City EV with Nancy Sutley, head of the White House Council on Environmental Quality, in the passenger seat. May 24, 2011 (Photo courtesy DOE)
GSA Administrator Martha Johnson said, "This electric vehicle pilot will leverage GSA's role as the government's fleet operator and landlord to successfully integrate advanced vehicles and infrastructure into the government fleet."
Johnson announced the GSA's initial purchase of more than 100 electric vehicles to be leased to 20 agencies, including the U.S. Department of Energy. They will be located in Washington, DC and Detroit, Michigan as well as in Los Angeles, San Diego, and San Francisco, California.
GSA conducted a competitive process, requesting bids from all vendors who could offer electric vehicles that meet federal Vehicle Standards and comply with statutory and regulatory requirements. Offers were evaluated for technical capability, management capability, past performance, and price.
Contracts for the initial purchase were awarded for Chevrolet, Nissan, and Think City vehicles. As the EV pilot progresses, other companies may bid to become eligible for future purchases, Johnson said at an event Tuesday in Washington that showcased new EVs.
Johnson said the GSA will coordinate with the 20 agencies to establish necessary infrastructure for recharging at the buildings receiving the first round of electric vehicles.
Last year, GSA doubled the federal hybrid fleet without increasing the total number of vehicles. The resulting improvement in fleet fuel efficiency will reduce petroleum consumption by the equivalent of an estimated 7.7 million gallons of gasoline, or 385,000 barrels of oil. "Building on the increase in fuel efficiency achieved through last year's doubling of the federal hybrid fleet is a priority for the President and GSA," Johnson said.
Driving a Think City electric car painted to resemble an American flag at Tuesday's event, Johnson made the visual point that alternatively fueled vehicles are a patriotic choice for the U.S. government.
Nancy Sutley, who chairs the White House Council on Environmental Quality, said, "As the nation's largest vehicle fleet operator, the President's fleet management directives and GSA's electric vehicle pilot will cut the federal fleet's petroleum use and support the development of domestic, clean energy technologies."
In addition to efforts to reduce the use of petroleum in its own vehicles, the Department of Energy is working with the private sector to transition commercial fleets to alternative, fuel-efficient technologies.
As part of the National Clean Fleets Partnership that President Obama launched in April, the Energy Department is helping companies to reduce diesel and gasoline use in their fleets by incorporating electric vehicles, alternative fuels, and fuel-saving measures into their daily operations.
"Diversifying our transportation fleet with hybrids, electric vehicles and other alternative fuel vehicles is a critical element in President Obama's long-term plan to break our dependence on foreign oil and invest in America's growing clean energy economy," said Energy Secretary Steven Chu.
Chu said, "The initiatives underway by the federal government and national leaders in the private sector to reduce the use of oil and gasoline in our fleets will help to spur U.S. innovation, create good jobs for American workers, and achieve President Obama's goal of reducing U.S. oil imports by one-third in a little more than a decade."
Copyright Environment News Service (ENS) 2011. All rights reserved.