Lethal Tornadoes Sweep Midwest, More Expected Today
NORMAN, Oklahoma, May 25, 2011 (ENS) – Another day of tornadoes is forecast for Wednesday as officials count the cost in lives and property of violent tornadoes packing winds of more than 150 miles per hour that swept across the central United States overnight.
The latest wave of storms and tornadoes claimed at least 13 lives in three states. The storms killed at least eight people in Oklahoma and two in Kansas before blowing east into Arkansas where three more people died. The death toll is expected to rise.
In Oklahoma, State Medical Examiner spokeswoman Cherokee Ballard told reporters the fatalities include four deaths in Canadian County, two deaths in Logan County, one death in Grady County and a child's death in hospital Wednesday morning. Reports of other deaths across the state are as yet unconfirmed, Ballard said.
At least three of the deaths in Canadian County occurred on Interstate 40 when cars were blown off the highway, authorities said.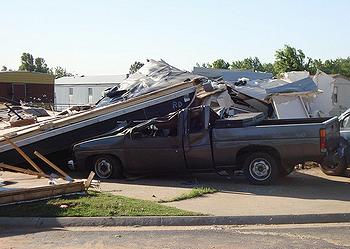 Tornado damage along Parkway Drive south of Chickasha, Oklahoma, May 25, 2011 (Photo courtesy Public Service Co. of Oklahoma)
Another 60 people across Oklahoma were injured in Tuesday's storms and tornadoes. At least 115,000 customers are without power today, utilities told the Oklahoma Department of Emergency Management.
In Stafford, Kansas, two people died Tuesday night when a tornado blew a tree onto their van while it was traveling along Highway 281.
At least one person died as a tornado destroyed the town of Denning, Arkansas, leaving many of its 270 residents homeless.
The violent storms blew up Tuesday night and early Wednesday, just days after a giant tornado ripped through the southwest Missouri city of Joplin, killing 124 people and leaving much of the city in ruins.
The May 22 Joplin tornado, with winds of 200 mph, now ranks among the 10 deadliest tornadoes on record.
Working in pouring rain, search and rescue crews have pulled at least 17 people alive from the rubble in Joplin. Officials say there is no way of knowing how many others are still buried under debris from the hundreds of homes and commercial buildings that were flattened by Sunday's twister.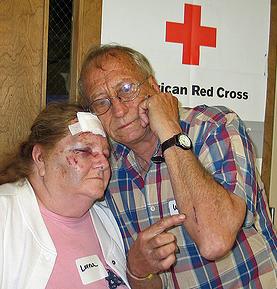 Lorna and William Whittenback lost their home to the May 22 tornado that struck Joplin, Missouri. They are staying at the Red Cross shelter there. (Photo by Allen Crabtree courtesy American Red Cross)
The most heavily populated areas and the major business and commercial areas were hardest hit as the tornado cut a path a mile wide for at least six miles.
At least 200 people are still missing and over 400 people are injured. St. John's Regional Medical Center was severely damaged and patients were evacuated to hospitals in Missouri or surrounding states. Other hospitals in the area are at maximum patient capacity and operating on emergency power. A nursing home and other healthcare centers have been destroyed.
There are three shelters open with 188 occupants as compared with a 1,000 occupant capacity. A second shelter has been opened for household pets. An estimated 14,000 customers remain without power. Interstate 44 has re-opened.
On Tuesday night, the Joplin area was again placed under a tornado warning, but the city was spared another direct hit, as the supercell moved away to the north. Still, powerful thunderstorms cracked across the city overnight.
This is the second time in three days that deadly tornadoes have struck the Midwest. Another day of tornadoes is predicted today, expected to strike populated areas of the Mississippi and Ohio valleys.
The National Weather Service Storm Prediction Center in Norman, Oklahoma warns, "Conditions are favorable for the development of long-lived rotating thunderstorms that could produce strong fast-moving tornadoes in addition to large hail and damaging wind. The storms may evolve into an extensive band this evening with an associated threat for damaging wind, hail, and isolated tornadoes spreading east across the remainder of the Ohio Valley and into parts of the Tennessee Valley later tonight."
Accuweather meteorologist Katie Storbeck says, "A swath from Arkansas and northern Mississippi into the southern portions of Illinois and Indiana will be at the highest risk for devastating tornadoes. This elevated tornado risk area includes the cities of Little Rock, Memphis, St. Louis, Louisville and Indianapolis."
If a tornado strikes while you are in a building, the Federal Emergency Management Agency recommends, "Go to a pre-designated shelter area such as a safe room, basement, storm cellar, or the lowest building level. If there is no basement, go to the center of an interior room on the lowest level such as a closet or interior hallway away from corners, windows, doors, and outside walls.
Put as many walls as possible between you and the outside. Get under a sturdy table and use your arms to protect your head and neck. Do not open windows.
If you are in a vehicle, trailer or mobile home, FEMA says, "Get out immediately and go to the lowest floor of a sturdy, nearby building or a storm shelter. Mobile homes, even if tied down, offer little protection from tornadoes."
If you are outside with no shelter, FEMA says, "Lie flat in a nearby ditch or depression and cover your head with your hands. Be aware of the potential for flooding. Do not get under an overpass or bridge. You are safer in a low, flat location."
"Never try to outrun a tornado in urban or congested areas in a car or truck," FEMA advises. "Instead, leave the vehicle immediately for safe shelter. Watch out for flying debris. Flying debris from tornadoes causes most fatalities and injuries."
Copyright Environment News Service (ENS) 2011. All rights reserved.