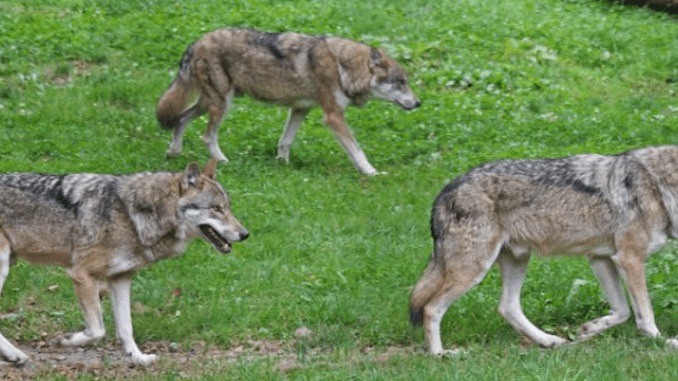 OAKLAND, California, February 10, 2022 (ENS) – Today, a federal judge in California overturned the U.S. Fish and Wildlife Service's November 2020 decision to delist wolves from the Endangered Species Act across most of the continental United States.
The Trump administration delisted the gray wolf after 45 years of protection under the Endangered Species Act despite disagreement from experts who warned that the wolf's recovery hinged on continued protections. President Joe Biden expressed personal concern for wolves, yet the Biden administration chose to defend the delisting decision.
The opinion, authored by Judge Jeffrey White of the federal district court for the Northern District of California, faulted the government for legal and scientific errors, including its failure to assess threats to wolves across their entire range.
In 2020, 1.8 million Americans submitted comments opposing delisting the wolves. Additionally, 86 members of Congress, 100 scientists, 230 businesses, Dr. Jane Goodall from the Jane Goodall Institute, and 367 veterinary professionals all submitted letters opposing the wolf delisting plan. Even the scientific peer reviews commissioned by the Fish and Wildlife Service itself found that the agency's proposal ignored science and appeared to come to a predetermined conclusion, with inadequate scientific support.
Today's decision restores federal Endangered Species Act protections for these carnivores in response to a lawsuit brought by the Humane Society of the United States and a coalition of conservation organizations.
The public interest law firm Earthjustice challenged the wolf delisting in a lawsuit on behalf of Defenders of Wildlife, Center for Biological Diversity, Sierra Club, National Parks Conservation Association, Oregon Wild, and the Humane Society of the United States in January of 2021. That lawsuit was joined by Wildearth Guardians with another coalition of conservation groups and the Natural Resources Defense Council.
"Today's ruling is a significant victory for gray wolves and for all those who value nature and the public's role in protecting these amazing creatures," said Jamie Rappaport Clark, now CEO and president at Defenders of Wildlife, formerly director of the U.S. Fish and Wildlife Service from 1997-2002.
Clark said, "Restoring federal protections means that these vitally important animals will receive the necessary support to recover and thrive in the years ahead."
The decision halts the bloody and controversial management of wolves by states like Wisconsin that have had primary authority over wolves since the delisting went into effect in January 2021. In Wisconsin during the February 2021 trophy hunting season, state-licensed hunters aided by packs of hounds slaughtered 218 wolves in under three days, exceeding the state's quota by nearly 100 animals.
Kitty Block, president and CEO of the Humane Society of the United States, said, "Today is a monumental victory for wolves who will now be protected from state-sponsored bloodbaths."
"After having yet another wolf delisting overturned in federal court, the U.S. Fish and Wildlife Service should finally learn its lesson. Instead of continuing to devise convoluted excuses to strip these beloved animals of legal protections, the agency must develop a plan for meaningful recovery across the species' range and ensure that states will not decimate their wolf populations," Block said.
After today's decision, only the Northern Rockies population of wolves remains unprotected. The USFWS is considering relisting Northern Rockies wolves, which are threatened by wolf-killing laws passed by Idaho and Montana this year.
"In a year where many wolves have been killed near national parks, today's decision provides tremendous hope for the future of these animals. Wolves are an iconic species and a key part of many national park ecosystems," said Bart Melton, Wildlife Program director with National Parks Conservation Association.
"As wolves continue to return to national park landscapes, this decision will provide protections for them for generations to come."
Featured image: Gray wolves in Nebraska (Photo courtesy Nebraska Game and Parks)
© 2022, News Editor. All rights reserved.