Los Angeles Mayor Gets Gore's Support for Carbon Reduction Surcharge
LOS ANGELES, California, March 24, 2010 (ENS) – Los Angeles residents could see their electric bills go up by between $2.50 and $3.50 a month if City Council approves Mayor Antonio Villaraigosa's proposal to impose a Carbon Reduction Surcharge.
The surcharge, proposed last week by the mayor, was approved by the Board of Water and Power Commissioners on March 18, as part of the Department of Water and Power's quarterly Energy Cost Adjustment Factor.
It is supposed to serve as a financial incentive and also as an investment tool that will incentivize stakeholders to use renewable energy, and therefore reduce Los Angeles' dependence on fossil fuels responsible for climate change.
"With the approval of this plan, we are one step closer to turning the Los Angeles Department of Water and Power into the cleanest utility in the country and Los Angeles into the greenest big city in America," said Mayor Villaraigosa.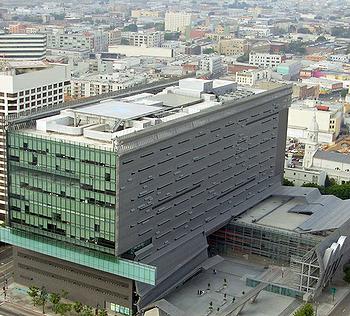 The gray side of the California Department of Transportation's District 7 headquarters building in Los Angeles is surfaced with solar cells, which supply five percent of the building's power needs. (Photo Evan G.)
"The Carbon Reduction Surcharge will allow us to invest in clean, renewable energy, create jobs, grow our green economy, become more energy efficient, reduce our reliance on fossil fuels, and help solve the climate change crisis," he said.
On Tuesday, former Vice President Al Gore endorsed the surcharge, calling it "one of the most forward-thinking clean energy plans I have ever seen."
"This innovative proposal can be the catalyst the Department of Water and Power needs to power Los Angeles' use of green energy," said Gore, who shared the 2007 Nobel Peace Prize for his advocacy of clean energy to reduce the threat of global warming. Among his many commitments, Gore heads the nonprofit organization RePower America, which works to replace fossil fuels with renewable sources of energy.
"The Carbon Reduction proposal provides a dedicated revenue stream for investing in renewable energy production," said Gore. "And this investment will lower greenhouse gas emissions while enabling the City of Los Angeles to invest locally its own green economy and stimulating job creation exactly when Los Angeles needs it most."
If approved by City Council, the surcharge would inch up quarterly over the course of a year. Once it reaches 0.7 cents per kilowatt hour, it will generate approximately $168 million a year, which would be placed into a newly created Renewable Energy and Efficiency Trust Fund.
The trust fund would be used to invest in renewable energy and energy efficiency programs.
A ratepayer advocate, housed in the Office of the Controller, would oversee the Carbon Reduction Surcharge and the Renewable Energy and Efficiency Trust Fund to ensure transparency and accountability, the mayor promised.
But City Council approval for the surcharge is by no means assured. Some councilmembers called it a tax that city residents struggling with the recession can ill afford.
Councilwoman Jan Perry, who chairs the Energy and the Environment Committee, said the Department of Water and Power should explain why it needs a surcharge when it reported a surplus of $147 million that was last week transferred to the city's emergency reserve fund.
Los Angeles voters have rejected renewable energy proposals before when they fear increased costs. Los Angeles Measure B, also known as the Green Energy and Good Jobs for Los Angeles Act or the Solar B, was a proposed city ordinance to install 400 megawatts of solar panels around the city and connect them to the city's existing electrical grid. The measure was on the March 3, 2009 ballot in Los Angeles and was narrowly defeated although Mayor Villaraigosa said it would provide jobs for LA residents and "jumpstart the green economy."
The solar panel project was estimated to add up to four percent on the average utility bill.
Copyright Environment News Service (ENS) 2010. All rights reserved.