London Activates 10 Low Carbon Zones
LONDON, England, March 24, 2010 (ENS) – Low Carbon Zones across London sprang to life this week to help residents, schools and businesses go green, save money and create job opportunities at the same time. The Mayor of London awarded each of the 10 zones a share of three million pounds to fund the program that aims to cut city's carbon dioxide emissions 20.12 percent by 2012.
In the longer term, the Low Carbon Zones will help reach the target of a 60 percent cut in carbon dioxide emissions by 2025 set by Mayor of London Boris Johnson.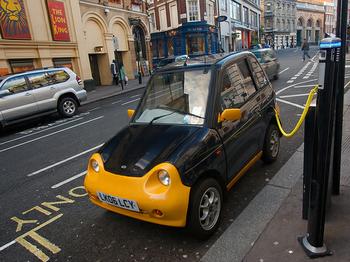 Charging an electric car in central London (Photo by Bruce Thomson)
Mayor Johnson said, "London's 10 Low Carbon Zones are now officially live, championing the latest energy busting technologies, trialing innovative ways to go green and helping people save money. Not only will this have a hugely positive impact on our environment but it is stimulating new industries to create job opportunities. Everyone in these eco-areas now has the tools to achieve top energy saving status."
Mayor Johnson announced the 10 Low Carbon Zones last September at the London Congress, a meeting of the Mayor of London and the capital's 33 boroughs at the Guildhall.
The boroughs that are creating Low Carbon Zones were selected in a competitive process by an expert panel from the Greater London Authority Group, which consists of the London police, fire and transport agencies and the London Development Agency, which provided the funding. Mayor Johnson signed off on selection of the winning boroughs.
Each of the 10 winning boroughs was awarded at least 250,000 pounds to pioneer energy efficiency measures in their low carbon zones.
The zones will showcase how London can become a low carbon city by using innovative measures to help people cut carbon dioxide emissions and by reducing the emissions of some of London's older buildings, which have been difficult to make energy efficient.
For its low carbon zone, the Barking and Dagenham council has trained local unemployed people to become qualified energy assessors, and has given residents a free grow your own starter pack to help reduce carbon emissions linked to the food they buy.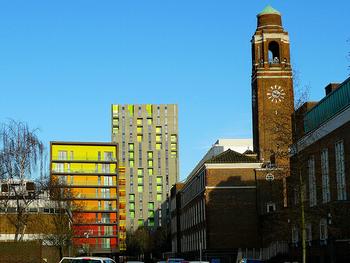 New buildings alongside the old Town Hall clocktower in Barking, London (Photo by Ewan Munro)
The first electric vehicle charging point in the Barking and Dagenham zone is now available to the public, with others in the pipeline. A low carbon loan will be launched soon by the council's credit union, to fund energy efficiency measures for residents' homes.
For its Muswell Hill Low Carbon Zone, the borough of Haringey is finalizing plans for the installation of a zero carbon, off-grid community center and energy-saving solar photovoltaic panels at three schools, at a community building and at the Muswell Hill branch of the Marks & Spencer department store.
Haringey residents have been invited to buy shares in a local social enterprise company, En10ergy, set up to enable local carbon emissions reductions projects, such as solar photovoltaic arrays on public and commercial buildings. The not-for-profit company is launching a share offer on March 28 to encourage local people to invest.
South of the river, Lambeth's zone in Brixton is holding a community event to inspire residents to support the Low Carbon Zone by giving them information on ways to reduce their carbon footprint.
Merton is arranging for residents living within the Phipps Bridge and the Cherry Tree Estate area to benefit from two years worth of energy and cash-saving initiatives.
For its zone, Richmond Council working with Oxford University and residents' associations to create a model eco-village, helping local people become more energy efficient, in part through a smart metering scheme. This will involve monitoring how much energy is used in the home and then giving an analysis as to where savings can be made. Six hundred residents will then be given energy saving devices like hot water tank jackets, and they will be supported to make changes through offers of grants and loans to make their homes more energy efficient.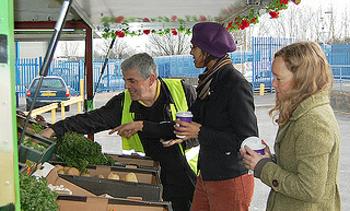 At Hackbridge Station, Sutton Council's Chris Reid, left, joins Seeta Rajani, center, and Anna Francis to check out the borough's new Veggie Van. March 18, 2010. (Photo courtesy One Planet Sutton)
In December 2008 Sutton formally committed to becoming a One Planet Borough by 2025. This means reducing CO2 emissions by 90 percent. The keystone is the Hackbridge Project, a Low Carbon Zone being promoted as the UK's first sustainable suburb. As 80 percent of the UK population live in suburbs, there is potential for mainstream rollout, borough officials say.
The Sutton Zone in Hackbridge will be launched at All Saints Community Centre later this month, when residents will have the chance to learn more and to sign up to become leaders for local Eco Teams.
As part of their project for Queen's Park, Westminster Council is working with energy suppliers to upgrade heating systems on local estates to save residents in 1,300 homes money and cut carbon emissions.
Low Carbon Lewisham Central is rolling out a program of free loft and cavity wall insulation and other energy efficiency measures for every home in the zone. Residents will be able to allocate funding for environmental improvements to reduce the carbon footprint of local businesses, improve the energy efficiency of hard-to-treat homes, and offer residents free solar panels.
Southwark's Zone in Peckham is securing private investment to help upgrade heating systems in flats to communal heating systems and provide heat metering. The zone is working with small and medium sized businesses to train local residents to advise residents about how to make their homes more energy efficient.
In the Archway Low Carbon Zone in Islington, an "energy doctor" visits residents in their homes to help with heating controls, bills and the fitting of small measures such as radiator panels. From the end of March a team of Low Carbon Zone champions will be talking to residents on their doorsteps to raise awareness of the zone and promote discounted loft insulation, with the first 50 households being offered free insulation.
Copyright Environment News Service (ENS) 2010. All rights reserved.