Klamath Water Wars Settled With Agreements to Remove Four Dams
SALEM, Oregon, February 18, 2010 (ENS) – Removal of four dams on the Klamath River and the largest river restoration project in U.S. history moved closer to accomplishment today with the signing of two agreements between federal, state, utility and tribal officials.
The four dams owned by the electric utility PacifiCorp – three in California and one in Oregon – produce enough power for 70,000 people, but they have blocked 350-mile-long salmon runs, preventing the fish from swimming upstream to spawn.
The Klamath Basin Restoration Agreement outlines activities that would restore and sustain wild salmon populations to support in-river and ocean fishing industries and provide water supply certainty to communities and water users in the Basin.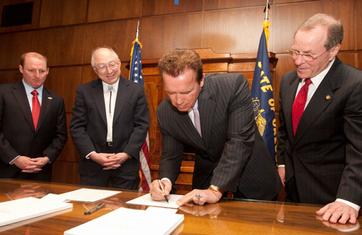 Signing the Klamath agreements, from left, PacifiCorp Chairman and CEO Greg Abel, Interior Secretary Ken Salazar, Governor Arnold Schwarzenegger and Governor Ted Kulongoski (Photo courtesy Office of Governor Schwarzenegger)
The Klamath Basin Hydroelectric Agreement sets forth the process for studies and an environmental review to inform a decision by the Secretary of the Interior on whether or not the removal of the four dams is necessary for restoration of fish in the Klamath Basin and is in the public interest.
The two agreements provide a framework for removal of the four dams beginning in 2020, provided that Congress approves.
Secretary of the Interior Ken Salazar joined Oregon Governor Ted Kulongoski, California Governor Arnold Schwarzenegger, PacifiCorp Chairman and CEO Greg Abel and the chairmen of the Klamath, Yurok and Karuk Tribes in signing the two agreements in the Capitol Rotunda in Salem.
"The Klamath River, which for years was synonymous with controversy, is now a stunning example of how cooperation and partnership can resolve difficult conflicts," said Secretary Salazar. "The agreements provide a path forward to meet the needs of local communities, tribes, farmers, fishermen and other stakeholders while restoring a beautiful river and its historic salmon runs."
"Today we celebrate a thoughtful, collaborative approach that will bring certainty and stability to water issues to support agriculture and, at the same time, will restore the Klamath River to support wild salmon populations," said Governor Kulongoski. "A restored basin will serve all Oregonians – from the basin to our coastal communities – who depend on the river and its resources for their social and economic livelihoods."
"Today's historic agreement is testament to the great things we can achieve by working together. Everyone here cares about the magnificent Klamath River and we are taking action now to preserve this natural wonder for generations to come," said Governor Schwarzenegger.
"Our top priority at PacifiCorp has been and continues to be protecting our customers in terms of cost and liability, said Abel. "This is another significant milestone toward establishing the framework that ensures our customers' best interests are front and center, no matter what the ultimate public policy decision is in terms of dam removal." PacifiCorps' parent company, MidAmerican Energy Holdings, is owned by American billionaire Warren Buffett.
"These agreements will vastly improve habitat conditions for fish by re-establishing the connectivity between physical, chemical and biological processes within the basin that are essential to ecosystem health and the sustainability of the basin's valuable natural resources," said NOAA Administrator Dr. Jane Lubchenco.
Conservation groups American Rivers and Trout Unlimited reaffirmed their "unwavering support" for the Klamath River restoration agreements. Both organizations have participated in the decade-long negotiations that resulted in the two agreements.
"The agreements to restore the Klamath are the result of years of hard work by basin farmers, fishermen, conservationists, tribes, and federal, state and local governments," said Steve Rothert, California director for American Rivers. "Our organizations count the agreements to remove four dams and restore this great river system as a major achievement."
The agreements have been criticized because dam removal is not guaranteed, but both groups say the Klamath Hydroelectric Settlement Agreement was "meticulously negotiated to provide the most expedient, science-based and practical route to dam removal."
Scientist Jack Williams with Trout Unlimited said, "We know there is some risk and uncertainty for fish restoration with these agreements; but after taking a hard look at all the provisions, we find far more risk and uncertainty with the status quo."
Trout Unlimited attorney Chuck Bonham said, "While there are scenarios under which removal would not occur, those scenarios have been minimized and address practical considerations like safety for downstream tribal and other communities."
Implementation of the Klamath Basin Restoration Agreement will cost about $1 billion over 10 years and will be financed by the federal government. More than 90 percent of the total costs will be targeted for fisheries restoration and reintroduction, and enhancing the quality and quantity of water for fish.
The Hydroelectric Agreement calls for the accumulation of a $450 million fund, $200 million of which was authorized by the Oregon State Legislature through the passage of Senate Bill 76 during the 2009 regular legislative session.
The legislation directs PacifiCorp and the Oregon Public Utility commission to work together to establish a trust that will hold funds from customers to cover the costs for dam removal. The bill also requires the Oregon Public Utilities Commission to hold a hearing to determine whether rates are fair, just, and reasonable.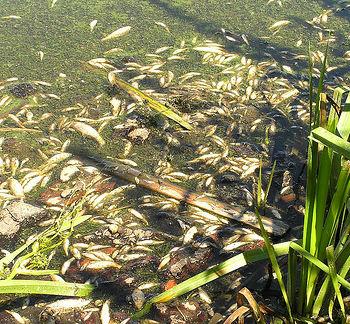 Klamath River fish kill between Klamath Falls and Midland, Oregon. July 22, 2005. (Photo by Jim McCarthy)
California's contribution to fund dam removal, the other $250 million, would come from a combination of surcharge on California ratepayers and general obligation bonds.
The Klamath River arises in southeastern Oregon and flows about 263 miles southwest through California, through the southern Cascade Mountains to empty into the Pacific Ocean.
Historically, the Klamath Basin was the third most productive salmon river system on the west coast, producing up to 1.1 million adult fish annually.
But in 1907 the newly formed Bureau of Reclamation began to dike and drain wetlands and dam rivers to develop an upper basin lake water storage system for commercial agriculture. The Bureau offered settlers free homesteads and promises of unlimited federally subsidized water.
Hydroelectric development was next. In 1917, the first dam was completed, blocking salmon passage to hundreds of miles of spawning habitat in the upper basin. By 1962 the final dam of the Klamath Hydroelectric Project, the 173-foot Iron Gate Dam, was completed with no fish passage. All runs of salmon and steelhead are now extinct above Iron Gate Dam near the Oregon-California border, now owned by PacifiCorp.
In 2001, a record drought brought the simmering fish-versus-farms water conflict to a crisis point.
When coho salmon were declared threatened in the Klamath River, flowing out of Upper Klamath Lake, a lawsuit brought by Pacific Coast Federation of Fishermen's Associations under the Endangered Species Act forced water to be shut off to hundreds of farms and ranches.
Desperate farmers surreptitiously opened water gates to irrigate their parched fields.
In 2002, the Bush administration restored water to the farms, but the river level was too low and the water too warm to support salmon and year after year thousands of fish died of disease. Toxic green algae proliferated in the Iron Gate Reservoir and in Upper Klamath Lake.
When PacifiCorp applied for a new 50-year federal operating license in 2004 and made no accommodation for fish passage, public demands for dam removal accelerated.
The governors of California and Oregon have lobbyed for dam removal nearly every year since 2006, when the collapse of West Coast commercial salmon fisheries triggered the first of three disaster declarations. Congress appropriated $170 million in 2008 and $60 million in 2006 in aid for destitute salmon fishermen.
Today, 30 representatives from all sides of the Klamath water wars gathered in the Oregon capital to sign the agreements that could restore a healthy river, return salmon to more than 350 miles of their spawning habitat, restore thousands of acres of wetlands, improve river flows and water quality, provide greater water security to the farming community, assure water supplies for the National Wildlife Refuges in the Basin, save PacifiCorp customers money, and restore part of the Klamath Tribes' homeland.
Copyright Environment News Service (ENS) 2010. All rights reserved.