United Nations Climate Chief Resigns
BONN, Germany, February 18, 2010 (ENS) – The top United Nations climate change official said today that he has made the "difficult decision" to step down.
Known to be dissatisfied with the outcome of the UN climate summite in Copenhagen in December, Yvo de Boer said he will resign his position as executive secretary of the UN Framework Convention on Climate Change as of July 1.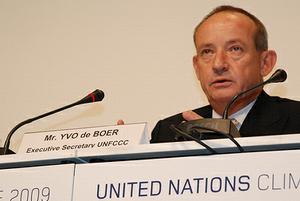 UNFCCC Executive Secretary Yvo de Boer at the UN Climate Summit in Copenhagen (Photo courtesy UNFCCC)
"Working with my colleagues at the UNFCCC Secretariat in support of the climate change negotiations has been a tremendous experience," said de Boer who has led the organization since September 2006. "It was a difficult decision to make, but I believe the time is ripe for me to take on a new challenge, working on climate and sustainability with the private sector and academia."
De Boer will be joining the Swiss consultancy group KPMG as global adviser on climate and sustainability, as well as working with a number of universities.
"I have always maintained that while governments provide the necessary policy framework, the real solutions must come from business," said de Boer. "Copenhagen did not provide us with a clear agreement in legal terms, but the political commitment and sense of direction toward a low-emissions world are overwhelming. This calls for new partnerships with the business sector and I now have the chance to help make this happen."
UN Secretary-General Ban Ki-moon said in a statement that he was informed by de Boer of his decision two days ago and respected his decision, but "with regret."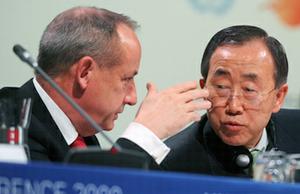 UNFCCC Executive Secretary Yvo de Boer, left, and UN Secretary-General Ban Ki-moon consult on the last full day of the Copenhagen climate summit. December 18, 2010. (Photo courtesy Earth Negotiations Bulletin)
Ban thanked the Dutch official for his "strong commitment and professional support" in climate negotiations and for guiding the UNFCCC Secretariat since taking up the post in September 2006.
"Mr. de Boer's contribution during this crucial period encompassing the negotiations in Nairobi, Bali, Poznan and in Copenhagen will be remembered, and difficult to replace," said the secretary-general, who will begin the process of recruiting his successor.
In his remaining months as UNFCCC Executive Secretary, de Boer said he aims to move negotiations ahead before the next global conference to be held in Mexico in November.
Janos Pasztor, director of Ban's Climate Change Support Team, said today that talks will be held next Monday in Bonn on the number of meetings to be held by the Conference of Parties this year ahead of the Mexico gathering.
The Nobel Peace Prize-winning Intergovernmental Panel on Climate Change, IPCC, advises that to stave off the worst effects of climate change, industrialized countries must slash emissions by 25 to 40 percent from 1990 levels by 2020, and that global emissions must be halved by 2050.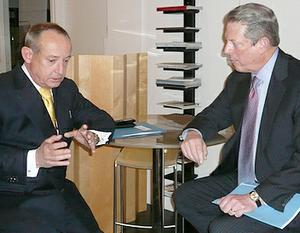 UNFCCC Executive Secretary Yvo de Boer and former U.S. Vice President Al Gore at the Copenhagen climate summit. (Photo courtesy UNFCCC)
"Countries responsible for 80 percent of energy related carbon dioxide emissions have submitted national plans and targets to address climate change," de Boer said, referring to the Copenhagen Accord which resulted from the December summit. "This underlines their commitment to meet the challenge of climate change and work towards an agreed outcome in Cancun."
But few of the national plans and targets pledged under the Copenhagen Accord meet the standards set by the IPCC. Only Norway at 40 percent and Japan at 25 percent reductions are in the IPCC's range and the pledges are purely voluntary and there are no enforcement provisions.
"Let me emphasize the importance of rapid action," Ban said. "Developing countries need to move as quickly as possible toward a future of low-emissions growth and prosperity," he emphasized, noting that millions of people in Africa and around the world are suffering from climate change's effects.
On Friday, the secretary-general launched a new high-level climate change advisory group, headed by the leaders of the United Kingdom and Ethiopia, intended to mobilize financing swiftly to help developing countries combat climate change.
There will be an even balance between developing and developed countries in the new Advisory Group on Climate Change Financing, chaired by Ethiopian Prime Minister Meles Zenawi and UK Prime Minister Gordon Brown, Ban said.
The body's other members, who will be appointed for 10 months, include President Bharrat Jagdeo of Guyana and Prime Minister Jens Stoltenberg of Norway, senior ministers and officials from central banks and experts on finance and development.
The new group is expected to issue its final recommendations before the UN climate conference in Mexico in November.
Copyright Environment News Service (ENS) 2010. All rights reserved.