Lawsuit Filed to Secure Critical Habitat for Endangered Florida Panther
FORT MYERS, Florida, February 18, 2010 (ENS) – Five conservation groups filed a lawsuit today in federal court in Fort Myers, Florida against the U.S. Fish and Wildlife Service for its failure to designate critical habitat to protect the Florida panther. Listed as an endangered species since 1967, fewer than 100 Florida panthers survive in the wild.
The Conservancy of Southwest Florida, the Sierra Club, the Center for Biological Diversity, Public Employees for Environmental Responsibility, and the Council for Civic Associations say they are suing to protect the panther's remaining habitat before it is lost due to sprawl development and climate change.
In 2009 the five groups petitioned the Service to designate critical habitat for the Florida panther under the Endangered Species Act. Critical habitat is a geographic area set aside to help an endangered species recover its population. After more than a year, on February 11, 2010 the Service told the groups that their petition was denied.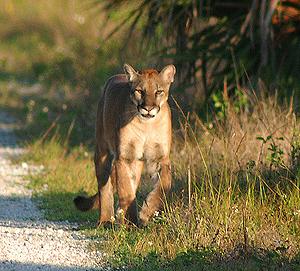 Wild Florida panther at Dinner Island Wildlife Management Area, April 2008 (Photo by Frank Shufelt)
Said Carl Pope, executive director of the Sierra Club, "We have very few areas of disagreement with the Obama administration, but the failure to designate critical habitat for the Florida panther is one of them."
Jeff Ruch, executive director of Public Employees for Environmental Responsibility, blames the policies of the Obama administration for denying the panther critical habitat petitions. "Recent actions by the Obama administration indicate that its efforts to protect endangered species will be as anemic as its predecessor," said Ruch. "The Florida panther is a prime example of the federal government ignoring the science and its own scientists due to political factors."
The petition requested designation of 4,860 square miles, roughly three million acres, in southern Florida as critical habitat.
Identification of these acres was based on a Florida Panther Recovery Plan that identified three areas needed for protection – a "primary zone" where panthers currently live and reproduce, a "secondary zone" of adjoining areas that panthers sometimes roam, and a "dispersal zone" consisting of a narrow travel corridor between developments where panthers traverse the Caloosahatchee River to reach more distant areas and potentially set up homes.
Currently, large-scale development projects are being planned in panther habitat although the big cats occupy less than five percent of their historic range within a few South Florida counties.
Since 1993, the U.S. Fish and Wildlife Service has approved every development proposal in panther habitat.
"The decision not to set aside habitat for these highly endangered cats is at odds with the law and places the Florida panther at greater risk of extinction," said Michael Robinson of the Center for Biological Diversity, who wrote the critical habitat petition on behalf of the Center, Public Employees for Environmental Responsibility, and Council of Civic Associations. "This denial will not stand."
"The Florida panther has lost 95 percent of its historic range," said Ann Hauck, president of the Council of Civic Associations. Hauck says her organization's short-term goal is to prevent development in primary panther habitat and to prevent the federal government from "piecemeal permitting" that does nothing to address the cumulative impacts of development.
"The current U.S. FWS guidelines are that unless it can be proven that a project will wipe out the entire species then the Service cannot or will not issue a Jeopardy Biological Opinion," said Hauck.
In his letter denying the petitions, Paul Souza, field supervisor for the South Florida Ecological Services Office of the U.S. Fish and Wildlife Service, wrote, "Florida panther conservation is one of our highest priorities."
Souza says the Service is taking other actions to conserve panthers such as implementing the Florida Panther Recovery Plan, conservation banking, providing road crossings for panthers, and undertaking the Picayune Strand Restoration Project.
This 55,000-acre restoration project falls within the Florida panther's Primary Zone near Fakahatchee Strand State Park, Florida Panther National Wildlife Refuge, and Big Cypress National Preserve.
"Important phases of the project including road removal and canal plugging have already begun," wrote Souza, "and a Florida panther den has already been recorded in the project footprint, which clearly would not have been possible if this area had been lost to the development that was proposed in the 1960s."
There is a split in the conservation community over the best way to protect panthers. Four other organizations reject a critical habitat designation in favor of a landscape-scale Habitat Conservation Plan.
The Audubon of Florida, the Collier County Audubon Society, Defenders of Wildlife, and the Florida Wildlife Federation told Interior Secretary Ken Salazar in a November 2009 letter that while they "generally embrace designating critical habitat" they are now working "collegially" with landowners, ranchers, government representatives, and other stakeholders to achieve "science-based protections for more than 800,000 acres of privately owned occupied habitat, starting with 182,000 acres in Collier County."
Souza said the Fish and Wildlife Service favors this other strategy under which the landowners would seek development permits from the Service.
"This effort, known as the Florida Panther Protection Program, will undergo rigorous review by the Service, as well as be subject to public evaluation and comment," wrote Souza.
"Given the scope of this concept, we have created a team of biologists across office programs to consider every aspect of the concept in detail," Souza wrote. "We agree that this model, if ultimately successful, could provide a framework for conservation and recovery efforts in other locations, particularly because of the amount of privately owned lands in the northern portion of the Florida panther's Primary Zone and Dispersal Zone, and also in South-Central Florida."
But the petitioning groups are not persuaded.
Andrew McElwaine, president of the Conservancy of Southwest Florida, said, "Florida panthers are nearly extinct. The best available science tells us that we must protect the habitat of the Florida panther to allow these magnificent cats to survive. The U.S. Fish and Wildlife Service has a responsibility to protect these animals – and their failure to do so has led to this lawsuit."
Copyright Environment News Service (ENS) 2010. All rights reserved.