Javan Rhino Declared Extinct in Vietnam
HANOI, Vietnam, October 27, 2011 (ENS) – The Javan rhinocerus has been officially declared extinct in Vietnam by conservation organizations and by Vietnamese officials at a press briefing Tuesday.
The World Wildlife Fund and the International Rhino Foundation are among organizations that funded a field survey in Vietnam and genetic analysis by Queens University, Canada, which confirmed the extinction of the Javan rhino in Vietnam.
Since the discovery of the Javan rhinoceros, Rhinoceros sondaicus annamiticus, in Vietnam in 1988, their range steadily declined due to infrastructure and agricultural development, disturbance and an expanding human population.
Just two Javan rhinos were clinging to life in Vietnam until approximately 2006; since then only one rhino survived poaching and habitat loss. That one animal was found dead in April 2010, killed by poachers for its horn.
"From the mid-1990s, a number of organizations were heavily involved in efforts to conserve the rhinos in Cat Tien National Park, but ultimately, ineffective protection – a problem in most protected areas in Vietnam – caused the species' extinction," the International Rhino Foundation said in a statement.
WWF and Cat Tien National Park conducted a comprehensive survey of the Javan rhinoceros population from October 2009 through April 2010, to determine the population status through genetic analysis of rhinoceros dung samples collected.
The survey of 10,000 hectares was conducted by two teams covering adjacent areas, each team consisted of one international ecologist/dog handler, one trained detection dog, one technical staff member of Cat Tien National Park, one Forest Protection Department ranger and one local guide.
Data from the genetic analysis of 22 dung samples collected in Cat Tien National Park from 2009-2010 confirmed that all of the samples belonged to one individual rhinoceros.
That same individual that was found dead in the park on April 29, 2010, with a bullet in its leg and the horn removed by poachers. Samples of skin and teeth were taken from the skeleton and sent to Queen's University to be included in the genetic analyses.
"Given the good survey coverage of the area, the field observations, and the genetic and bacterial diversity work, we can therefore confirm that the Vietnamese population and the annamiticus subspecies of Javan rhinoceros is extinct," states the report by WWF-Vietnam, WWF-US and Peter Van Coeverden de Groot of Queen's University.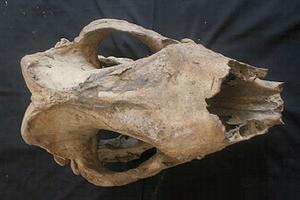 Javan rhino skull with horn removed (Photo courtesy WWF-Vietnam)
The Queen's University genetic study revealed that there were at least two rhinos alive in the park when dung samples were collected in 2003-2006.
"Habitat loss due to agricultural conversion and development is also recognised as a driving force behind the loss of this population; the habitat of the species in Vietnam has declined from 75,000 hectares when it was rediscovered in 1988, to less than 30,000ha today," the report states.
"Furthermore," the report says, "the population was restricted to only 6500ha of this habitat due to the presence of a heavily used motorbike dirt-track connecting settlements within the park, which restricted access to other parts of Cat Loc, and encroachment of agricultural land within the rhino core area."
"Vietnam must see this loss as another warning sign of its looming wave of species extinctions," said Dr. Barney Long, WWF's Asian species expert, who co-authored the report. "The single most important action that is needed to save remaining threatened species like tigers and elephants is protection."
"Reintroduction of the rhinoceros to Vietnam is not economically or practically feasible. It is gone from Vietnam forever," said Dr. Christy Williams, WWF's Asian Elephant and Rhino Program Coordinator, who also contributed to the report.
The Javan rhinoceros now numbers fewer than 44 animals, all living in Indonesia's Ujung Kulon National Park. "We believe that there are only three to five breeding females in that population," says the International Rhino Foundation.
Poaching has been prevented for more than 16 years in part by four rhino protection Units, funded by IRF and operated through IRF partner, Yayasan Badak Indonesia, the Rhino Foundation of Indonesia.
WWF also is working with local partners to save the Javan rhino population in Indonesia through anti-poaching patrols, habitat management, and protection of the rhinos' food supply.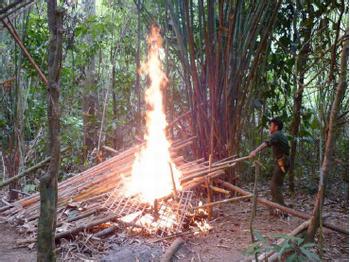 Hunting camp destroyed by survey team in Cat Tien National Park (Photo courtesy WWF-Vietnam)
"For the Javan rhino, we now have to focus entirely on one site in Indonesia where strengthened protection is needed along with fast-tracking the proposed translocation and habitat management," said Dr. Long. "You can support WWF's work to save the last Javan rhinos in Indonesia by visiting javanrhinohope.org."
These conservation groups have been working to expand the useable habitat for Javan rhinos in Ujung Kulon National Park by creating the 4,000 hectare Javan Rhino Study and Conservation Area.
The project intensifies active management in the eastern portion of the park, with the short-term objective of providing more habitat to allow the population to increase.
"We are doing this by constructing small bridges, an electric fence, and a patrol road; eradicating invasive species which have taken over a good portion of the habitat; planting rhino food plants; providing a water supply and saltlick; and constructing additional guard posts," explains the International Rhino Foundation.
The conservationists say the continued survival of the Javan rhino depends on the population increasing as rapidly as possible, and in spreading the population out so that "all the eggs are not in one basket."
The Javan Rhino Study and Conservation Area in Indonesia is expected to eventually serve as a staging ground from which translocations to a suitable, secure second site can occur.
"For the Javan rhino, we now have to focus entirely on one site in Indonesia where strengthened protection is needed along with fast-tracking the proposed translocation and habitat management," said Dr. Long. "You can support WWF's work to save the last Javan rhinos in Indonesia by visiting javanrhinohope.org."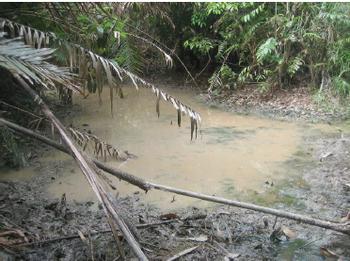 Empty wallow once used by Javan rhino in Cat Tien National Park (Photo courtesy WWF-Vietnam)
Rhino horn is traditionally used as a medicine in China and Vietnam. It is ground into a power and dissolved in boiling water to treat typhoid fever, convulsions and other disorders.
There has been a recent upsurge in demand from Vietnam for rhino horn as a rumored cure for cancer.
But representatives of the American College of Traditional Chinese Medicine and Council of Colleges of Acupuncture and Oriental Medicine said in September at a meeting in Geneva that there is no evidence that rhino horn is an effective cure for cancer. There is no scientific proof that rhino horn has any medicinal value.
Vietnam is facing an extinction crisis due to the largely uncontrolled illegal wildlife trade and rampant, ubiquitous poaching of wildlife. Current protected area management practices and conservation interventions have proved inadequate for dealing with this threat, says the WWF-Queens University report.
Poaching and habitat loss are a nationwide problem in Vietnam, as a result of poor protection and law enforcement efforts and ineffective protected area management, say WWF wildlife experts.
"The tragedy of the Vietnamese Javan rhinoceros is a sad symbol of this extinction crisis," said Nick Cox, manager of WWF's Species Programme in the Greater Mekong.
"The single most important action to conserve Vietnam's endangered species is protecting their natural habitat and deterring poaching and illegal wildlife trade," said Cox. "The report shows that these actions were inadequate to save the Javan rhino in Vietnam and this continued situation will no doubt lead to the extinction of many more species from Vietnam. Vietnam's protected areas need more rangers, better training and monitoring, and more accountability."
Copyright Environment News Service (ENS) 2011. All rights reserved.