Black Coral Jewelry Manufacturers Fined Millions for Smuggling
WASHINGTON, DC, October 26, 2011 (ENS) – For illegal trading in protected black coral, a U.S. Virgin Islands company was sentenced Wednesday to pay a $1.8 million criminal fine in federal court in St. Thomas.
GEM Manufacturing LLC, headquartered in St. Thomas, also was sentenced to pay $500,000 for projects to study and protect black coral, a precious coral that is polished to a high sheen and used in jewelry and sculptures.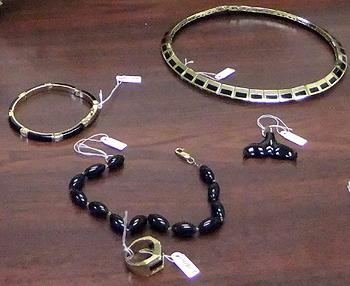 Black coral jewelry seized from GEM Manufacturing (Photo courtesy U.S. Justice Department)
GEM was ordered to forfeit dozens of jewelry pieces, 10 sculptures and nearly seven tons of raw black coral, worth more than $2.17 million.
The aggregate financial penalty of $4.47 million makes this the largest for illegal trade in coral, the U.S. Justice Department announced. It is the largest non-seafood wildlife trafficking financial penalty and the fourth largest for any U.S. case involving the illegal trade of wildlife.
"Illegal trade further threatens already fragile coral reef ecosystems. The penalties here should make it clear that the United States will not tolerate trafficking in these protected resources," said William Woody, chief of the U.S. Fish and Wildlife Service Office of Law Enforcement.
According to the U.S. Justice Department, the black coral was shipped into the United States in violation of the Endangered Species Act and the Lacey Act.
On July 15, GEM Manufacturing pleaded guilty to seven counts of violations of both laws.
The Lacey Act makes it a felony to falsely label wildlife that is intended for international commerce.
The Endangered Species Act is the U.S. domestic law that implements the Convention on International Trade in Endangered Species, CITES. Each species of black coral is subject to strict trade regulations under the U.S. law as well as under CITES.
The $1.8 million criminal fine will be divided between the Lacey Act Reward Fund and the National Oceanic and Atmospheric Administration's Asset Forfeiture Fund, accounts established by Congress to assist U.S. Fish and Wildlife Service and NOAA in the enforcement of federal conservation laws.
"Black corals are valuable resources that serve as habitat for a myriad of species in the deep sea," said Eric Schwaab, assistant administrator for NOAA's Fisheries Service. "They are slow-growing, and some species can live for hundreds to thousands of years."
"Effective enforcement and regulation of their trade in support of CITES are among our most important tools in ensuring that collection of these species is sustainable and that their survival in the wild is assured," said Schwaab.
Ronald Sharpe, U.S. Attorney for the U.S. Virgin Islands District, said, "It is critical that we do everything we can to prevent the decline and depletion of coral and other protected flora and fauna so that the environment, in this case the marine environment, may be preserved for our enjoyment and that of future generations."
In addition to the financial penalties imposed, GEM Manufacturing was sentenced to three and a half years of probation and a 10-point compliance plan that includes an auditing, tracking and inventory control program.
GEM also was banned from doing business with its former coral supplier, Peng Chia Enterprise Co. Ltd. of Taiwan and its management team of Ivan and Gloria Chu.
GEM was the entity known as "Company X" in the related case of U.S. v. Gloria and Ivan Chu.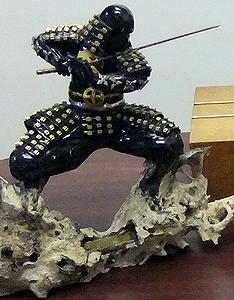 Black coral sculpture seized from GEM Manufacturing (Photo courtesy U.S. Justice Dept.)
In January 2010, federal agents arrested the Chus as part of a sting operation in Las Vegas. The Chus were indicted in 2010 for illegally providing black coral to GEM.
On June 23, 2010, Ivan Chu was sentenced to serve 30 months in prison and pay a $12,500 fine. Gloria Chu was sentenced to serve 20 months in prison and pay a $12,500 fine.
GEM manufactures high-end jewelry, art, and sculptures that contain black coral, operating through subsidiaries in Florida, Nevada, California, Hawaii, U.S. Virgin Islands, Alaska and the Cayman Islands.
Before 2010, GEM's primary black coral supplier was a Taiwanese company, Peng Chia Enterprise Co., Ltd.
Peng Chia was, at times, able to obtain CITES export permits from the Taiwanese government, but by 2007, Taiwan had increased scrutiny of the trade and insisted on proper CITES certificates of origin.
Documents filed in this case show that Peng Chia then sought other black coral sources in mainland China, routing them to GEM through Hong Kong.
Of undeterminable or legally questionable origin, none of the Hong Kong shipments had CITES certificates. Instead of being labeled "wildlife," each shipment was labeled "plastic of craft work."
The scheme was undetected for two years, until 2009 when Peng Chia sent to St. Thomas the black coral shipments on which the charges in this case were based.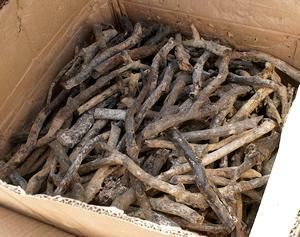 A box of raw black coral seized from GEM Manufacturing (Photo courtesy U.S. Justice Department)
In January 2009, GEM agreed to pay Peng Chia $38,965 for an order of black coral. After the funds were received in February 2009, Peng Chia sent six separate shipments of black coral through Hong Kong to GEM in St. Thomas.
The set-up began to unravel in August 2009, when Peng Chia sent to GEM a shipment of black coral labeled "plastic of craft work."
A CBP Contraband Enforcement Team flagged the shipment as suspicious and contacted the U.S. Fish and Wildlife Service in San Juan, Puerto Rico.
A search of GEM's St. Thomas facility in September turned up the falsely-labeled boxes of black coral, none of which had a CITES certificate.
Emails with Peng Chia show that a GEM company officer knew about the false labeling and lack of CITES certificates. That person has since been terminated.
Marcelino Borges, U.S. Customs and Border Protection director of field operations for the Caribbean, said, "CBP Officers and agriculture specialists in the Caribbean work hand in hand with the U.S. Fish and Wildlife Service to detect and intercept falsely-labeled and concealed wildlife from illegally entering into U.S. commerce." This cooperation was critical to the success of the GEM investigation, he said.
"This sentence sends a clear message to black coral traffickers that we and our federal law enforcement partners are in the business of preventing illegal wildlife trade," said Roberto Escobar Vargas, special agent in charge of U.S. Immigration and Customs Enforcement's Homeland Security Investigations in Puerto Rico.
In the last few decades, overharvesting, due in part to the wider availability of scuba gear, has threatened the survival of black coral. Recent seizures of illegal black coral around the world indicate that poaching is on the rise. The introduction of invasive species is another serious threat.
"We face a growing challenge to preserve the world's coral, which serves as essential habitat for marine biodiversity," said Ignacia Moreno, assistant attorney general for the Environment and Natural Resources Division at the Justice Department. "We will continue to work with our federal partners to aggressively investigate and prosecute those who violate U.S. law by illegally trading in protected species."
Copyright Environment News Service (ENS) 2011. All rights reserved.