Global Greenhouse Gas Emissions Jump to Record Levels
BONN, Germany, May 30, 2011 (ENS) – Greenhouse gas emissions from world energy generation in 2010 were the highest in history, according to the latest estimates from the International Energy Agency, released today. The burgeoning emissions push the global climate closer to the danger point for catastrophic effects – more extreme weather, rising sea levels, glacier melt, floods, drought, wildfire, species extinctions and the spread of tropical diseases.
The International Energy Agency has estimated that 80 percent of projected emissions from the power sector in 2020 are already locked in, as they will come from power plants that are currently in place or under construction today.
China's 5,000 megawatt coal-fired Guodian Beilun Power Station is the country's largest and one of the largest in the world. (Photo courtesy China Daily)
"This significant increase in CO2 emissions and the locking in of future emissions due to infrastructure investments represent a serious setback to our hopes of limiting the global rise in temperature to no more than two degrees Celsius," said Dr. Fatih Birol, chief economist at the IEA, who oversees the agency's annual World Energy Outlook.
After a dip in 2009 caused by the global financial crisis, emissions of carbon dioxide, CO2, are estimated to have climbed to a record 30.6 gigatonnes. This is five percent higher than in the previous record year 2008, when levels reached 29.3 Gt.
In terms of fuels, 44 percent of the estimated CO2 emissions in 2010 came from burning coal, 36 percent from burning oil, and 20 percent from natural gas, the new data show.
UN Climate Chief Christiana Figueres said the new figures are "a stark warning to governments to provide strong new progress this year towards global solutions to climate change."
"This is the inconvenient truth of where human generated greenhouse gas emissions are projected to go without much stronger international action now – and into the future," said the executive secretary of the United Nations Framework Convention on Climate Change, UNFCCC.
"Governments are meeting next week in Bonn to prepare for the next major international climate conference to be held in Durban at the end of the year," said Figueres. "It is clear that they need to push the world further down the right track to avoid dangerous climate change."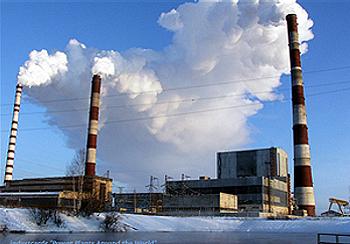 Kostroma 3,600 MW gas-fired power plant near Volgorechensk, Russia (Photo courtesy RAO UESR)
"I won't hear that this is impossible. Governments must make it possible for society, business and science to get this job done," Figueres declared.
At the UN climate change talks in Cancun in 2010, world leaders agreed a target of limiting temperature increase to two degrees Celsius over pre-industrial levels.
For this goal to be achieved, the long-term concentration of greenhouse gases in the atmosphere must be limited to around 450 parts per million of CO2-equivalent.
This is only a five percent increase compared to an estimated 430 parts per million in 2000.
The IEA's 2010 World Energy Outlook set out the 450 Scenario, an energy pathway consistent with achieving this goal, based on the emissions targets countries have agreed to reach by 2020.
For this pathway to be achieved, global energy-related emissions in 2020 must not be greater than 32 Gt.This means that over the next 10 years, emissions must rise less in total than they did between 2009 and 2010.
"Our latest estimates are another wake-up call," said Dr. Birol. "The world has edged incredibly close to the level of emissions that should not be reached until 2020 if the two degrees Celsius target is to be attained."
"Given the shrinking room for manoeuvre in 2020, unless bold and decisive decisions are made very soon, it will be extremely challenging to succeed in achieving this global goal agreed in Cancun," Dr. Birol said.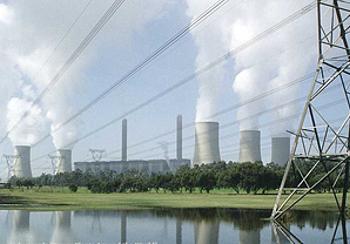 Lethabo Power Station in the Free State, South Africa burns coal. (Photo courtesy Eskom)
The challenge of improving and maintaining quality of life for people in all countries while limiting CO2 emissions has never been greater, he said.
While the IEA estimates that 40 percent of global emissions came from OECD countries in 2010, these countries only accounted for 25 percent of emissions growth compared to 2009.
Non-OECD countries, led by China and India, saw much stronger increases in emissions as their economic growth accelerated.
Yet on a per capita basis, OECD countries collectively emitted 10 tonnes, compared with 5.8 tonnes for China, and 1.5 tonnes in India.
Removing CO2 emissions from electricity generation is a key challenge that must be overcome if the rise in global temperatures is to be limited to two degrees Celsius.
A new book from the International Energy Agency released in Paris on Friday addresses some of the most important policy and technology steps needed to achieve such "decarbonization" of the electricity sector. It provides authoritative information on progress to date as well as statistics related to CO2 and the electricity sector across 10 regions of the world.
"Electricity is unique when it comes to meeting the climate change challenge. As the largest and fastest-growing source of carbon dioxide, it also holds many of the solutions to a more efficient, less carbon-intensive economy," said Bo Diczfalusy, director of sustainable energy policy and technology at the International Energy Agency.
Solutions to rising CO2 emissions can be found in:
Enhancing energy efficiency in lighting, heating and cooling, specific industrial uses and information technologies such as data centers
Powering electricity with renewable and nuclear sources of energy
Carbon capture and storage – a group of technologies used to reduce emissions from large CO2 sources such as fossil fuel or biomass power generation
Using these carbon-free options can meet 47 percent of the emissions savings required by 2035 to limit the global increase in temperature to two degrees Celsius by bringing the concentration of CO2 in the atmosphere to around 450 parts per million, according to the report.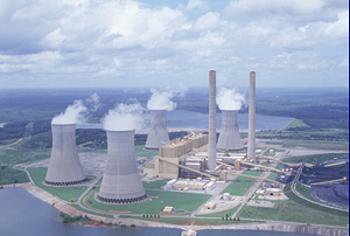 The coal-fired 3,564 MW Scherer in the state of Georgia, USA (Photo courtesy Georgia Power Co.)
The report, "Climate & Electricity Annual 2011: Data and Analyses," is the first in a new series from the International Energy Agency that addresses the role of electricity in meeting climate change goals.
The report states that total output of electricity and heat grew by 55 percent between 1990 and 2008, while the corresponding CO2 emissions that resulted from this output grew by 64.5 percent during the same period.
Renewables are the fastest growing source of electricity, the report says, but fossil fuels still dominate the global output of electricity, with coal accounting for 41 percent and natural gas ranking second with 16 percent.
"The required transformation – whether it is measured in new low-carbon generation capacity, in electricity savings on the end-use side, in the number of electric vehicles deployed, or in the hundreds of billions of dollars that must be spent to transform power generation globally – is unprecedented," Diczfalusy said.
Yet, the evolution observed in some regions indicates that progress towards decarbonization is possible, the report finds.
The International Energy Agency is an independent organization that works to ensure reliable, affordable and clean energy for its 28 member countries and beyond. Founded in response to the 1973-4 oil crisis, the IEA's initial role was to help countries coordinate a collective response to major disruptions in oil supply through the release of emergency oil stocks to the markets. While this continues to be a key aspect of its work, the agency has evolved and expanded to provide research, statistics, analysis and recommendations.
Copyright Environment News Service (ENS) 2011. All rights reserved.
© 2011 – 2012, Jim Crabtree. All rights reserved.