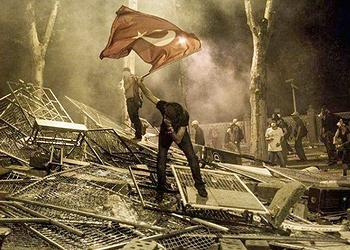 ISTANBUL, Turkey, June 2, 2013 (ENS) – What began on Friday as a peaceful environmental protest against government-backed plans to replace a park in central Istanbul with a military barracks and shopping center has touched off anti-government demonstrations across Turkey.
In Istanbul Friday, police used tear gas and water cannon to disperse a sit-in against the demolition of Taksim Gezi Park. Twelve protesters were injured and some 63 people detained during raid, according to Istanbul Governor's Office.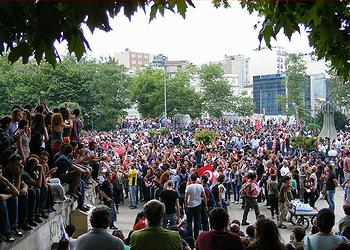 But Amnesty International, whose office is near the Taksim area of Istanbul, reports more than 1,000 injuries and at least two deaths of protesters. A number of protestors are thought to have lost their sight as a result of the use of tear gas at close range.
Tear gas was fired directly into homes and businesses that had opened their doors to fleeing protestors. Reports also state that tear gas was fired close to the entrance of Taksim Emergency Hospital, close to the scene of many protests.
Amnesty International kept its office open as a safe haven for protesters escaping police violence throughout the night with 20 doctors treating injured protestors. Other civil society organizations took similar actions.
"Excessive use of force by police officers can be routine in Turkey but the excessively heavy-handed response to the entirely peaceful protests in Taksim has been truly disgraceful. It has hugely inflamed the situation on the streets of Istanbul where scores of people have been injured," said John Dalhuisen, director of Amnesty International for Europe.
The initial protests were led by about 50 environmentalists against replacing Taksim Gezi Park with a reconstruction of the historic Taksim Military Barracks, demolished in 1940, and a shopping mall. The sit-in was intended to prevent the uprooting of trees at Taksim Square, the city's last green public space.
President Abdullah Gul on Saturday called for a halt to the confrontation in Taksim, urging "moderation."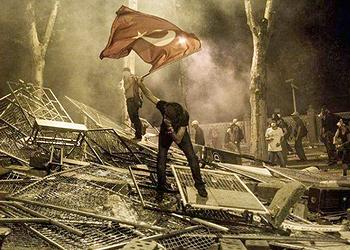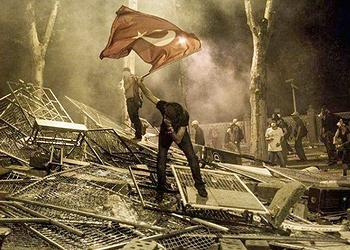 In response, Interior Minister Guler asked the police to withdraw from the park.
Thousands of demonstrators entered the park late Saturday as police lifted the barricades around the park and began to leave the area.
Many brought trash bags and cleaned the park, removing tear gas canisters, stones and glass.
On Saturday night, in Istanbul's Besiktas municipality on the European shore of the Strait of Bosphorus, roughly 5,000 protesters surrounded the office of Turkish Prime Minister Recep Tayyip Erdogan, calling him a "dictator" and demanding that he step down.
Police threw tear gas canisters. The demonstrators threw stones, injuring at least seven policemen.
Turkish Interior Minister Muammer Guler said late Saturday that a total of 939 people had been taken in custody during protests in 48 provinces across the country, including Istanbul, Ankara, Antalya, Eskisehir, Izmir and Konya. On Sunday he raised that number to more than 1,700 people arrested in the demonstrations.
An Istanbul court on Sunday ordered temporary suspension of the project planned for Taksim Gezi Park.
But anti-government protests have continued across the country with many residents supporting the protesters and expressing outrage at the police's "brutal raids."
An estimated 10,000 people flooded the park on Sunday, many waving flags, chanting "victory, victory" and calling on Erdogan's government to resign.
In speeches and television appearances Sunday Prime Minister Erdogan said repeatedly that his government would not drop plans to uproot trees at Taksim and redevelop the park. He also declared that a mosque would be built at Taksim, although it would destroy the last green space in Istanbul's city center.
"I am not going to seek the permission of a handful of looters," said the prime minister, who is a a former mayor of Istanbul. "The police were there yesterday, they are there today, and they will be there tomorrow. Taksim Square cannot be allowed to be a place where marginal groups can freely roam."
Defending his government's environmental record, Erdogan said that since taking office in 2002 his administration had planted two billion trees and built 160 parks across the country.
Thousands of people in the Turkish capital of Ankara have been gathering at Kugulu Park since Friday and peacefully demonstrated, chanting "Everywhere is resistance, everywhere is Taksim!"
Copyright Environment News Service (ENS) 2013. All rights reserved.