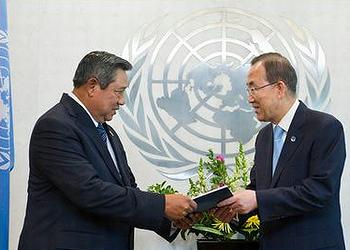 NEW YORK, New York, May 31, 2013 (ENS) – Protecting the environment must be at the core of efforts to end extreme poverty by 2030, finds a high-level panel whose 27 members include UK Prime Minister David Cameron, Indonesian President Susilo Bambang Yudhoyono, Liberian President Ellen Johnson Sirleaf and Queen Rania of Jordan.
Panel Co-chair President Yudhoyono delivered the report Thursday to UN Secretary-General Ban Ki-moon, who immediately presented it to the UN General Assembly.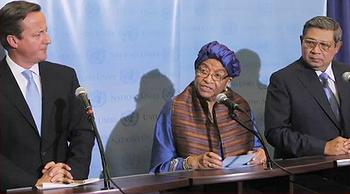 Entitled "A New Global Partnership: Eradicate Poverty and Transform Economies through Sustainable Development," the report of the High-Level Panel of Eminent Persons sets out an agenda for the period following 2015 – the target date for the Millennium Development Goals, MDGs.
The agenda aims to eradicate extreme poverty by 2030 and deliver on the promise of sustainable development.
"We are at the beginning of an historic journey," Ban said as he received a report. "The post-2015 process is a chance to usher in a new era in international development – one that will eradicate extreme poverty and lead us to a world of prosperity, sustainability, equity and dignity for all."
"Without environmental sustainability, we cannot end poverty; the poor are too deeply affected by natural
disasters and too dependent on deteriorating oceans, forests and soils," the panel wrote in its report.
The report is intended to build on the eight Millennium Development Goals agreed on by world leaders at a UN summit in 2000.
The goals set specific targets on poverty alleviation, education, gender equality, child and maternal health, environmental stability, HIV/AIDS reduction, and a Global Partnership for Development – all by a deadline of 2015.
While the Millennium Development Goals will not all be achieved by the 2015 deadline, the panel found that much progress has been made.
"The 13 years since the millennium have seen the fastest reduction in poverty in human history: there are half a billion fewer people living below an international poverty line of $1.25 a day," the panel reports. "Child death rates have fallen by more than 30%, with about three million children's lives saved each year compared to 2000. Deaths from malaria have fallen by one quarter."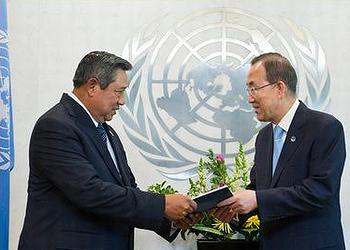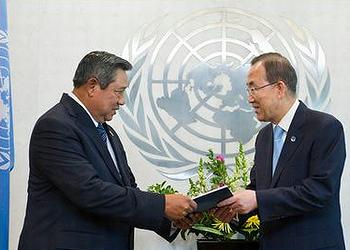 The panel wrote, "This unprecedented progress has been driven by a combination of economic growth, better policies, and the global commitment to the MDGs, which set out an inspirational rallying cry for the whole world."
Although the MDGs will not be met, the panel wrote, "Given this remarkable success, it would be a mistake to simply tear up the MDGs and start from scratch. As world leaders agreed at Rio in 2012, new goals and targets need to be grounded in respect for universal human rights, and finish the job that the MDGs started."
"We came to the conclusion that the moment is right to merge the poverty and environmental tracks guiding international development," states the report.
Proposed goals to secure food, water and energy for a growing world population should include key targets for safeguarding sustainable agriculture, fisheries, freshwater systems and energy supplies, the report says.
The secretary-general emphasized that sustainability is not just an environmental matter, but an approach that integrates the economic, social and environmental dimensions of development, as agreed last June at the second UN Conference on Sustainable Development, Rio+20.
General Assembly President Vuk Jeremić expressed hope that the panel's recommendations will serve as a wake-up call, "for we are not doing enough to meet the fundamental challenges of our time: to end extreme poverty in this generation and significantly narrow the global gap between rich and poor, without inflicting irreparable damage to the environmental basis for our survival."
"I am truly convinced that we must act now to slow the alarming pace of climate change, which poses an unprecedented threat to humanity. And we must act now to profoundly transform the ways our economies work," Jeremić said.
The United States was represented on the panel by John Podesta, chair of the progressive Center for American Progress and the Center for American Progress Action Fund. Before founding the Center in 2003, Podesta served as White House chief of staff to President Bill Clinton.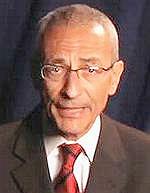 "Since the Millenium Declaration, more than 600 million people have moved out of extreme poverty around the world. That's a tremendous achievement and was made possible in no small part by the Millenium agenda, Podesta said Thursday in a video commenting on the report.
"The MDGs have fallen short in some areas, but we can take important lessons from the places where we fell short as well as where we achieved ambitious goals," he said.
"We know now that sustainable economic growth requires more than just increasing GDP," Podesta said. "It requires developing sustainable systems of and production and consumption to manage our natural resources and safeguard our ecosystems."
"We know now that we must react to global climate change with urgency and purpose, working to curb greenhouse gas emissions while also helping countries build resilience to climate and extreme weather shocks and environmental degradation," he said.
"Most seriously," the panel wrote in its report, "the MDGs fell short by not integrating the economic, social, and environmental aspects of sustainable development as envisaged in the Millennium Declaration, and by not addressing the need to promote sustainable patterns of
consumption and production. The result was that environment and development were never properly brought together."
The panel began its work in September and has held consultations with more than 5,000 civil society groups from 121 countries across every region of the world.
Panel members spoke to experts from multilateral organizations, national governments, local authorities and the academic and scientific communities, as well as 250 companies from the private sector.
Farooq Ullah, executive director of Stakeholder Forum for a Sustainable Future, said his UK-based group supports "the Panel's call to integrate the development and environment agendas in order to design a new, sustainable pathway for humanity that is fair, equitable and exists within planetary boundaries, while also acknowledging the needs and rights of future generations."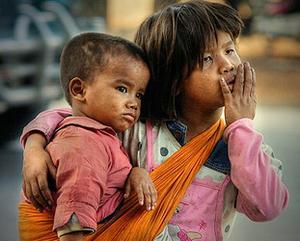 "The Panel's recommendations are a key element of a larger process," said Ullah. "The real challenge will be for the governments of the world to build on this report and agree on an even more sustainable and ambitious universal plan to eradicate poverty, dramatically improve well-being for all, minimize inequalities and find a way for nine billion people to live within Earth's environmental limits."
Jim Leape, director general of the global conservation group WWF International, said, "The Millennium Development Goals were a first global attempt to address poverty and other development challenges but protection of the environment was barely acknowledged and hardly addressed."
"Nearly 15 years on, there is finally recognition that poverty cannot be eradicated and the well-being of people across the globe cannot be secured without addressing the grave pressures on the environment and the natural systems that support human life on this planet," Leape said.
Leape said the report has the potential to influence over US$25 trillion of development spending and marks a clear break from the practice of treating development and sustainability as separate topics.
Secretary-General Ban, who established the High-Level Panel in July 2012, will draw on the recommendations of its report for his own report to the UN General Assembly in September.
Copyright Environment News Service (ENS) 2013. All rights reserved.