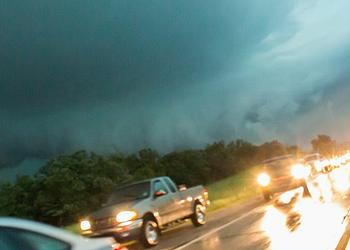 OKLAHOMA CITY, Oklahoma, June 2, 2013 (ENS) – Oklahomans are again mourning their dead and caring for their wounded after a series of violent storms and tornadoes claimed the lives of 13 people and injured more than 100 others Friday night.
Thousands of drivers were trapped in their cars during the evening rush hour as the tornadoes blasted through Oklahoma City and suburbs and storms dumped large hail and heavy rain on the area, known as Tornado Alley for the frequency and intensity of its twisters.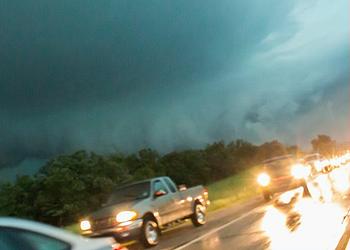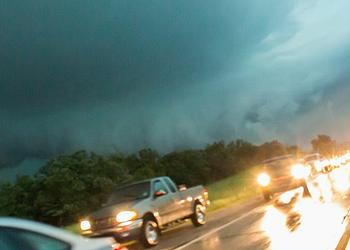 Many of those who died were killed in their cars, including a mother and baby found in a vehicle.
The Office of the state's Chief Medical Examiner confirms 13 fatalities from Friday night's storms. The victims are four children and nine adults.
The Oklahoma State Department of Health reports 115 injuries were treated by Oklahoma City area hospitals.
At least 100,000 homes and businesses lost power after the storms had passed.
National Weather Service at Norman, Oklahoma confirmed five tornadoes in the Oklahoma City metro area and another three tornadoes in northeast Oklahoma.
NWS says the first tornado developed on Friday around 5:55 pm CDT near El Reno, a city of 17,000 located 30 miles west of Oklahoma City. This storm then moved east to southest into western and central portions of Oklahoma City, producing other tornadoes.
The highest winds were felt in El Reno, where the tornado has been rated as an EF-3 with wind speeds of 136-165 miles per hour. The EF Scale is used to rate tornadoes based on estimated wind speeds and related damage.
The tornado that blasted Will Rogers World Airport in Oklahoma City has been rated an EF-1 with winds from 86 to 110 miles per hour and a track 10.4 miles long and 1.4 miles wide.
Other storms developed to the west and moved over the same areas as the first storm, producing major flooding in Oklahoma City metro. At least 23 high water rescues were conducted and flooded buildings in the downtown area had to be pumped out.
The Oklahoma Highway Patrol and Oklahoma Department of Transportation report numerous roads remain closed today.
Oklahoma Corporation Commission reports 29,727 homes and businesses without electric service. Oklahoma Gas & Electric reports 80 percent of storm assessment completed with the assistance of more than 400 mutual aid crews.
The latest round of tornadoes struck less than two weeks after intense EF5 tornadoes smashed south Oklahoma City and the suburb of Moore, killing 24 people and destroying whole neighborhoods with winds over 200 miles per hour.
While it was in the tornado warning zone, this time Moore did not suffer a direct hit, only heavy rain and high winds.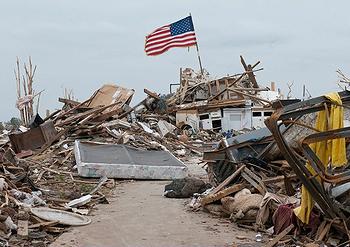 Oklahoma experiences so many tornadoes due to its location at the core of Tornado Alley, which covers northern Texas, Oklahoma and Kansas. Ninety percent of all tornadoes in the United States hit this region where cold, dry air from Canada and the Rocky Mountains meets warm, moist air from the Gulf of Mexico and hot, dry air from the Sonoran Desert. The collision causes atmospheric instability, heavy precipitation, and many intense thunderstorms.
Sunday morning, Oklahoma Governor Mary Fallin toured tornado damaged areas. Noting that state and federal agencies are at work assessing the damage and preparing for recovery, the governor said that despite the tragedies of the past two weeks, Oklahoma will come back strong.
"Everyone's performed to the very best of their ability. And I am so extremely proud of Oklahoma and the strength and the resiliency of the character of its people," she told reporters.
Financial assistance is flowing into the state from the federal government and many private donors.
On Thursday, Governor Fallin announced that Oklahoma has been awarded up to $10 million in National Emergency Grant assistance from the U.S. Department of Labor.
An initial $5 million will be allocated to the Oklahoma Department of Commerce to fund temporary clean up and recovery jobs in parts of Oklahoma struck by the earlier round of tornadoes between May 18 and May 20. An additional $5 million may be available as needed.
The Federal Emergency Management Agency on May 20 declared five Oklahoma counties eligible for the Labor Department grants: Cleveland, Lincoln, McClain, Oklahoma and Pottawatomie counties.
"More than 3,900 homes and businesses were damaged or destroyed in the recent round of devastating tornadoes that swept across our state," Fallin said Thursday before Friday's onslaught.
"State and local efforts to remove debris, clear streets and begin the rebuilding process have been proceeding efficiently. Help from faith-based groups, churches, non-profits and volunteer organizations has been a tremendous asset in the recovery," said the governor.
"However, with the amount and scope of damage that occurred in these storms, along with the work that remains to be done, it's clear that federal aid is both necessary and appropriate," said the Republican governor. "My thanks go out to the U.S. Department of Labor for providing this assistance."
In coordination with the United Way of Central Oklahoma, Governor Fallin has established the OK Strong Disaster Relief Fund to help meet the long-term medical, emotional and educational needs of tornado survivors.
Donors include OGE Energy Corp. Foundation, which announced it will commit $500,000 to storm relief efforts, and Kia Motors America, which made a donation of $200,000 to the American Red Cross for tornado-stricken communities.
"We are appreciative and grateful for the outpouring of support for our state in the wake this week's devastating tornadoes," Fallin said. "The generosity of Oklahomans, Americans and people across the world is very encouraging and will help meet many of the short-term needs of victims."
Donations for the long-term needs can be made by calling (405) 236-8441 or donating online at: www.unitedwayokc.org.
"The United Way of Central Oklahoma is honored to assist as a recipient of donations for needs victims will have for the longer term," said Debby Hampton, president and chief executive of the United Way of Central Oklahoma. "We also look forward to working with Governor Fallin in the weeks ahead to develop a structure and process to most effectively utilize the contributions made to the OK Strong Disaster Relief Fund."
Copyright Environment News Service (ENS) 2013. All rights reserved.