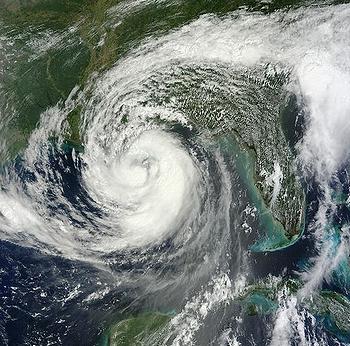 NEW ORLEANS, Louisiana, August 28, 2012 (ENS) – Strengthening into a hurricane just after noon on Tuesday, Isaac made landfall in far southeastern Louisiana in Plaquemines Parish at 6:45 pm local time. The hurricane struck nearly seven years to the day after Hurricane Katrina devastated New Orleans and the Gulf coast in 2005.
The hurricane tore the roof off of Plaquemines Parish President Billy Nungesser's home, while Nungesser was out working to secure low-lying areas and move stranded residents to shelter, the New Orleans "Times Picayune" newspaper reports. Rainwater is pouring into his Pointe Celeste home.
Nungesser said the strong winds are backing up water on the Mississippi River, bringing the water level close to the top of the levee at the Pointe à la Hache ferry landing. Flooding has forced closure of the Lake Pontchartrain Causeway Bridge in both directions until further notice.
Isaac now has moved out into West Bay and is expected to make a second landfall between Grand Isle and Morgan City, Louisiana tonight as a Category 1 hurricane.
A Hurricane Warning is in effect for east of Morgan City, Louisiana to the Mississippi-Alabama border, including the city of New Orleans and Lake Pontchartrain.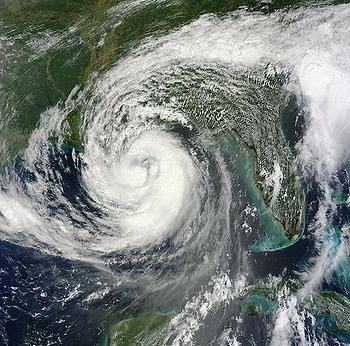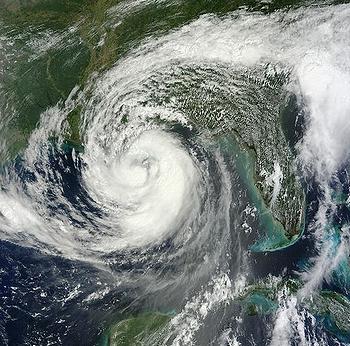 Packing maximum sustained winds of 80 mph, Isaac has been moving slowly northwestward, pummeling the Gulf Coast with thunderstorms, gusty winds and storm surge flooding. Torrential rain is forecast to spread westward along the Gulf Coast.
Currently, gusty thunderstorms are crashing into southern Mississippi, southern Alabama and southeastern Louisiana. Storm surges of up to nine feet are forecast as Isaac slowly moves onshore in the northern Gulf Coast.
The flood control system built after Hurricane Katrina is getting its first test under the lash of Hurricane Isaac.
To protect some of the areas hardest hit by Hurricane Katrina – New Orleans East, metro New Orleans, Gentilly, the Ninth Ward and St. Bernard Parish – the U.S. Army Corps of Engineers closed the Inner Harbor Navigation Canal-Lake Borgne Surge Barrier barge gate for the first time during a storm event. This structure works in tandem with the Seabrook Floodgate Complex, which also was closed for the first time today due to a storm event.
These barriers were built to reduce the risk associated with a 100-year storm surge.
"The interim control structures along the lakefront have significantly reduced the risk of flooding from hurricanes," said U.S. Army Corps of Engineers, New Orleans District Commander Col. Edward Fleming.
Large sections of the New Orleans metropolitan area have gone dark. The utility Entergy New Orleans reports that as of midnight local time 274,058 customers are without power.
"It's a terrible inconvenience to be without electricity, and we will be doing everything in our power to get it back on safely," said Greg Grillo, Entergy's Incident Storm Commander. "We have the best-trained storm restoration teams in the country."
Entergy follows a restoration plan that gets service restored first to hospitals, police, fire, communications, water, sanitary services and transportation providers.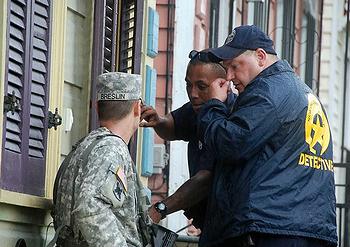 Storm surge flooding now is occurring along the Alabama, Mississippi and Louisiana coastlines with roads closed in Mobile and Dauphin Island, Alabama, and Pascagoula, Mississippi.
More than 33,500 National Guard personnel and nearly 100 aircraft are available to the governors of Florida, Alabama, Mississippi and Louisiana, Defense Department officials said.
Army Maj. Gen. Augustus Collins, Mississippi's adjutant general, called about 1,500 National Guard personnel to state active duty in support of emergency operations. Guard soldiers and airmen arrived today in coastal counties to support security operations, search and rescue, debris removal and commodity distribution, officials said.
In Louisiana, Governor Bobby Jindal has activated 4,126 National Guard personnel to assist with evacuation and logistics and to support local police forces.
Offshore oil and gas operators in the Gulf of Mexico have evacuated platforms and rigs in the path of Hurricane Isaac.
As of 11:30 am CDT today, personnel had evacuated from a total of 503 production platforms, equivalent to 84.4 percent of the 596 manned platforms in the Gulf.
Personnel also have been evacuated from 49 rigs, equivalent to 64.5 percent of the 76 rigs currently operating in the Gulf.
The U.S. Bureau of Safety and Environmental Enforcement estimates from reports submitted by offshore operators that 93 percent of the current daily oil production in the Gulf of Mexico has been shut-in.
Approximately 66.7 percent of the current daily natural gas production in the Gulf of Mexico also has been shut-in. Oil prices are rising because of shut ins at Gulf facilities.
Copyright Environment News Service (ENS) 2012. All rights reserved.