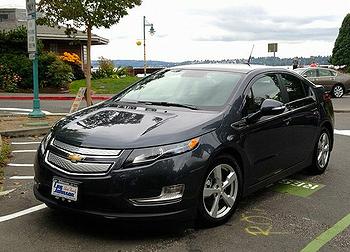 WASHINGTON, DC, August 28, 2012 (ENS) – The Obama Administration today finalized national fuel economy standards that will require model year 2025 cars and light-duty trucks to get the equivalent of 54.5 miles per gallon.
When combined with previous standards set by this administration, the move will nearly double the fuel efficiency of 2025 vehicles compared to new vehicles currently on U.S. roads.
The standards will cut U.S. oil consumption by a total of 12 billion barrels, reducing consumption by more than two million barrels a day by 2025 – as much as half of the oil the United States imports each day from OPEC, the Organization of Petroleum Exporting Countries.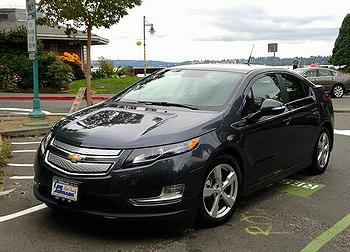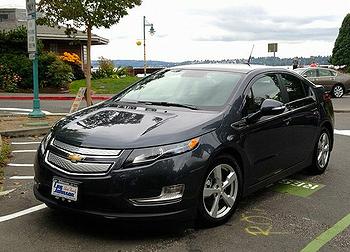 "These fuel standards represent the single most important step we've ever taken to reduce our dependence on foreign oil," President Barack Obama said today.
"This historic agreement builds on the progress we've already made to save families money at the pump and cut our oil consumption. By the middle of the next decade our cars will get nearly 55 miles per gallon, almost double what they get today," the President said. "It'll strengthen our nation's energy security, it's good for middle class families and it will help create an economy built to last."
The standards issued today by the U.S. Department of Transportation and the U.S. Environmental Protection Agency build on the Obama Administration's standards for cars and light trucks for model years 2011-2016. Those standards raised average fuel efficiency by 2016 to the equivalent of 35.5 mpg.
Consumers will save $8,000 over the lifetime of a vehicle sold in 2025 compared to the average vehicle on the road today. The net savings will be comparable to lowering the price of gasoline by about $1 per gallon.
In total, American drivers will save more than $1.7 trillion dollars in fuel costs, the White House said.
The standards represent what the White House called "historic progress" to reduce carbon pollution and address climate change. Taken together, the two-stage hike in fuel efficiency standards will cut greenhouse gas emissions from cars and light trucks in half by 2025, reducing emissions by six billion metric tons over the life of the program – more than the total amount of carbon dioxide emitted by the United States in 2010.
Many cars on the road today already achieve greater fuel efficiency than that required by the new standard of 54.5 mpg, including all plug-in electric vehicles and two hybrids. Click here to see the Top Ten EPA-Rated Fuel Sippers of 2012.
President Obama proposed the new standard for 2017-2025 in July 2011. The final standard was developed by the National Highway Traffic Safety Administration and the EPA working with automakers, the union, consumer groups, environmental and energy experts, states, and the public.
The Alliance of Automobile Manufacturers supports the new standards. The 12 major automakers in the Alliance –  Ford, GM, Chrysler, BMW, Honda, Hyundai, Jaguar/Land Rover, Kia, Mazda, Mitsubishi, Nissan, Toyota, and Volvo – together account for more than 90 percent of all vehicles sold in the United States.
"The Auto Alliance has called for a single, national program because conflicting requirements from several regulatory bodies raise costs, ultimately taking money out of consumers' pockets and hurting sales," the automakers said today. "We all want to get more fuel-efficient autos on our roads, and a single, national program with a strong midterm review helps us get closer to that shared goal."
Now that they must comply with national fuel economy standards they support, the automakers must persuade drivers to buy new, more fuel efficient vehicles.
"After years of billion-dollar investments by automakers, consumers have a lot of choice in fuel-efficient cars and light trucks, and automakers are working to sell these high-mileage vehicles in high volumes," the Alliance said. "Compliance with higher fuel-economy standards is based on sales, not what we put on showroom floors."
Transportation Secretary Ray LaHood said, "This groundbreaking program will result in vehicles that use less gas, travel farther, and provide more efficiency for consumers than ever before – all while protecting the air we breathe and giving automakers the regulatory certainty to build the cars of the future here in America."
"Today, automakers are seeing their more fuel-efficient vehicles climb in sales, while families already saving money under the administration's first fuel economy efforts will save even more in the future, making this announcement a victory for everyone," said LaHood.
"The fuel efficiency standards the administration finalized today are another example of how we protect the environment and strengthen the economy at the same time," said EPA Administrator Lisa Jackson. "Innovation and economic growth are already reinvigorating the auto industry and the thousands of businesses that supply automakers as they create and produce the efficient vehicles of tomorrow."
Environmental groups celebrated the new standards.
Sierra Club Executive Director Michael Brune said, "Today, President Obama has taken the most significant action by any President in history to move our country off oil and slash dangerous, climate-disrupting pollution that threatens our children's future."
"With June and July registering as the hottest months on record, and droughts ravaging America's heartland, these standards are a major victory for our planet and our families," said Brune. "American automakers are roaring back as leaders of the global market because they are delivering what consumers want – vehicles that use less gas, emit less pollution, and save families more money at the pump."
"These new standards mean we'll create the cars we need to reach a cleaner, safer, better future," said Environmental Defense Fund President Fred Krupp. "Under the new standards, we'll get cleaner air and we'll reduce our reliance on imported oil, and we'll do it while we save Americans more than $8,000 at the gas pump."
Larry Schweiger, president and CEO of the National Wildlife Federation, said today, "As a onetime General Motors mechanic, I'm proud to see Americans already proving we have what it takes to lead in a prosperous clean energy future. Taken together, new fuel economy standards for cars and trucks are the biggest step America has ever taken to cut carbon pollution and reduce our oil dependence, critical for wildlife which faces both the global threat of climate change and the direct impacts of oil spills and pollution."
Frances Beinecke, president of the Natural Resources Defense Council, said, "Everybody is a winner today. Motorists win because they will have much more fuel-efficient cars to drive, thus saving thousands of dollars at the gas pump every year. The auto industry and its workers win because these standards will spur the creation of thousands of new jobs as well as state-of-the-art vehicles that go nearly twice as far on the same gallon of gasoline."
"Everybody wins because using less gasoline will reduce our dependence on oil and lead to cleaner air. Less pollution means a healthier populace and lower medical bills. That's great for our economy. These new standards, moreover, will reduce carbon pollution that drives climate change. That's a win for everybody around the world – and a very big win for future generations."
Copyright Environment News Service (ENS) 2012. All rights reserved.