Hospitals Get Antibiotic Tracking to Stave Off Untreatable Infections
ATLANTA, Georgia, November 14, 2011 (ENS) – Up to half of all antibiotic prescriptions written in the United States are unnecessary and contribute to the risk of untreatable infections with germs resistant to these medications, officials with the Centers for Disease Control and Prevention warned today.
To mark Get Smart About Antibiotics Week November 14 – 20, the CDC has launched a new antibiotic tracking system that allows hospitals to monitor antibiotic use electronically, make better decisions about how to improve use, and compare themselves to other hospitals. Until now, CDC was able to track antibiotic use only in doctors' offices.
The antibiotic use tracking system is part of CDC's National Healthcare Safety Network, the nation's premier tool for monitoring infections in health care facilities, which includes over 4,800 hospitals.
"The threat of untreatable infections is real," says Arjun Srinivasan, MD, who heads CDC's Get Smart for Healthcare program. "Although previously unthinkable, the day when antibiotics don't work in all situations is upon us. We are already seeing germs that are stronger than any antibiotics we have to treat them, including some infections in health care settings."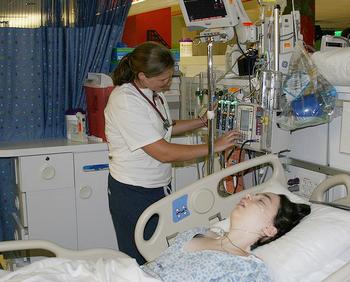 A patient in pediatric intensive care (Photo by KTC Photos)
Each year, millions of Americans take antibiotics to fight infections. But overuse and misuse of antibiotics can change germs, allowing them to evolve resistance to antibiotics, which increases the risk of an infection for which there are limited or no treatment options.
Each year, an estimated 250,000 cases of central line-associated bloodstream infections occur in hospitals in the United States, leading to at least 30,000 deaths, according to the Centers for Disease Control and Prevention. The average additional hospital cost for each infection is over $36,000, which totals over $9 billion in excess costs annually.
A central line is a tube that is placed in a large vein of a patient's neck or chest to give medical treatment. When not put in correctly or kept clean, central lines can become a freeway for germs to enter the body and cause serious bloodstream infections.
Patients who receive antibiotics to fight these infections can experience side effects, including allergic reactions and may be at increased risk for Clostridium difficile infection, a potentially deadly diarrheal infection.
"Antibiotic use leads to antibiotic resistance, which is a major public health problem," said CDC Director Thomas Frieden, MD, MPH. "Hospitals and other health care facilities should monitor the antibiotics used in their facilities."
"This new system is a powerful tool that will enhance providers' ability to monitor and improve patterns of antibiotic use so that these essential drugs will still be effective in the years to come," said Dr. Frieden.
Four common infections seen in health care facilities declined in 2010, Dr. Frieden said in October. The agency reports an 18 percent reduction in the number of people developing health care-associated invasive methicillin resistant Staphylococcus aureus, MRSA, infections.
"Hospitals continue to make impressive progress in driving down certain infections in intensive care units through implementation of CDC prevention strategies," he said. "Hospitals and state health departments need to translate this progress to other areas of health care delivery and health care infections, such as dialysis and ambulatory surgery centers, and diarrheal infections such as Clostridium difficile."
CDC has funded four health departments and their academic partners to implement the tracking system in 70 hospitals.
In addition, any hospital that participates in the National Healthcare Safety Network can utilize this tool by working directly with its pharmacy software vendor to transmit data electronically from drug administration or barcoding records. There is no manual entry of data, thus saving a facility time and money.
In conjunction with Get Smart About Antibiotics Week, CDC is partnering with the Institute for Healthcare Improvement to pilot test a tool to help hospitals implement practical strategies to improve antibiotic use. Pilot testing is now under way in eight U.S. hospitals.
Additionally, CDC is part of the Federal Interagency Task Force on Antimicrobial Resistance. This week, the task force will meet in Washington, DC, to consider next steps toward meeting goals of the recently revised "Public Health Action Plan to Combat Antimicrobial Resistance."
Dr. Frieden has often said that patients, health care providers, hospital administrators, and policy makers must work together to employ safe and effective strategies for improving antibiotic use.
To access a list of pharmacy software vendors who are working with CDC's new antibiotic use tracking system, see the Society for Infectious Disease Pharmacists website.
The 2011 observance of Get Smart About Antibiotics Week is an international collaboration, coinciding with European Antibiotic Awareness Day and Canada's Antibiotic Awareness Week.
Copyright Environment News Service (ENS) 2011. All rights reserved.