Clean Air Groups Settle With EPA Over Haze Cleanup
WASHINGTON, DC, November 14, 2011 (ENS) – A coalition of clear air advocates and the U.S. Environmental Protection Agency have filed a legal settlement that establishes firm, enforceable deadlines for action on plans to clean up regional haze pollution in 43 states, the District of Columbia, and the Virgin Islands.
If approved by the court, the consent decree filed Thursday will require states and the EPA to issue enforceable plans to curb haze-causing pollution from the nation's largest and oldest coal-fired power plants.
The EPA initially issued a rule in 1999 requiring states to submit regional haze plans. These plans were due in December 2007 but most were not forthcoming.
In August 2011, the National Parks Conservation Association and eight other environmental groups sued the agency to take action on these plans. The consent decree resolves this litigation. It will require final EPA action on each state plan by deadlines ranging from December 2011 to November 2012.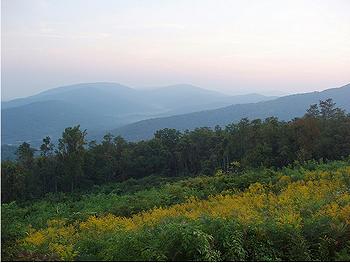 Morning haze from McCormick Gap, Shenandoah National Park, Virginia, September 2010 (Photo by netbros)
EPA will accept public comment on this agreement for 30 days following publication of a notice in the Federal Register.
The consent decree by itself does not establish haze control requirements. Regional haze plans approved by EPA over the coming year will lay out how Clean Air Act visibility goals that Congress mandated more than 30 years ago will be met. The agency said it will work closely with the states to approve their plans by the court ordered deadlines in the decree.
"States are best suited to meet these goals, and most states are well on their way to having plans in place," the EPA said in a statement.
The consent decree sets in motion a schedule to act on the state pollution reduction plans that will protect America's national parks and wilderness areas from the damaging effects of regional haze.
These parks and wilderness areas, known as Class I Federal areas, include the Grand Canyon, Yosemite and Yellowstone national parks, Mount Rainier, the Shenandoah Valley, the Great Smokies, Acadia and the Everglades.
NPCA clean air counsel Stephanie Kodish said, "If you cannot see through the air, it is not good to breathe. Visibility is a long recognized surrogate for healthy air and healthy air is what millions of visitors traveling annually to our national parks and wilderness areas expect. But, instead they experience asthma attacks and are unable to see the postcard views because they have been obscured by haze pollution."
Haze-forming pollution, including nitrogen oxides, sulfur dioxide and particles, reduces visibility and poses health risks including increased asthma symptoms and premature death.
Under the terms of the consent decree, if a state plan cannot be approved, the EPA, with input from the state, industry and other stakeholders, will determine an appropriate federal plan.
Regional haze plans focus on reducing harmful pollution from large, older stationary sources, such as power plants, cement plants and large industrial boilers.
"Facilities covered by the plans, those from 35 to 50 years old, will rely on proven, cost-effective and widely available pollution control methods if emissions from those facilities are found to cause haze at national parks or wilderness areas," the EPA said.
In many cases, these controls have already been or are in the process of being installed to meet other state and federal requirements, including the recently issued Cross-State Air Pollution Rule, which is expected to cut millions of tons of sulfur dioxide and nitrogen oxides in 27 states by 2014.
In these cases, additional action may not be necessary. In addition, EPA intends to finalize a rule by spring 2012 that addresses the determination that power plants meeting the requirements in the Cross-State rule will fulfill the best available retrofit technology requirements under the regional haze program.
Rules that reduce emissions from motor vehicles, including a suite of clean diesel rules that cover a wide range of heavy-duty vehicles and equipment, will also go a long way to help improve visibility, the agency said.
"There should be no more delays in cleaning up the dirty air in these majestic places," said attorney David Baron of Earthjustice, an environmental law firm representing the groups in the case along with Wyoming attorney Reed Zars. "It's time to move forward so that people can enjoy unpolluted views in national parks and wilderness areas. People should not have to worry about breathing polluted, unhealthful air when they go to a national park."
The National Parks Conservation Association and other environmental groups sued the agency in August 2011 to take action on these plans. The Powder River Basin Resource Council, Montana Environmental Information Center, Grand Canyon Trust, Sierra Club, Environmental Defense Fund, San Juan Citizens Alliance, Our Children's Earth, and Plains Justice collaborated with NPCA to bring this legal action.
Copyright Environment News Service (ENS) 2011. All rights reserved.