Nebraska Sandhills Spared: TransCanada Will Reroute Pipeline
LINCOLN, Nebraska, November 15, 2011 (ENS) – TransCanada Corporation has agreed to reroute its proposed Keystone XL tar sands pipeline out of Nebraska's environmentally sensitive Sandhills area, which overlies the Ogallala aquifer.
TransCanada announced Monday that it supports proposed Nebraska legislation that would provide for a supplemental environmental impact study for the Keystone XL pipeline to be conducted at the state's expense.
"I can confirm the route will be changed and Nebraskans will play an important role in determining the final route," said Alex Pourbaix, TransCanada's president, energy and oil pipelines, at a news conference at the legislature.
"The positive conversations we have had with Nebraska leaders have resulted in legislation that respects the concerns of Nebraskans and supports the development of the Keystone XL pipeline," Pourbaix said.
The U.S. State Department announced Thursday that further assessment of alternative routes for Keystone XL was needed in Nebraska to move forward with the National Interest Determination. (ENS, November 10, 2011)
"Today's proposed legislation is a critical step in making this happen," Pourbaix said.
The company's announcement reinforces the Obama administration's decision to analyze the pipeline for another year. TransCanada will now face two review processes at the state and federal levels.
In Nebraska, the state government will examine the environmental impact of a new route. In addition, the State Department will assess the environmental impacts of the entire pipeline, including information on greenhouse gas emissions and the impacts of tar sands on the Ogllala aquifer, which underlies much of the Great Plains and provides drinking and irrigation water to the region.
The time it will take for the additional assessment will allow President Barack Obama to shelve the contentious issue until after the 2012 elections.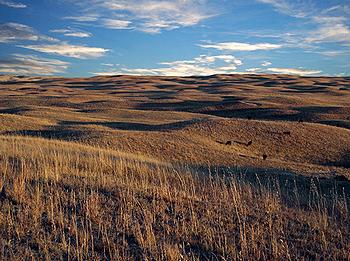 Sandhills region of Nebraska (Photo by A Swedener)
Speaker of the Nebraska Legislature Mike Flood said Monday he has received confirmation from the State Department that Nebraska has the authority to conduct a supplemental environmental impact study.
Flood said that Nebraska's Department of Environmental Quality would follow federal rules in conducting the study. "There will be public hearings, there will be transparency," he told fellow lawmakers. "That's the way the process works and that's the way it will work in Nebraska."
Working with the U.S. State Department, Nebraska's Department of Environmental Quality will conduct an environmental assessment to define the best location for Keystone XL in Nebraska.
Kerri-Ann Jones, assistant secretary of state, said, "I am confident that the Department and Nebraska authorities would be able to efficiently work together in preparing any documents necessary to examine alternative routes in the State of Nebraska that satisfy federal laws and any state law Nebraska may adopt."
"We will cooperate with these agencies and provide them with the information they need to complete a thorough review that addresses concerns regarding the Sandhills region," said Pourbaix.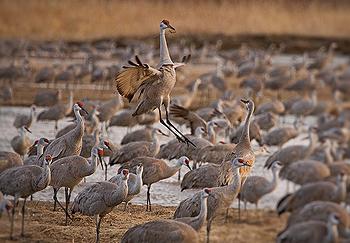 Sandhill cranes at Rowe Sanctuary in Gibbon, Nebraska (Photo by ruf_d)
Rerouting the pipeline would likely need 50 to 65 extra kilometers (30 to 42 miles) of pipe and an additional pumping station, Pourbaix said.
The Nebraska lawmakers are considering another measure that would create a state regulatory process for all future pipelines. State law governs routes for interstate petroleum pipelines, but Nebraska currently has no such law or regulatory framework.
Calgary-based TransCanada Corp. first applied in 2008 for a permit to build and operate a 1,700 mile pipeline to carry heavy oil from the tar sands in northern Alberta to refineries in Texas and Oklahoma, crossing two provinces and six states.
Because the pipeline would cross the U.S.-Canada border, a Presidential Permit issued by the U.S. Department of State is required for the project to proceed.
As part of this process the State Department issued a Final Environmental Impact Statement on August 26, 2011, which concluded "there would be no significant impacts to most resources along the proposed Project corridor."
But thousands of demonstrators have gathered in front of the White House since August, most recently on November 6. They contend that the pipeline could leak and that producing, transporting and burning the tar sands oil it would carry, would accelerate climate change.
Many of those protesters have been from Nebraska, especially from the anti-pipeline organization Bold Nebraska, which said today, "For Nebraskans who have opposed the route through the Sandhills from the start, this is welcome news and a huge victory. Thanks to immense public pressure, the citizens beat Big Oil."
Bold Nebraska leader Jane Kleeb said, "We are proud of citizens for pushing state leaders to do the right thing: requiring the pipeline be moved out of the Sandhills and establishing a state-based regulatory system. However, we do not trust Transcanada. They have bullied and mislead landowners and citizens. Because of that we will be watching them like a hawk to ensure our land and water are protected."
"We look forward to citizens participating with the Nebraska Department of Environmental Quality to ensure a fair and transparent study of alternative routes is conducted," said Kleeb.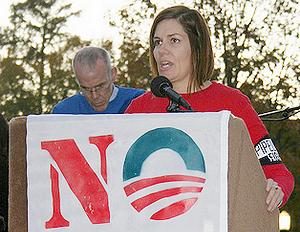 Jane Kleeb of Bold Nebraska addresses demonstrators at the White House, November 6, 2011 (Photo courtesy Chesapeake Climate)
Pourbaix tried to reassure the American public that the Keystone XL pipeline will be safe, built with high strength steel and with the highest safety standards of any pipeline in North America.
He said that 21,000 sensors monitor the length of the pipeline by satellite 24 hours a day, 365 days a year, with data refreshed every five seconds. If there is a problem, automatic shut-off valves can be activated in minutes – shutting off the flow of oil.
"The safe and reliable operation of our pipelines and all of our infrastructure has been TransCanada's priority for 60 years," Pourbaix said. "This commitment will continue to guide us toward a positive outcome in Nebraska."
The rerouting will not place the Keystone XL pipeline next to TransCanada's first pipeline through the state. That 30-inch Keystone pipeline began carrying oil last year, passing through the Lincoln area just west of Seward.
"No one is proposing to do that," Pourbaix told the "Lincoln Journal-Star." "We're talking about a detour around the Sandhills," and "a much less significant" realignment.
Pourbaix reminded Nebraskans that once the pipeline is operational, Nebraska could see more than $150 million in property taxes to county and other local governments during the operating life of the pipeline.
Construction of the pipeline in Nebraska would consist of five or six new pump stations and over 275 miles of new pipeline. The project is expected to employ over 2,200 construction workers in the state.
Copyright Environment News Service (ENS) 2011. All rights reserved.