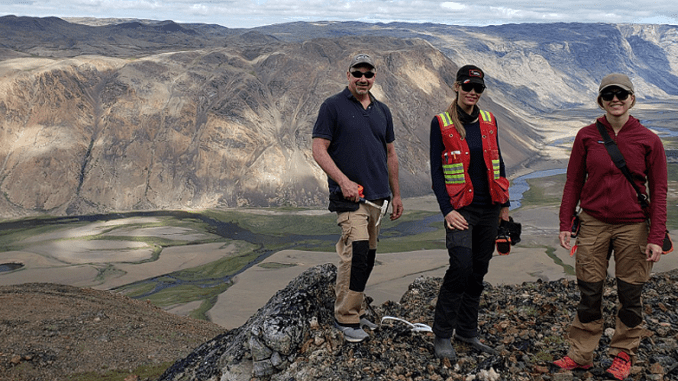 TORONTO, Ontario, Canada, August 23, 2022 (ENS) – A new deal between two Canadian corporations is about to make the now-unknown name of the Sarfartoq Rare Earth Element Project famous worldwide, at least in the rare earth mining industry. Rare earth elements are a group of 17 metals needed to make smartphones, lasers, electric cars, wind turbines and military hardware.
Neo Performance Materials, based in Toronto, has agreed to pay a total of C$3.5 million to acquire from Vancouver-based Hudson Resources an exploration license covering the Sarfartoq Carbonatite Complex in southwest Greenland. The two companies intend to develop mines in Greenland side by side.
The Sarfartoq Greenland project site hosts a mineral deposit of neodymium and praseodymium, two essential elements for rare earth permanent magnets used in electric vehicles, wind turbines, as well as high-efficiency electric motors and pumps that help reduce greenhouse gas emissions. The site is expected to become one of the world's largest rare earth mines.
The companies – Neo and Hudson – are two of the world's few rare earths processors outside China, which now enjoys about two-thirds of all rare earth mining and close to 90 percent of the global refining of these rare and critical metals.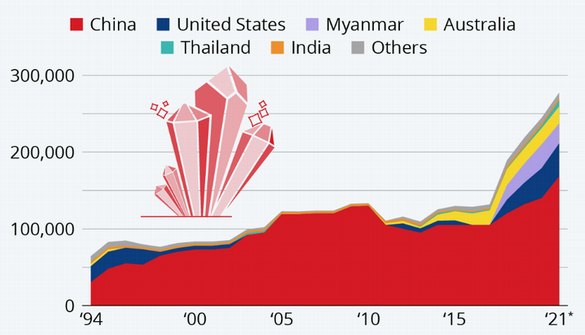 Neo manufactures advanced industrial materials used to deliver enhanced efficiency and sustainability. The company's products – magnetic powders and magnets, specialty chemicals, metals, and alloys – are key to the manufacture of hybrid and electric vehicles, pollution control systems, high-efficiency appliances and pumps, energy-efficient lighting, and water purification systems, to name of few uses.
Neo enumerates the advantages of the Sarfartoq site. "Located just 60 kilometers (40 miles) from the international airport in Kangerlussuaq, the project is close to tidewater and a major port facility and is adjacent to some of the best hydroelectric potential in Greenland," the company says.
But there is local opposition. In a crucial 2021 election, Greenlanders voted for a party opposed to the construction of a massive rare-earth mine. reported "Courthouse News" on April 7, 2021.
Greenland voters supported a left-wing party opposed to the construction of what could become one of the world's largest rare earth mines.
Completion of the sale of the license is subject to various conditions, including approval from the Government of Greenland for the transfer of the License, expected to take approximately six months, the company says.
Neo's President and CEO Constantine Karayannopoulos said, "Neo continuously pursues supply chain optionality in order to ensure that our customers have a dependable supply of engineered rare earth products.
"Once in production, this project will significantly increase the diversity of global rare earth supply for our processing facilities around the world. It also is another step in our Magnets-to-Mine vertical integration strategy. Based on our significant experience in assessing strategic mineral resources around the world, we believe the Sarfartoq resource in Greenland is a strategic asset that uniquely complements Neo's European rare earth magnet growth strategy."
"This resource would supplement our current supply of rare earth concentrate from Energy Fuels in the United States. We are very confident and supportive of the Greenlandic Government's vision for sustainable-focused mining as the driver of their economic development, job creation, and growth. We are looking forward to working with Greenland to responsibly develop this resource into a producing mine, of which Neo would be the primary customer."
Neo, through a special purpose entity, plans to explore and develop the Sarfartoq Project to further diversify its global sourcing of rare earth ore and to expand the rare earth supply chains that feed Neo's rare earth separation facility in Estonia. That facility was recently awarded a Gold Medal for its sustainable practices by global sustainability auditor EcoVadis.
Neo plans to break ground on a greenfield rare earth permanent magnet manufacturing plant in Estonia. This new plant is intended to provide European manufacturers with the permanent magnets they need for electric and hybrid vehicles, wind turbines, and energy-saving electric motors and pumps.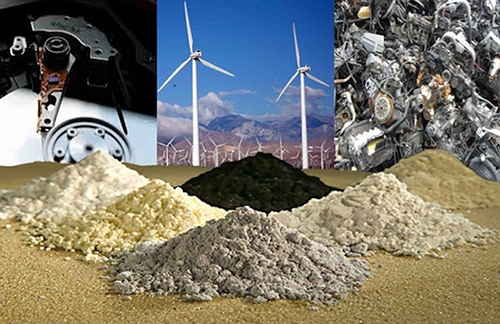 The Sarfartoq Project also is a key element of Neo's "Magnets-to-Mine" vertical integration strategy.
Under the key terms of the Agreement, Hudson receives a nonrefundable initial cash payment of US$250,000 upon signing of the Agreement. It was signed on August 22.
Neo intends to assign its rights under the Agreement to an special purpose entity controlled by Neo that would hold the License and continue exploration and ultimately extraction of the rare earth elements on the project.
Upon receipt of approval from the Greenland government, Hudson will transfer the License to Neo or the special purpose entity. Hudson will receive an additional US$3,250,000 upon closing of the transaction.
Hudson President Jim Cambon said, "We are very pleased to have signed this agreement with a global leader in the production of advanced materials. As the world faces critical shortages of rare earth elements outside of China, we are pleased to help bring the Sarfartoq project a step closer to commercial reality. This deal provides a significant cash injection to the company and importantly, also gives Hudson shareholders potential significant upside in the future value of the Sarfartoq projects through equity or additional consideration."
Featured image: Neo Performance Materials team sampling for the rare earth metal niobium at the Sarfartoq niobium site. From left: Neo President Jim Cambon, S. Mckenzie, project geologist, and S. Leroux, project manager. 2020 Greenland (Photo courtesy Hudson Resources, Inc.)