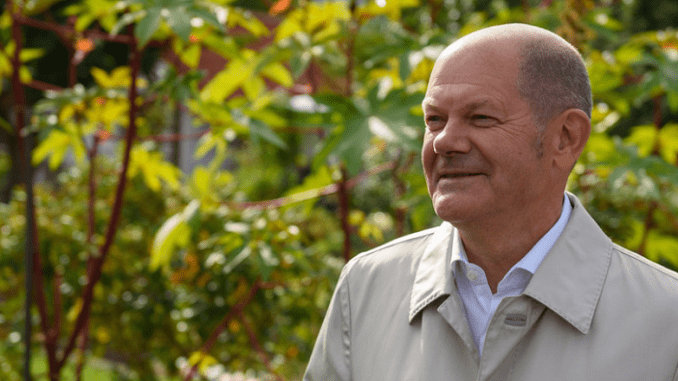 BERLIN, Germany, January 8, 2022 (ENS) – In Germany's September 2021 federal election, voters supported the Greens at historic levels, and Germany became the sixth and largest European Union Member State to have Green Party members in government, joining Austria, Belgium, Finland, Ireland, and Luxembourg.
With 14.8 percent of the vote, the German Greens almost doubled their vote share from the previous 2017 election and secured 118 seats in the Parliament. Their best results are among young voters, with 22 percent of those under 30 voting for the Greens.
From coalition negotiations, the Traffic Light coalition emerged. The red-yellow-green parties – the Social Democratic Party of Germany, SPD, the Free Democratic Party, FDP, and the the German Greens, Bündnis 90/Die Grünen – agreed in early December to form a coalition government.
Of the German Greens, 86 percent voted for the coalition agreement with the SPD and FDP and for the designated Green Ministers, clearing the way for the first traffic light government in Germany at the federal level.
The agreement, entitled, "Dare to make more progress – Alliance for freedom, justice and sustainability," is online here.
Germany's new Chancellor, Olaf Scholz of the Social Democratic Party, replaced long-standing Chancellor Angela Merkel on December 8, after serving as finance minister and vice chancellor in her outgoing government.
Some of the Greens' goals have become the coalition government's goals. Scholz has told reporters that the parties have agreed to focus on "a massive expansion of renewable energy, so that it is possible for us to do without the use of fossil resources as soon as possible."
Back in October, before the coalition was solidified, a preliminary agreement stated that Germany should stop using coal-fueled power plants in 2030, rather than waiting until the current target date of 2038, if possible.
The new government wants to have 80 percent renewable electricity by 2030, raising an earlier, lower target of 65 percent. This is in line with the European Union's proposed new 40 percent renewable energy target for 2030.
The German government will not substitute nuclear power for fossil fuels. The government has called nuclear energy dangerous and opposes European Union proposals that would let nuclear energy remain part of its plans for a climate-friendly future.
On the last day of 2021, Germany shut down half the six nuclear plants it still had in operation, and at the end of this year, the country plans to shut down the last three of its nuclear plants, ending decades of reliance on nuclear power.
The decision to phase out nuclear power and shift from fossil fuels to renewable energy was first taken by the center-left government of former Chancellor Gerhard Schroeder in 2002.
Green Cabinet Members
Chancellor Scholz has made six appointments to his Cabinet from the Greens side of the coalition.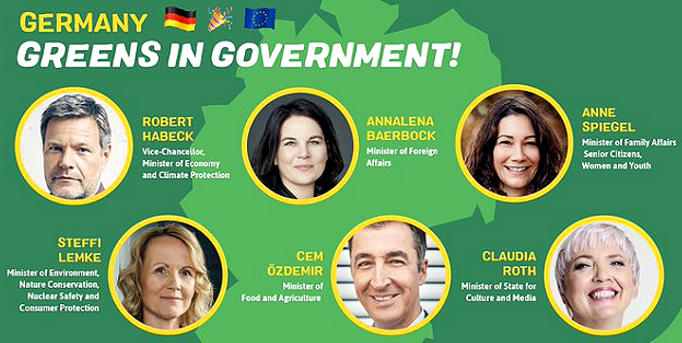 Robert Habeck, PhD is Vice-Chancellor and Minister of Economy and Climate Protection, making him the second highest ranking German cabinet member and one of the most powerful politicians in Europe.
Habeck has been serving as a Member of the German Bundestag for Flensburg – Schleswig since October 2021.
Habeck took a moment to thank the Green voters for their strong support, saying, "Thanks to all the green members who gave us this leap of faith for four years of work in which we now have the responsibility to meet the great challenges of our time with action."
Until now, Habeck has been active in state politics. Elected to the Schleswig-Holstein Landtag in 2009, he built and strengthened the Green Party in the Landtag. He has served as co-leader of Alliance 90/The Greens since 2018.
Holding a doctorate in philosphy, Habeck is a freelance writer as well as a politician, having published six novels.
Annalena Baerbock is Minister of Foreign Affairs. She was sworn in as Germany's first female foreign minister on December 8.
"We are now starting with a tailwind from the strike vote in a new federal government with a strong and diverse cabinet. And we are finally meeting social reality with state-of-the-art politics. This is a real departure!" Baerbock said.
Baerbock, too, has served as co-leader of Alliance 90/The Greens since 2018 alongside Habeck. She was the party's chancellor candidate in the 2021 federal election, making her the first such candidate for the Greens and, after Merkel, only the second woman to be nominated for chancellor by a major German political party.
Baerbock was first elected to the Bundestag in 2013. From 2012 to 2015, she was a member of the party council of Alliance 90/The Greens and from 2009 to 2013 the leader of her party's state group in Brandenburg.
Anne Spiegel is Minister of Family Affairs, Senior Citizens, Women and Youth.
A politician of Alliance 90/The Greens, Spiegel has been a Member of the Bundesrat of Germany since 2016. This year she served as deputy minister-president and minister for climate protection, environment, mobility, energy and forests in the state government of Rhineland-Palatinate.
Steffi Lemke is Minister of Environment, Nature Conservation, Nuclear Safety and Consumer Protection.
Lemke was one of the co-founders of the Green Party in the German Democratic Republic in 1989. Known then as East Germany, it reunified with West Germany in October 1990.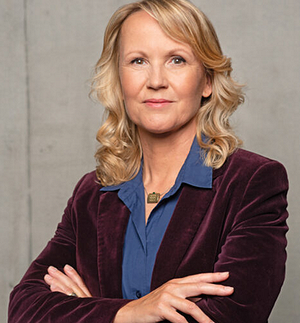 Lemke has been a member of the Bundestag from the state of Saxony-Anhalt from 1994 through 2002 and since 2013, and during those same years, she was also the federal political director of the German Greens.
"Healthy oceans, wetlands and forests can sequester carbon and thus help mitigate climate change and simultaneously provide numerous ecosystem services. This ensures that both nature conservation and climate action will benefit and that we strengthen the natural resilience of ecosystems to future crises," Lemke explained.
Taking office December 8, she said that "climate action will be the guiding principle for the entire federal government" and thus also for her ministry "This is reflected in the priorities nature based climate action, climate change adaptation and an ambitious resource policy," she said.
"Strong environmental protection, nature conservation and consumer protection policies are needed now more than ever," Lemke said. "The world is facing several environmental crises: global warming, species extinction and plastic waste pollution. Overcoming these crises will be at the heart of my work."
Lemke said the focus of her ministry will be on "adaptation to climate change, as its impacts have been felt in Germany for some time now. Protection against flooding and strategies for dealing with drought and other extreme weather events are crucial here."
"The protection of oceans and rivers is something that is very important to me, personally, Lemke said, "and that is why I will push for progress on clearing old munitions in the North and Baltic Seas. In addition, nature conservation financing will be given a fresh start."
"One thing is clear," Lemke said. Forest protection is climate protection. Forests are rich in animals and plants and store climate-damaging CO2. That is why an import ban is needed at EU level for products that are related to illegal deforestation."
Cem Özdemir is Minister of Food and Agriculture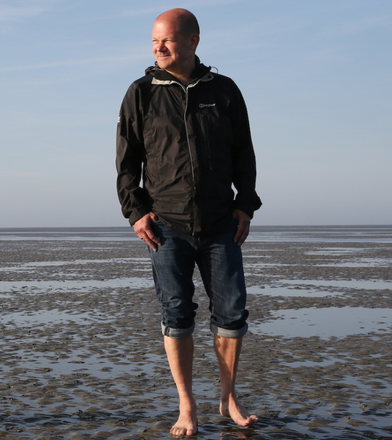 Özdemir is national Chairman of the German Green Party and a Member of the German Bundestag.
A member of the German Green Party since 1981, Cem Özdemir was elected to the German parliament in 1994 and became its first-ever member of Turkish descent. He served two legislative terms and was Speaker on Home Affairs for the Green Parliamentary Group.
Upon taking office, he said, "There is no or between agriculture and the environment. We fight the climate crisis and species extinction just like farm death."
Claudia Roth was given the portfolio of Minister of State for Culture and Media. "I think you can actually speak of a paradigm shift!" she exclaimed. "Away from the management of the status quo, towards a departure into reality in which we fight the climate crisis, strengthen our democracy, shape our diverse society."
Chancellor Scholz has signaled continuity in foreign policy, saying his government will stand up for a strong European Union and nurture the trans-Atlantic alliance with the United States.
Of course, there is always opposition. Christian Democrat leader Armin Laschet has slammed the Greens' call for a hike in gas prices, accusing them of punishing low-income motorists and of ignoring the needs of impoverished rural Germans.
The Greens are losing their edge in the opinion polls only weeks after becoming the most popular party in Germany – temporarily.
Featured image: Then German Finance Minister, now Chancellor, Olaf Scholz visits a community garden in Bergkamen, Germany, September 25, 2020 (Photo by Dirk Vorderstrasse)
© 2022, News Editor. All rights reserved.