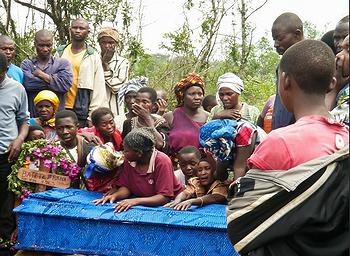 GLAND, Switzerland, July 31, 2014 (ENS) – A war is underway across the world's forests, grasslands and mountains – a war that pits park rangers against poachers. If the rangers win, tigers, elephants, lions, leopards, rhinos and orangutans will survive into the future. If the poachers win, these keystone mammals, many other species and the rangers who protect them will not.
Over the past year, 56 rangers lost their lives in the line of duty – 29 of them killed by poachers, according to information released today by the International Ranger Federation to mark World Ranger Day, observed annually on July 31.
President of Gabon Ali Bongo Ondimba said, "Wildlife crime has become a serious threat to the sovereignty and the stability of some of our countries. Poachers do not hesitate to fire upon our park rangers. In some countries they are involved in a bush war as intense as any modern conflict."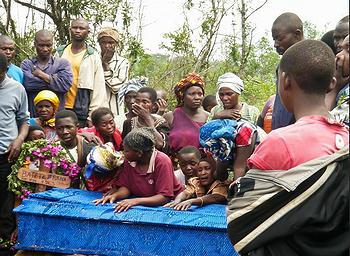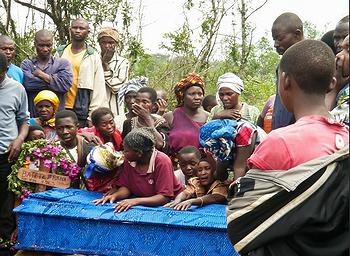 As more deaths are reported every week, and as the figures represent only the confirmed deaths from some 35 countries that voluntarily report to the International Ranger Federation, the actual number of rangers killed in the line of duty worldwide could be two to three times higher.
Last year's ranger death toll reached 102, with poachers and militia responsible for 69 of those deaths.
"We are extremely concerned that rangers continue to face high levels of violence and are being murdered at an alarming pace," said Sean Willmore, president of the International Ranger Federation.
"Although the world is slowly awakening to their plight, we need to turn this awareness into meaningful action on the ground and make sure that the dangerous work rangers do to protect our valuable wildlife receives the support and respect it deserves. This still remains our challenge," said Willmore.
"Rangers are the guardians of our planet's most precious natural assets and it's unnerving to think that every day they go to work, their lives are at risk as a result of human greed and cruelty," said Director General Julia Marton-Lefèvre, who leads the International Union for Conservation of Nature, IUCN.
"Without solid protection, proper law enforcement and a strong support network for those unsung heroes of conservation, our efforts to protect wildlife are a lost cause," said Marton-Lefèvre. "All conservation action should start with supporting those that put their lives on the line to protect nature every day."
The IUCN today joined the International Ranger Federation and its charity partner, the Thin Green Line Foundation, President Ondimba, The Duke of Cambridge Prince William, primatologist Dr. Jane Goodall and many others in calling for urgent efforts to combat wildlife crime globally.
"It is my great honor to acknowledge the brave and tireless work of the world's park rangers," said Prince William in a video released to mark World Ranger Day.
"Poaching has reached catastrophic levels and in this year when the World Parks Congress unites conservationists across the globe, as President of United for Wildlife, I will be encouraging as many people as possible to think of park rangers and the extraordinary work that they do."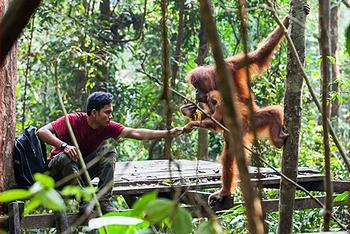 The IUCN World Parks Congress is a global forum on protected areas held every 10 years. As the world's most influential gathering of people involved in protected area management, it sets the global agenda for the following decade.
The next IUCN World Parks Congress will take place November 12-19, 2014 in Sydney, Australia.
As her contribution, Dame Goodall today launched the Dr. Jane Goodall Hope and Inspiration Ranger Award.
"I'm particularly thrilled and really honored to put my name to the Hope and Inspiration Award given to Rangers – to recognize their incredible hardship. I'm so delighted to recognize these brave men and women on the frontline of conservation," Goodall said in a video message.
This award to open any person working as a park ranger or in any form of protected area management who, against the odds and hardship, has carried out an inspiring act, or implemented, planned and/or seen through a conservation or community project that has produced outstanding results for
conservation and the natural environment. Apply online at: http://internationalrangers.org/awards/
According to information supplied by the International Ranger Federation and the IUCN:
Almost 60 percent of all rangers killed this year are from Asia, with the majority of those from India.
India, Thailand, Kenya and the Democratic Republic of the Congo have seen the sharpest increase in ranger deaths caused by poachers in recent years.
Areas rich in elephants, rhinos, sandalwood, rosewood and other valuable resources are most affected. In DRC's Virunga National Park alone, some 140 rangers have been killed over the last 15 years.
More than 1,000 rangers have been killed worldwide and many more injured over the last 10 years.
In Africa a recorded number of 27 rangers have lost their lives in the line of duty in the last 12 months, with nearly 80 percent of them killed by poachers.
In Thailand, more than 40 park rangers have been murdered in the last five years, with many more injured or left in a critical condition.
A record number of 1,004 rhinos were killed in 2013 in South Africa, which is home to 83 percent of Africa's rhinos. 343 rhino-related poaching arrests were made in the same year.
So far in 2014, 558 rhinos have been lost in South Africa, at a rate of nearly three rhinos per day.
Over 20,000 elephants were illegally killed in Africa in the past year alone.
Rangers in Uganda, DRC and Rwanda have been directly responsible for an increase in the number of mountain gorillas, risking their lives to ensure the survival of this Critically Endangered species.
Community Maasai Rangers in Kenya have helped increase the local lion population on their community lands from just six individuals to over 70.
Click here for the Honour Roll of Rangers who have lost their lives this year.
Founded in 1992, the International Ranger Federation has a membership of 63 ranger associations from 46 countries, on six of the seven continents. The first World Ranger Day was observed in 2007 on the 15th anniversary of the founding of the federation.
Copyright Environment News Service (ENS) 2014. All rights reserved.