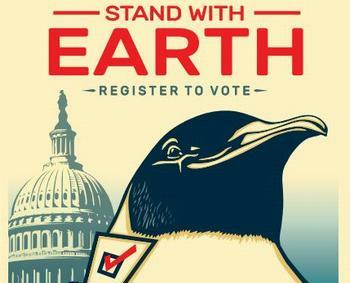 WASHINGTON, DC, October 10, 2018 (ENS) – Former U.S. Vice President Al Gore seldom exercised his sense of humor while in office, but now he's making up for it. Currently the chairman of the nonprofit Climate Reality Project, Gore Tuesday announced his support for a new species of politician – a Congressional candidate and emperor penguin named Earth.
A strong supporter of green initiatives and a clean energy economy, Earth, the candidate who puts the planet first, is urging voters to get out and vote before our planet finds itself on thin ice.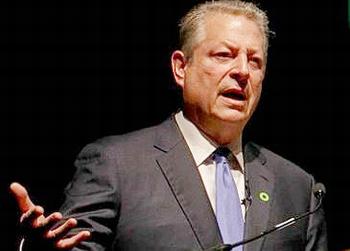 "Earth knows that young people have the power to change the world," said Gore. "I'm so inspired by the passionate and dedicated young leaders who are getting involved and making their voices heard. It's crucial that this energy is translated into votes this November."
The Earth for America campaign is a partnership between The Climate Reality Project and two divisions of the New York-based international advertising agency TBWA Worldwide – TBWA\Chiat\Day, its U.S. division, and the nonprofit MAL\FOR GOOD, a social-impact agency.
The Mill is also involved, using youth-oriented humor and state-of-the-art animation to create the candidate Earth. Mill Mascot is a product that combines real-time animation and game engine technology with motion sensors; enabling a digital puppeteer to control animated characters through hand gestures.
YouTube star Liza Koshy is featured as the voice of Earth, including in the campaign's official announcement video. Artist Shepard Fairey's Studio Number One designed Earth's official campaign portrait in his signature style.
"As a young, registered voter, Earth's perspective, message and relatable tone resonates with me," said Koshy. "She stands for issues that hit home (literally) for us all. I encourage everyone to use their platform, as Earth does, to ensure their voice is heard. You don't have to be a cute penguin running for Congress, but you DO have to VOTE."
Earth for America is encouraging young people to register and vote this November for the future they want. The 2018 elections will be held across the United States on Tuesday, November 6.
While Earth herself will not be on the ballot, the issues she stands for – such as renewable energy, clean energy jobs, fighting the climate crisis, land conservation, health, and clean air and water – will be. When young people turn out to vote, their impact can be decisive.
"As a kid," says Earth on the campaign website, "my family had to leave our home in Antarctica due to loss of sea ice. So, we moved to the US, where I was able to grow up with a grassy yard, a white picket fence and a house that wasn't melting. You know, the American dream."
"My parents wanted me to pursue a career in law, so naturally I did the opposite," said the political penguin. "I studied environmentalism, working to protect others from the injustices I was all too familiar with."
"I urge each and every one of you to get out and vote to make your voices heard," said Earth. "While I do hope you'll support important issues like energy security and clean air and water, the best way to make a difference is to vote, no matter the issues or candidates you support. Your vote matters!"
Founded by Gore, The Climate Reality Project is working to catalyze a global solution to the climate crisis by making urgent action a necessity across every level of society. With more than five million followers and a grassroots network of trained Climate Reality Leader activists, the nonprofit is educating people about the truth of the climate crisis and building popular support for clean energy solutions.
For more information about Earth's candidacy, please visit www.earthforamerica.com or follow her on Instagram, Facebook and Twitter @earthforamerica.
Copyright Environment News Service (ENS) 2018. All rights reserved.