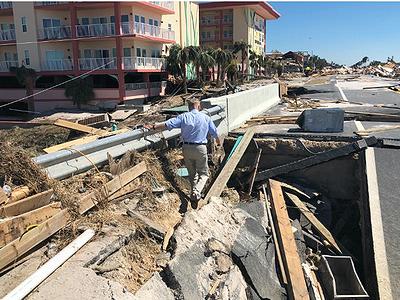 TALLAHASSEE, Florida, October 18, 2018 (ENS) – At least 50 deaths have been blamed on Hurricane Michael, the most powerful storm ever to strike the Florida Panhandle, including 35 in the United States and 15 in Central America.
In Florida, 25 people lost their lives; three died in North Carolina, one in Georgia and six in Virginia.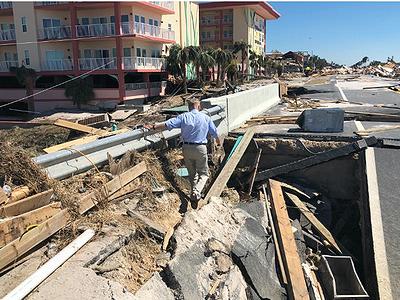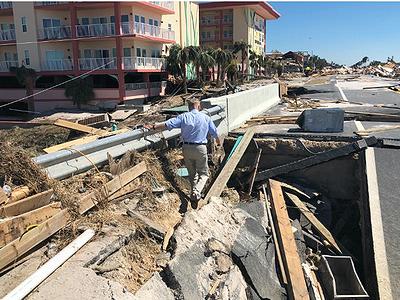 Eight days after Hurricane Michael made landfall on the Florida Panhandle October 10, more than 1,100 people remain missing, a rescue organization official said.
In an interview with Reuters, CrowdSource Rescue co-founder Matthew Marchetti said at least 1,135 Floridians are still unaccounted for. But many of those listed as missing could be with friends or family elsewhere, or may have fled the storm and failed to inform others of their location.
Hurricane Michael attained peak winds of 155 mph (250 km/h) as it made landfall near Mexico Beach, Florida, on October 10, becoming the first to strike the region as a Category 4 hurricane.
As it moved inland, the storm weakened and took a northeastward trajectory toward Chesapeake Bay, weakening to a tropical storm over Georgia, and transitioning into a cyclone off the coast of the Mid-Atlantic states on October 12.
Then Michael strengthened into a powerful extratropical cyclone and impacted Spain and Portugal on Europe's Iberian Peninsula, before dissolving on October 16.
Michael left hundreds of thousands without power in the region. Insurance losses due to Michael in the United States are estimated in the range from US$8 to 11 billion.
Dr. Rick Knabe, a hurricane expert on the Weather Channel, tweeted, "Michael has taken and changed lives, left communities in ruins, and even altered the coastline itself. Some of the landmass of St. Joseph Peninsula State Park, just offshore Port St. Joe, no longer exists. It takes powerful storm surge and waves to do this."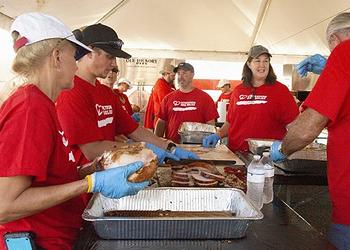 FEMA Disaster Survivor Assistance teams are out in the field helping Florida Panhandle residents register for disaster assistance following the hurricane.  Register at DisasterAssistance.gov to find out what types of assistance are available or call 800-621-3362.
U.S. Army Corps of Engineers emergency route clearance teams in coordination with power restoration crews are clearing roads in Bay, Gulf, and Jackson Counties following Hurricane Michael.
The power companies, Florida Power & Light and Duke Energy, have crews out restoring power, and today most power has been restored, but cell phone service is still out in many places.
The Federal Communications Commission slammed the nation's wireless carriers Tuesday for failing to quickly restore service to Hurricane Michael victims. The FCC demanded the companies compensate Florida residents with a month of free cellular service.
Telecom regulators have repeatedly pressed for the companies to act quickly to restore cell service in the wake of the storm.
In a statement Tuesday, FCC Chairman Ajit Pai called the carriers' lack of progress "completely unacceptable" and said he intends to launch an investigation. He urged the companies to "waive the bills of Floridians in these affected areas for the month of October."
Pai also called for allowing residents to switch providers "without penalty" and for the firms to explain the steps they are taking to restore service.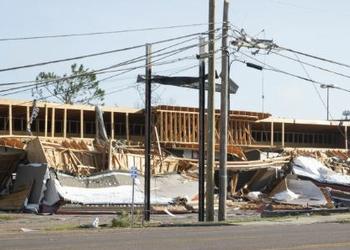 AT&T, T-Mobile, Sprint and Verizon did not immediately respond to a reporter's request for comment.
U.S. Senator for Florida Bill Nelson, a Democrat, said, "It's going to be quite a rebuilding, but Floridians are tough."
Tyndall Air Force Base southeast of Panama City, where pilots are trained to fly the F-22 stealth fighter, will not be abandoned due to the devastation caused by Hurricane Michael, Nelson pledged Monday.
Base command at Tyndall says the hit from Michael caused "widespread catastrophic damage," with every structure damaged.
Speaking to reporters at Tallahassee International Airport, Nelson, who sits on the Senate Armed Services Committee, expects Tyndall Air Force Base to be rebuilt as a modern Air Force facility. Last year, the Pentagon valued the facilities at Tyndall, where some 3,600 military personnel are stationed, at $3.4 billion.
"It is critically located right next to one of our greatest national assets, the Air Force Eastern Gulf Test and Training Range, which is the largest testing and training range for the United States military in the world," said Nelson.
Nelson and his Republican colleague Senator Marco Rubio have assured residents they're working to make sure federal resources flow swiftly into the area.
Writing to Cabinet officials to secure funding for recovery, Rubio said October 16, "The unprecedented strength of Hurricane Michael has wrought devastation in the Florida panhandle. Making matters worse, many of the worst-hit areas are also some of the poorest in the state. … The road to recovery will be especially long and hard for these areas."
Rubio said, "Seeing firsthand the businesses that were flooded in Apalachicola, the thousands of homes damaged or lost in southern Gulf County, and the storm's tremendous impact in northern Gulf and Calhoun, we are reminded that we have a long road ahead of us. The goal is to make sure every day is a little better than the day before."
Copyright Environment News Service (ENS) 2018. All rights reserved.