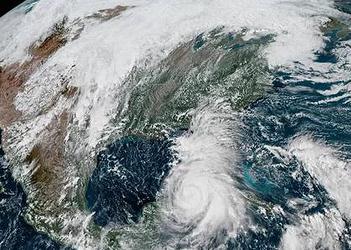 MIAMI, Florida, October 9, 2018 (ENS) – Hurricane hunter aircraft flying into the swirl of Hurricane Michael report that the storm is still strengthening. As of 8 am today, Michael was a Category 2 storm, with maximum sustained winds near 100 mph, the National Hurricane Center says.
It is forecast to make landfall along the North Florida coast on Wednesday as a Category 3 hurricane with sustained winds of at least 111 mph.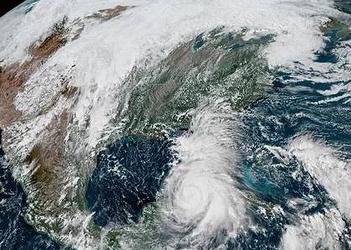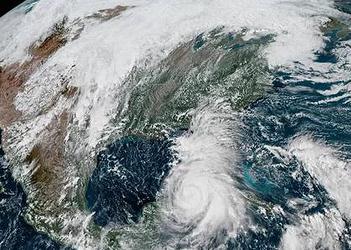 Residents are scrambling to get out of the storm's way. Thousands of people have been ordered to evacuate, and governors in Florida and Alabama have declared states of emergency.
Florida Governor Rick Scott has ordered mandatory evacuations from parts of three counties in the storm's path: Bay, Franklin and Gulf counties and voluntary evacuations in low-lying and coastal sections of four more: Hernando, Leon, Liberty and Santa Rosa counties.
On October 7, Governor Scott declared a state of emergency in 26 Florida counties, and expanded it to include 35 counties total on October 8. The governor has also requested that President Donald Trump declare a pre-landfall emergency for the State of Florida in preparation for Hurricane Michael. This declaration would provide resources and assistance from the federal government, and free up funding sources for emergency protective measures.
Forecasters with the National Hurricane Center predict a life-threatening storm surge to accompany hurricane force winds and heavy rainfall along the northeastern Gulf Coast within the next 36 hours.
In Montgomery, Alabama Governor Kay Ivey issued a statewide State of Emergency on Monday in anticipation of wide-spread power outages, wind damage and debris produced by high winds and heavy rain associated with Hurricane Michael. Flash flooding and tornadoes are also possible and parts of Alabama have been placed under tropical storm watches or warnings.
At 10:00 AM CDT, the eye of Hurricane Michael was located in the Gulf of Mexico near latitude 25.0 North, longitude 86.2 West. Michael is moving toward the north near 12 mph (19 km/h). A northward motion is expected through tonight, followed by a northeastward track on Wednesday and Thursday.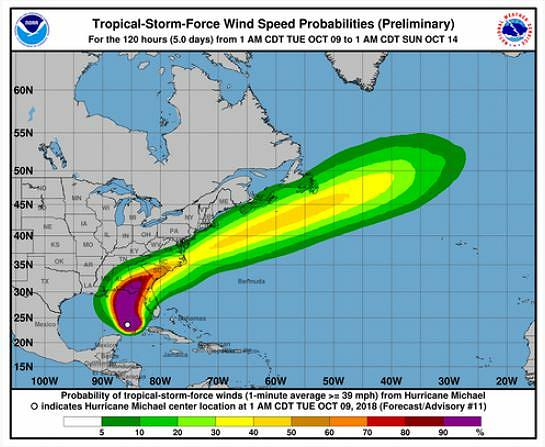 The center of Michael is forecast to move across the eastern Gulf of Mexico through tonight. Michael is then expected to move inland over the Florida Panhandle or Florida Big Bend area on Wednesday, and then move northeastward across the southeastern United States Wednesday night and Thursday, touching some of the same areas in the Carolinas devastated by Hurricane Florence just weeks ago.
Michael is expected to move eastward off the Mid-Atlantic coast and away from the United States by Friday.
Right now, a Hurricane Warning is in effect for the area from the Alabama/Florida border to the Suwannee River in Florida.
A Storm Surge Warning is in effect for the area from the Okaloosa/Walton County Line in Florida to the Anclote River, also in Florida. As much as eight to 12 feet of storm surge is forecast to hit the Panhandle and Big Bend.
"Regardless of the eventual track and intensity of Michael, life-threatening storm surge inundation is expected along portions of the Florida Panhandle and Big Bend/Nature Coast," wrote forecaster Jack Beven.
"This is a life-threatening situation," warns the National Hurricane Center. "Persons located within these areas should take all necessary actions to protect life and property from rising water and the potential for other dangerous conditions. Promptly follow evacuation and other instructions from local officials."
"The main hazards will be gusty winds, flooding and isolated tornadoes," the National Weather Service's Hazardous Weather Outlook for South Florida said Tuesday.
"We urge people to take this dangerous hurricane very seriously and make their final storm preparations now," said Brad Kieserman, vice president of disaster operations and logistics for the Red Cross. "The Red Cross is working closely with state and local authorities in Florida, Alabama and Georgia to support evacuation centers for as many as 30,000 people who may need a safe place to stay during the storm."
The Florida National Guard currently has 5,500 soldiers and airmen available for activation. Governor Rick Scott has activated 1,250 Florida National Guard Troops for pre-landfall coordination and planning. Their equipment includes more than 1,000 high water vehicles and 13 helicopters. They are preparing for possible missions to include humanitarian assistance, security operations, and search and rescue.
If needed, they can bring in an additional 30,000 personnel from other states through the Emergency Management Assistance Compact.
The Florida Fish and Wildlife Conservation Commission has 40 officers from outside the projected path ready to deploy if needed. They will respond with a variety of specialized equipment, including shallow draft boats, ATVs, airboats and four wheel drive vehicles.
The Florida Highway Patrol is pre-deploying 100 State Troopers to the Panhandle and Big Bend area of Florida in preparation for Michael.
"Hurricane Michael is forecast to become a major hurricane and it will produce widespread power outages and debris that will challenge our response and recovery in the southern and Wiregrass counties. Alabamians should always be prepared, but everyone needs to make final preparations now to be ready for Hurricane Michael," said Alabama Emergency Management Agency Director Brian Hastings.
"I am concerned about the cone of uncertainty as Hurricane Michael is leaning west today," said Hastings. "Residents and businesses in coastal Alabama must be vigilant and closely monitor the storm's path and be prepared for a major hurricane."
The Federal Emergency Management Agency, FEMA, warns, "History shows that storm tracks can change quickly and unexpectedly. … As Michael continues to be a fast-moving storm, it is urgent that residents be prepared for these forecast changes and take the following preparedness steps now:
* – Turn on your TV/radio, or check your city/county website every 30 minutes to get the latest weather updates and emergency instructions.
* – If told to evacuate, do so immediately.
* – Restock emergency preparedness kits with food and water.
* – Refill gas tanks and stock vehicles with emergency supplies and a change of clothes.
* – Bring patio furniture and garbage cans inside; they could become dangerous in high winds.
* – Get prescription refills if needed.
* – Have cash on hand.
For a depiction of areas at risk, please see the National Weather Service Storm Surge Watch/Warning Graphic, available at hurricanes.gov.
Environment News Service (ENS) © 2018 All Rights Reserved.