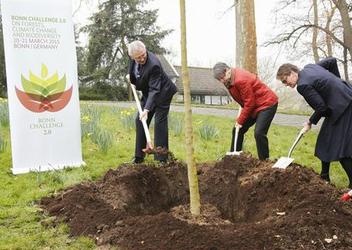 BONN, Germany, March 23, 2015 (ENS) – New forest restoration initiatives were announced by Latin America, Southeast Asia and Africa at the second international Bonn Challenge conference on forest landscape restoration taking place in Germany on the weekend.
With these announcements, a total of 61.9 million hectares have been contributed to the Bonn Challenge – a global movement to restore 150 million hectares of degraded and deforested land by 2020.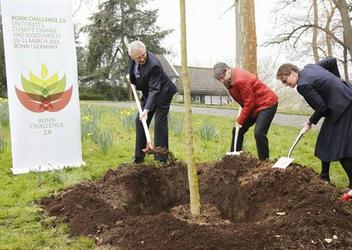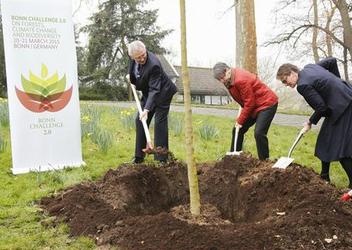 The conference brought together environment ministers and government representatives from China, Costa Rica, El Salvador, Ethiopia, Guatemala, Indonesia, Liberia, Republic of Korea, Sweden and the United States, along with representatives from key donor countries, such as Germany and Norway, business leaders and nature conservation organizations.
To mark the International Day of Forests, proclaimed by the United Nations on March 21, the Bonn Challenge participants planted a maple tree together as a symbol of their joint efforts.
The Bonn Challenge was launched in 2011 at an event co-hosted by Germany and the International Union for the Conservation of Nature, IUCN. It was endorsed at the 2014 Climate Summit and supplemented by the New York Declaration on Forests with a goal to restore an additional 200 million hectares by 2030.
According to IUCN, achieving the 150 million hectare challenge could bring more than US$85 billion per year to local and national economies and US$6 billion in additional crop yields.
Achievement of the goal could reduce the current CO2 emissions gap by 11 to 17 percent.
"We are well on our way to achieving our goal of restoring a total of 150 million hectares of destroyed forests by 2020," said German Environment Minister Barbara Hendricks.
"With the restoration of forests we can pursue multiple objectives simultaneously," she said. "We can do something about climate change and species extinction and help restore the livelihoods of millions of people."
El Salvador revealed its plans to launch a Central American partnership for restoration.
In Africa, Ethiopia and Liberia announced further action on the Great Green Wall Initiative, which aims to curb the spread of the Sahara by restoring forests.
In Southeast Asia new goals to extend cooperation between governments and businesses on forest restoration were announced.
"The world is recognizing that forest landscape restoration offers a critical contribution to addressing some of our global challenges, such as climate change, biodiversity, food security and economic growth," said Inger Andersen, Director General of IUCN, one of the co-hosts of the event.
"The Bonn Challenge is about much more than simply planting trees. It's about addressing the most pressing issues of our generation, and of future generations," said Andersen.
An analysis by the New Climate Economy found that achieving the expanded Bonn Challenge goal of 350 million hectares by 2030 could generate USD170 billion per year in net benefits from watershed protection, improved crop yields and forest products, alongside carbon sequestration.
The New Climate Economy is the flagship project of the Global Commission on the Economy and Climate. It provides independent and authoritative evidence on the relationship between actions which can strengthen economic performance and those which reduce the risk of dangerous climate change.
In addition to restoration commitments from countries and organisations, key donors noted today that they would increase their support for global restoration
"We are now at the point where just reducing emissions will not be enough," says Tine Sundtoft, Norway's Minister of Climate and Environment. "We must actively remove carbon out of the atmosphere. Forest restoration is the most cost-effective carbon capture option we have. The New Climate Economy Report from last year showed us that conserving and enhancing the forest can be done. And it can be done while also achieving economic growth."
Support for restoration is also increasingly coming from private sector sources.
"Restoring millions of hectares of degraded land is one of the great ideas of our times," says Dr. Andrew Steer, President & CEO of the World Resources Institute, a co-host of the event. "No wonder, then, that political and financial momentum is building across every continent."
The Bonn Challenge conference was co-organized by the German Federal Environment Ministry, the Norwegian Ministry of Climate and Environment, the IUCN and the World Resources Institute.
Copyright Environment News Service (ENS) 2015. All rights reserved.
Environment News Service (ENS) © 2015 – 2021 All Rights Reserved.