LONDON, UK, January 29, 2013 (ENS) – Giant bees appeared at Prime Minister David Cameron's office at #10 Downing Street this morning to sting the government into delivering a Bee Action Plan, as part of Friends of the Earth's Bee Cause campaign.
The human-sized bees delivered over 64,000 demands from UK residents, gathered by Friends of the Earth and Garden Organic. The two advocacy groups ran parallel petitions asking for a National Bee Action Plan.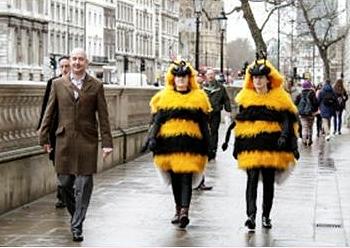 Myles Bremner, chief executive of Garden Organic, said at the demonstration, "We're delighted so many people feel as strongly as we do that urgent action must be taken to save British bees now. If the government introduces a National Bee Action Plan it would also help to protect a whole range of other beneficial insects that are vital for organic gardens to thrive."
Affected by disease, chemicals and habitat loss, UK bees have been dying off for several years and two bumblebee species are already extinct.
Friends of the Earth is not the only group pressuring the government to halt the decline in bees.
Eighty-nine Members of Parliament from across the political spectrum have called on the Prime Minister to introduce a Bee Action Plan, and 125 attended an event on January 15 to express their concern about falling bee numbers.
The Friends of the Earth bees asked the Prime Minister to make 2013 the Year of the Bee and agree an action plan that would include restoring habitat, helping farmers and gardeners to reduce pesticide use.
The bee demonstrators asked the government to protect all 267 British bee species, not only the ones that make honey.
Friends of the Earth campaigner Paul de Zylva said, "Britain is losing its bees fast and only urgent government action will stop it. Bees are vital to our way of life, helping our gardens, parks and farms to thrive. The British public is waking up to this issue; the big question is – will Mr. Cameron make 2013 the Year of the Bee by agreeing a Bee Action Plan."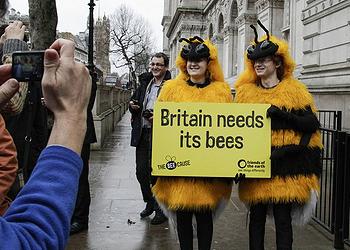 Today's demonstration also coincides with the government's Advisory Committee on Pesticides discussion on neonicotinoid pesticides, believed to be a contributing factor to bee decline.
"One in three mouthfuls of the food we eat is dependent on pollination at a time when a crisis is threatening the world's honey bees," says the British Beekeepers Association.
There are estimated to be up to 44,000 beekeepers in the UK; 99 percent of them are amateurs.
On January 10, the UK government published a consultation seeking views from amateur beekeepers and commercial bee farmers on how the government can best support improving honey bee health.
In the consultation, the UK Department for Environment, Food and Rural Affairs, together with the Welsh Government, outlined proposals which will help beekeepers to identify and manage pests such as the Varroa mite, considered the single greatest problem for beekeepers.
Animal Welfare Minister, Lord de Mauley, said, "Honeybees are an iconic species which are vital to the environment, and I want to make sure that we do all we can to safeguard their future."
"But these bees are susceptible to pests and diseases and need to be cared for properly to aid their long-term survival, which is why we're consulting on new measures to help beekeepers and improve bee health," he said.
The consultation will run through March 9. Defra will receive public comments at this link: http://bit.ly/TL1UlK.
The government is offering improved guidance for bee keepers from the National Bee Unit as well as a new enhanced rolling training program run by the NBU and beekeeping associations for all beekeepers.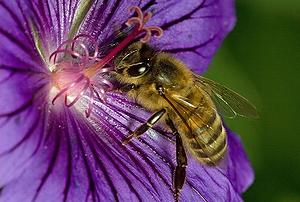 Advice on beekeeping can be found on the NBU's BeeBase website www.nationalbeeunit.com. The website also contains details on how to join BeeBase, a free database which links apiarists with other nearby beekeepers to help track pests and disease and provides guidance on how to tackle them.
On January 16, the European Food Safety Authority published three reports, as requested by the European Commission, to assess risks associated with the use of the neonicotinoid insecticides clothianidin, imidacloprid and thiamethoxam as seed treatment or as granules.
The risk assessments focused on three main routes of exposure: exposure from residues in nectar and pollen in the flowers of treated plants; exposure from dust produced during the sowing of treated seeds or application of granules; and exposure from residues in guttation fluid produced by treated plants.
The EFSA concluded that acceptable use of these pesticides is only for crops not attractive to honey bees due to the risk of exposure from pollen and nectar.
A risk to honey bees from exposure to dust containing these chemicals either was shown or could not be excluded.
Guttation is the exudation of drops of xylem sap on the tips or edges of leaves of plants such as grasses. Guttation is not the same as dew, which condenses from the atmosphere onto the plant surface.
The EFSA was only able to complete the risk assessment for maize, or corn, treated with thiamethoxam. "In this case, field studies show an acute effect on honey bees exposed to the substance through guttation fluid," the EFSA reported
The assessments identified data gaps that the EFSA said made it impossible to finalize them.
Now the EFSA reports will be considered by the European Commission, which will decide whether there needs to be a proposal to change regulation of these substances at the European Union level.
Two British retailers are not waiting for regulations, they are taking action on pesticide products linked to declining bee populations.  The home improvement retailer B&Q says it will no longer stock pesticides containing imidacloprid, because of "concerns about the potential for harm."
The do-it-yourself retailer Wickes says it will replace a product containing thiamethoxam later this year.
Friends of the Earth's Head of Campaigns Andrew Pendleton said,  "We're delighted stores are withdrawing these pesticides. Other retailers must follow suit and take action to protect our bees."
"The spotlight now falls on the UK Government," Pendleton said. "Ministers must help safeguard our bees by immediately suspending the three pesticides identified by European food safety scientists – and ensuring farmers have safe alternatives.  Declining bee numbers are a real threat to food production. This is why the Prime Minister must introduce a National Bee Action Plan."
Copyright Environment News Service (ENS) 2013. All rights reserved.