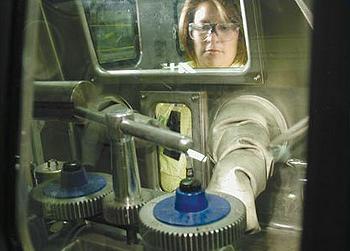 LIVERMORE, California, January 29, 2013 (ENS) – Environmental, legal and nuclear experts from California and New Mexico are holding a community forum Wednesday to reveal the "potentially illegal" new federal government plan to ship plutonium bomb cores across three western states.
The forum will be the first public discussion of this proposal by the U.S. Department of Energy to move the plutonium bomb cores from the Los Alamos National Laboratory in New Mexico to the Lawrence Livermore National Laboratory in California.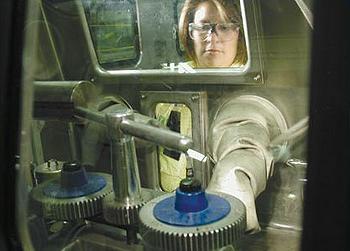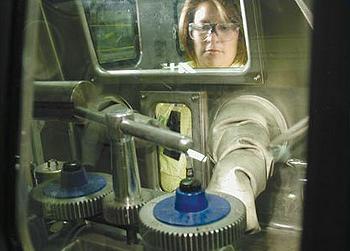 The Livermore and Los Alamos National Laboratories are the nation's primary nuclear weapons design facilities.
On September 30, 2012, the Livermore Lab permanently lost its security authorization to handle, use or store bomb-usable quantities of plutonium, including bomb cores, called pits.
Nine days earlier, the U.S. Department of Energy's National Nuclear Security Administration said that its removal and consolidation program for plutonium and enriched uranium had eliminated these Security Category I/II special nuclear material items from the Livermore Lab's Plutonium Facility.
NNSA Administrator Thomas D'Agostino said on September 21, 2012, "Consolidating this nuclear material will help save critical taxpayer dollars, help improve the safety and security posture at the site, and help align our enterprise for the coming decades."
The Livermore Lab's primary mission will continue to be to ensure the safety, security and reliability of the nuclear weapons stockpile, said D'Agostino, but "this mission will now be performed with a small quantity of special nuclear material, resulting in annual cost savings for taxpayers of about $40 million."
Despite no longer being responsible for security covering Category I/II special nuclear material, the community groups hosting the forum are pointing out that Livermore Lab will be receiving plutonium pits from Los Alamos.
Marylia Kelley, executive director, Tri-Valley CAREs, and Jay Coghlan, executive director, Nuclear Watch New Mexico will tell the forum that the DOE, "has failed to adequately plan for the permanent reduction of Livermore Lab's security forces from a Category I/II level to the lesser Category III, which does not permit nuclear bomb usable quantities of plutonium to be on the site."
The NNSA explains that plutonium pits are a critical core component of a nuclear weapon. "To ensure the reliability, safety, and security of nuclear weapons without underground nuclear testing, weapons go through a surveillance process, where they are regularly taken apart, examined, and tests run on their components," the agency says on its website.
Some of the inspections are so thorough that the plutonium pit is destroyed during evaluation, says the NNSA. In order for this weapon to reenter the stockpile, a replacement pit is needed.
NNSA lost the ability to manufacture replacement pits when Colorado's Rocky Flats Plant closed in 1992. "For the W88 warhead, this was a concern because there were not enough W88 pits to replace ones that were destroyed during the surveillance process," the NNSA says.
By 2007, NNSA regained its ability to manufacture plutonium pits, which is now done at Los Alamos National Laboratory, which  manufactured pits for the W88 nuclear warhead from 2007-2012.
While the Los Alamos Lab now makes plutonium pits for the U.S. nuclear weapons stockpile, Kelley explains that the DOE left a suite of pit diagnostics in one service bay in Bldg. 334 at the Livermore Lab.
DOE now proposes to bring whole plutonium pits from New Mexico to California to utilize the pit diagnostics, that Kelley calls "shake and bake," because they consist of a shaker table, thermal unit and drop test.
"Los Alamos Lab does not currently possess this particular diagnostic suite and Livermore Lab does not possess the security infrastructure to safely handle the pits," warn Kelley and Coghlan.
They are concerned because, the Energy Department "has not conducted any environmental impact statement or review of the safety hazards and potentially catastrophic consequences of its proposal."
At the forum they will propose alternatives to the government's plans that they say will provide greater safety at both national laboratories and all the communities in between.
The forum also will address the Superfund cleanup of leaking toxic and radioactive wastes at Livermore Lab and the contrasting futures that cleanup and bomb testing offer to the community.
The forum is sponsored by Tri-Valley CAREs (Communities Against a Radioactive Environment), Livermore-based nuclear watchdogs since 1983.
It will take place Wednesday, January 30, from 7 to 9 pm at the Livermore main library, 1188 South Livermore Ave, Livermore, California.
Copyright Environment News Service (ENS) 2013. All rights reserved.