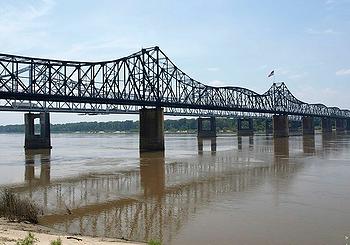 NEW ORLEANS, Louisiana, January 29, 2013 (ENS) – Crude oil spilling from a barge that hit the Vicksburg Railroad bridge across the lower Mississippi River has closed 16 miles of the river to navigation.
Some 800 barges are backed up while the oil spill is cleaned up, the U.S. Coast Guard said.
The accident  occurred early Sunday morning near mile marker 434 in Vicksburg, Mississippi.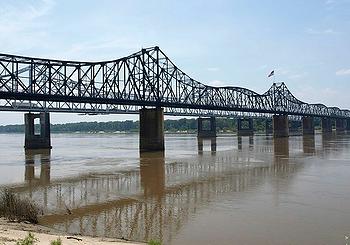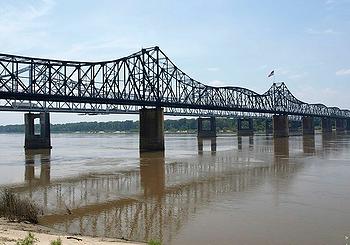 A unified command consisting of representatives from the U.S. Coast Guard, local authorities and law enforcement and the owner of the towing vessel, Nature's Way Marine LLC, is responding to the spill.
The Coast Guard was notified Sunday at 1:30 am that two tank barges, towed by the tug Nature's Way Endeavor, had struck with the Vicksburg Railroad river bridge.
Both of the tank barges were loaded with crude oil; both of the barges were damaged, but to date only one has released oil into the river.
Personnel from Sector Lower Mississippi River, Marine Safety Detachment Vicksburg and the Coast Guard Gulf Strike Team from Mobile, Alabama, are on scene and continue to assess the size of the spill and oversee cleanup operation.
The actual amount of the spill has not yet been determined, but the leaking tank contained approximately 80,000 gallons of light crude oil.
Tank soundings indicated that the barge is still leaking oil into the river. Containment boom has been deployed around the area of the leak and skimmers are being used to recover the oil.
The tank levels are being constantly monitored for further leakage.
The responsible party is drafting a plan for removing the oil from the barges and salvage operations for Coast Guard review.
The Coast Guard Captain of the Port, Capt. William Drelling, commander of Sector Lower Mississippi River, has closed a 16-mile section of the river to all traffic from mile marker 425 to mile marker 441 near Vicksburg.
Mississippi River vessel traffic queue management is ongoing. Vessels will be allowed to transit the area as soon as it is environmentally and operationally safe to do so.
The latest queue is 12 vessels northbound and 19 southbound.
No injuries were reported in association with the incident. The Coast Guard investigation into the incident is ongoing. The Oil Spill Liability Trust Fund has been opened.
Copyright Environment News Service (ENS) 2013. All rights reserved.