PALMETTO, Florida, April 4, 2021 (ENS) – Florida Governor Ron DeSantis traveled today to Manatee County to meet state and local officials as Florida struggles with uncontrolled toxic discharges from the former Piney Point phosphate processing plant. Several breaches in a wall around a 480-million gallon wastewater reservoir have been leaking for days after heavy rains.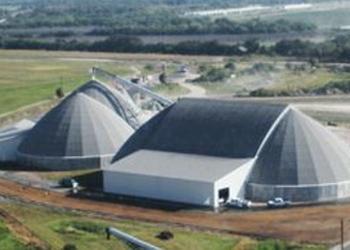 The governor has issued a State of Emergency in Manatee County after crews using heavy equipment to shore up a breach in the wall with earth and rock failed Saturday due to the amount of pressure behind the leaking waste, Manatee County Acting County Administrator Dr. Scott Hopes told reporters. "They reached a point where they were about to celebrate, and then it blew through," Hopes said.
Currently, more than 300 people living near Piney Point have been told to evacuate the area as a leak of process wastewater, dredging spoils and stormwater flooded the area. Overnight attempts to fix the leak at Piney Point were unsuccessful, local leaders admitted Saturday afternoon. Efforts to prevent a much bigger flood of wastewater are ongoing.
Crews have been working to move 22,000 gallons a minute out of the main retention pond and into a drainage ditch at nearby Port Manatee to relieve some of the stress on the breaches – several small ones and a "significant leak" at the bottom of a large retention pond.
Waste material is stored in water-covered phosphogypsum stacks on the property; Piney Point's ponds had been approaching their maximum capacity, he said, and warned that flooding from a collapse could cause dangerous floods, such as a quickly moving 20-foot wave of water.
Wastewater, Florida officials said, was flowing to Port Manatee at a rate of about 35 million gallons a day Saturday. Utimately, the water flows into Tampa Bay and the wider Gulf of Mexico, raising concerns about its impact on marine life.
At this rate, Hopes said it will take up to 12 days to reduce the amount of water stored in the leaking ponds – about 380 million gallons, the county says. The ponds are located on a site owned by HRK Holdings, a transport, freight, storage and logistics firm next to Port Manatee, the closest deep-water port (42' draft) to the Panama Canal in the United States.
Some 800 million gallons of process water, saltwater from the Port Manatee dredge project, rainfall and stormwater runoff have been kept in retention ponds on the HRK site at the corner of U.S. Highway 41 and Buckeye Road. Florida's Department of Environmental protection has oversight.
Florida Department of Emergengy Management Director Jared Moskowitz told reporters today, "We are sending every resource at our disposal to the site by truck, crane and helicopter. We have already deployed 20 pumps, 10 vacuum trucks and more than 100,000 bottles of water, with more on the way. I urge residents in the area to follow all warnings and evacuation orders from local officials as we do everything we can to keep you safe."
Governor DeSantis has deployed the National Guard and they are in the process of dropping off additional pumps via aircraft on top of the berms, to help decrease the water levels in the Piney Point reservoir at an even faster pace. "The State is committed to holding HRK and all involved parties accountable."
Both DeSantis and Hopes pointed the finger at HRK Holdings for the failure that has been a potential issue for decades. "This could have been fixed two decades ago," Hopes said.
© 2021, News Editor. All rights reserved.