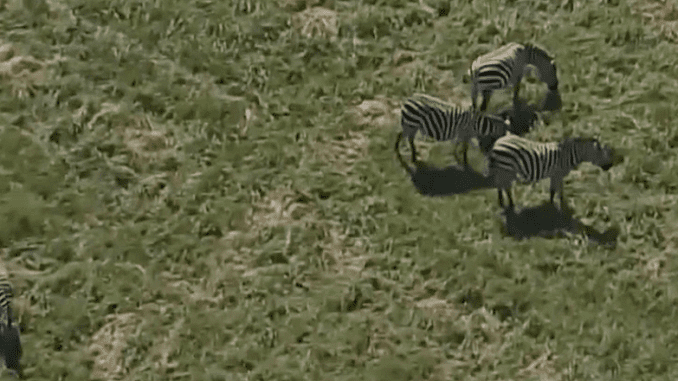 UPPER MARLBORO, Maryland, September 10, 2021 (ENS) – For more than a week, five zebras have been been wandering freely through the roads and residential neighborhoods of Prince George's County, just a few miles from Washington, DC, making themselves at home, although they are far from their ancestral home in Africa.
Located in the heart of the Baltimore/Washington corridor, Prince George's County borders Washington, DC and is just 37 miles south of the city of Baltimore.
The free-roaming zebras first came to the attention of county authorities on August 31 after they got loose from a privately owned farm in Upper Marlboro, about 20 miles southeast of the nation's capital, said Rodney Taylor, chief of the county's Animal Services Division.
It's unclear at this time exactly how the animals escaped. Taylor said he normally deals with dogs and cats, not with zebras.
They were part of a group of 39 zebras that had been brought to the farm from Florida about two weeks ago, Taylor told reporters.
The farm's owner, Jerry Holly, apparently has a license from the U.S. Department of Agriculture to keep 39 zebras, Taylor said, although the Department of Agriculture has not confirmed that as yet.
Holly advertises his business, Jerry Holly Exotics, online, saying: "WE are an EXOTIC BREEDER that specializes in: Red Fox, Gray Fox, Arctic Fox, Fennec fox, Kinkajous, Sugar Glyders, Hedgehogs, Chinchillas, Otters, Raccoon, and Skunks. We offer QUALITY, HAND RAISED , PRE-SPOILED kits. If you are looking for a QUALITY PET you have come to the right place. We sell animals that can be legally obtained to all 50 states in the USA."
Taylor said that workers at Holly's farm have a plan to trap the zebras in a feeding station, where they have been captured on video eating grain most nights this week.
Farm workers have been cautiously building an enclosure that, when finished, will have a gate with a tripwire, Taylor said.
The build has been slow because the zebras might be afraid to enter the feeding station if they see that the shape of the enclosure has changed, Taylor said. Animal control workers have not approached the zebras, out of concern that, with their keen senses, they might startle and bolt.
Eventually, after the zebras are caught, they will be tranquilized and returned to the Holly farm.
Featured image: Four of the five zebras on the loose in Maryland. September 2021 (Photo credit unknown)
Environment News Service (ENS) © 2021 All Rights Reserved.