First Mercury, Air Toxics Standards Imposed on U.S. Power Plants
WASHINGTON, DC, December 21, 2011 (ENS) – The U.S. Environmental Protection Agency today issued the first national standards that regulate power plant emissions of mercury and toxic air pollutants such as arsenic, nickel, selenium, cyanide and acid gases. Exposure to these emissions has been linked to developmental disorders and respiratory illnesses.
EPA Administrator Lisa Jackson told reporters on a conference call that the rule "has been 20 years in the making." The rule is "a great victory of public health, especially for the health of our children," declared Jackson, who said that her 15-year-old son spent his first Christmas in the hospital struggling to breathe. "Millions of families, including my own, will benefit."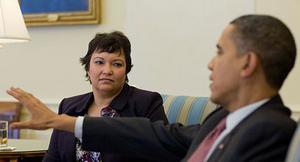 EPA Administrator Lisa Jackson with President Barack Obama at the White House, February 2010 (Photo by Pete Souza courtesy The White House)
More than 20 years ago, Congress passed the 1990 Clean Air Act Amendments, mandating that EPA require control of toxic air pollutants, including mercury. To meet this requirement, over the years EPA has worked with stakeholders, including industry, to minimize cost and maximize flexibilities in these final standards.
The standards will reduce emissions of these pollutants by relying on widely available, proven pollution controls that are already in use at more than half of the nation's coal-fired power plants, the EPA said today.
The new safeguards will prevent as many as 11,000 premature deaths and 4,700 heart attacks a year, according to the EPA. The standards will also prevent 130,000 cases of childhood asthma symptoms and about 6,300 cases of acute bronchitis among children each year.
Mercury has been shown to harm the nervous systems of children exposed in the womb, impairing thinking, learning and early development. Other pollutants that will be reduced by these standards can cause cancer, premature death, heart disease, and asthma.
"The Mercury and Air Toxics Standards will protect millions of families and children from harmful and costly air pollution and provide the American people with health benefits that far outweigh the costs of compliance," Jackson said.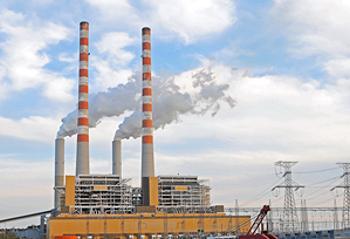 Tennessee Valley Authority's 1,300-megawatt Cumberland coal-fired power plant is one of the largest in the world. (Photo by Michael Davis)
The cost of compliance has been a sticking point for industry, which objects to the Mercury and Air Toxics Standards.
National Association of Manufacturers President and CEO Jay Timmons said today, "EPA Administrator Lisa Jackson has finalized one of the most costly regulations that will do more damage to our economy and job growth. In 2015 alone, Utility MACT will cost $11.4 billion."
"Utility companies have made clear that they will be forced to shut down power generation plants throughout the country, and the reliability of the power grid will be threatened if this rule is implemented," warned Timmons.
But Jackson said today, "The rule does not require plant closures but control of emissions. Businesses will make decisions either to invest in controls for existing plants, close old plants or build new plants. Our estimates show that plants representing less than .5 percent of all generation will close, most of them plants over 40 or 50 years old."
Today, more than half of all coal-fired power plants in the United States already deploy pollution control technologies that will help them meet these achievable standards. "Once final, these standards will level the playing field by ensuring the remaining plants, about 40 percent of all coal fired power plants, take similar steps to decrease dangerous pollutants," said Jackson.
Today President Barack Obama issued a Memorandum to Administrator Jackson, directing her to use flexibility in applying the new Mercury and Air Toxics Standards, MATS.
In the Memorandum, the President said, "Analyses conducted by the EPA and the Department of Energy (DOE) indicate that the MATS Rule is not anticipated to compromise electric generating resource adequacy in any region of the country. The Clean Air Act offers a number of implementation flexibilities, and the EPA has a long and successful history of using those flexibilities to ensure a smooth transition to cleaner technologies."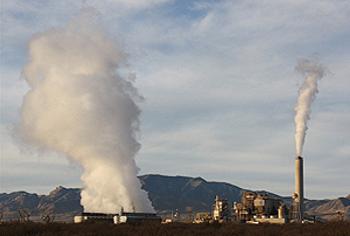 Arizona Electric Power Coop's Apache coal-burning power plant (Photo by Lance and Erin)
The Clean Air Act provides three years from the effective date of the MATS Rule for sources to comply with its requirements, wrote Obama. In addition, he pointed out, the Act allows the issuance of a permit granting a source up to one additional year where necessary for the installation of controls.
"The EPA has concluded that 4 years should generally be sufficient to install the necessary emission control equipment, and DOE has issued analysis consistent with that conclusion," Obama wrote, and pointed out that the Act "also provides the EPA with flexibility to bring sources into compliance over the course of an additional year, should unusual circumstances arise that warrant such flexibility."
Still, the manufacturers association is concerned that the new rule will make it tougher for American companies.
"The EPA continues to move forward with an overly aggressive agenda that is harming manufacturers' ability to compete," said Timmons. "Electricity prices will go up with this regulation, impacting many consumers nationwide. Manufacturers use one-third of our nation's energy supply, so a jump in energy prices will have a devastating impact on companies of all sizes, harming their ability to create jobs, invest and grow."
The EPA responds by pointing to the record number of more than 900,000 public comments that helped inform the final standards. "Part of this feedback encouraged EPA to ensure the standards focused on readily available and widely deployed pollution control technologies, that are not only manufactured by companies in the United States, but also support short-term and long-term jobs," the agency said in its announcement of the new standards.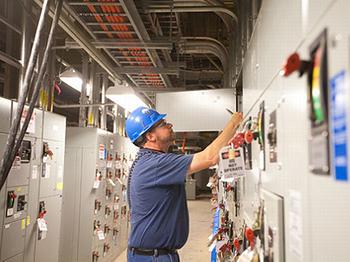 Electrician at the Dry Fork Station construction site, a 385-megawatt coal-based power plant near Gillette, Wyoming. The new power plant opened in August 2011. (Photo courtesy Basin Electric Power Cooperative)
The agency estimates that manufacturing, engineering, installing and maintaining the pollution controls to meet these standards will provide employment for thousands of people, potentially including 46,000 short-term construction jobs and 8,000 long-term utility jobs.
Senator James Inhofe, an Oklahoma Republican, Ranking Member of the Senate Committee on Environment and Public Works, today announced his intention to file a joint resolution of disapproval of the new standards under the Congressional Review Act. The CRA provides that once the resolution has 30 supporters, it may be placed on the Senate calendar, and passed by a simple majority vote. If adopted by both chambers and signed by the President, the joint resolution would effectively overturn Utility MACT.
"Today EPA announced yet another costly rule that will have a devastating effect on jobs and American families," Inhofe said, declaring his determination "to apply the brakes to President Obama's runaway regulatory agenda before it wrecks our economy."
Inhofe said the new standards "will cost $11 billion to implement, increase electricity rates for every American, and, along with the Cross-State rule, destroy nearly 1.4 million jobs."
"Sadly, this rule isn't about public health," Inhofe said. "It is a thinly veiled electricity tax that continues the Obama Administration's war on affordable energy and is the latest in an unprecedented barrage of regulations that make up EPA's job-killing regulatory agenda."
Inhofe has called for an investigation by the EPA Inspector General of the process the agency used to finalize the Mercury and Air Toxics Standards.
Other elected officials support the new standards. New York Mayor Michael Bloomberg said, "Today, the President has done the right thing by ignoring the false claims of a narrow special interest and siding with the public health and the public good. The new EPA mercury standards will save countless lives and improve the quality of life for millions. The new rules will also accelerate the country's move away from heavily polluting coal power plants to cleaner energy sources that will continue to stimulate investment and economic activity long into the future."
Public health and environmental groups applauded the new standards.
"Since toxic air pollution from power plants can make people sick and cut lives short, the new Mercury and Air Toxics Standards are a huge victory for public health," said Albert Rizzo, MD, national volunteer chair of the American Lung Association, and pulmonary and critical care physician in Newark, Delaware.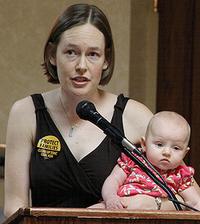 Mary Anne Hitt, director of the Sierra Club's Beyond Coal Campaign, with daughter, Hazel, asks EPA to consider mercury's effects on children's health. (Photo by Jamie Goodman)
"The Lung Association expects all oil and coal-fired power plants to act now to protect all Americans, especially our children, from the health risks imposed by these dangerous air pollutants," Dr. Rizzo said.
Coal-fired power plants are the largest remaining source of mercury, arsenic, cyanide, and other dangerous pollutants, and are responsible for half of the mercury and over 75 percent of the acid gas emissions in the United States.
Bill McLin, president and chief executive of the Asthma and Allergy Foundation of America, said, "We recognize that some critics cite adverse economic impacts of tighter standards. However, this new rule will not only avoid lost wages for patients and parents of children with asthma, lost productivity for the companies that employ them, and increased hospital admissions."
"The economic burden of asthma and other respiratory diseases, cancers and cardiovascular diseases are borne by taxpayers via Medicare and Medicaid, and are being borne by corporations who employ these Americans, pay the costs of health insurance for them and their children, and lose productivity when they are sick or caring for their chronically ill loved ones," said McLin. This is "the right step to help keep Americans with asthma safe and healthy."
Ameren's Coffeen coal-fired power plant in Illinois (Photo by Beth)
"Today President Obama stood up to polluters and protected children's health," said Bruce Ratain, clean energy associate with Environment Illinois. "This landmark achievement reflects what every parent knows: powering our homes should not poison our kids."
Illinois power plants have already achieved cuts in mercury pollution under a state mercury rule adopted in 2006, which requires pollution reductions similar to today's federal standard.
Ratain said, "Illinois has shown the nation that mercury reduction can be done in a way that works for industry, and saves lives. After our work in the state, Illinois utilities have joined in the call for this federal standard – and we're proud of that."
Other states, including neighboring Wisconsin, have adopted mercury standards similar to those in Illinois.
Frances Beinecke, president of the Natural Resources Defense Council, said, "We can breathe easier today. After decades of industry-induced delay, the Environmental Protection Agency did exactly what it was designed to do: look out for our health and our environment.
"Dirty coal-fired power plants will have to clean up the toxic soup of emissions that is polluting our air and making people sick, especially children. This critical update to the Clean Air Act will reduce child developmental delays, asthma attacks, heart attacks, and cancer; and save tens of thousands of lives.
Beinecke sees the new rule as a continuation of President Obama's initiatives to protect Americans' environment and health. "In addition to reducing mercury and other toxic air pollution," she said, "he proposed strong carbon dioxide pollution and fuel efficiency standards for cars and light trucks, and moved us closer toward curbing carbon dioxide pollution from power plants."
Click here for more background information about the Mercury and Air Toxic Standards.
Copyright Environment News Service (ENS) 2011. All rights reserved.