Keystone XL Pipeline Fighter Completes 2,150-Mile Trike Ride
PORT ARTHUR, Texas, December 22, 2011 (ENS) – Tom Weis arrived Wednesday in the refinery town of Port Arthur, after pedaling his "rocket trike" 2,150 miles along the proposed U.S. route of TransCanada's Keystone XL pipeline.
One of the first people to be arrested this summer at the White House protesting the pipeline proposal, Weis undertook his 10-week-long journey to warn U.S. residents along the route of the dangers of bringing heavy tar sands oil from northern Alberta to refineries on the Texas Gulf Coast.
"The most difficult part of this journey was witnessing first-hand how this foreign corporation has turned peoples' lives upside down and caused them so much pain and anguish," Weis told ENS in an interview.
"Because of this toxic tar sands proposal, hardworking Americans, ranchers and farmers who live on the Great Plains have had to dedicate themselves to fighting this transnational corporation to protect their families and protect their water," said Weis.
"This is the job of government," he said. "It's because government is not standing up for the people living on the front lines, they've got to do it for themselves and this is not right."
Weis is critical of President Barack Obama, who must decide whether or not the Keystone XL pipeline is in the the national interest.
"The number one job of the President of the United States is to protect America and the American people. Transcanada's proposed pipeline is a direct threat to the American people and he is failing at his job," said Weis.
Because the pipeline would cross the U.S.-Canada border, a Presidential Permit issued by the U.S. Department of State is required for the project to proceed.
The State Department issued a Final Environmental Impact Statement on August 26, which concluded "there would be no significant impacts to most resources along the proposed Project corridor."
But questions have been raised about a conflict of interest that arose when the State Department commissioned Cardno Entrix, a Houston-based environmental consulting firm that considers TransCanada a "major client" to help prepare the pipeline's EIS and now maintains the department's Keystone XL website.
The question of whether the State Department's environmental review to date has been honest will be investigated by the State Department's Office of the Inspector General.
On November 10, the State Department ordered a supplemental environmental assessment for the TransCanada Keystone XL pipeline route, allowing President Obama to defer the contentious issue until after the 2012 elections.
Meanwhile, the state of Nebraska, concerned that the proposed pipeline route crosses the environmentally sensitive Sand Hills region overlying the Ogllala aquifer, has prevailed on TransCanada to change the route.
However, nothing is resolved. This week Congress has been kicking the Keystone XL pipeline around like a political football.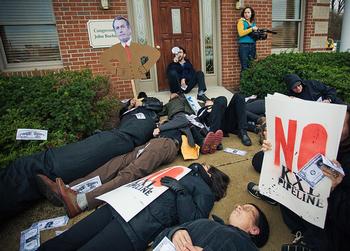 Keystone XL protesters stage a "human oil spill" at the Ohio office of House Majority Leader Republican John Boehner, December 14, 2011 (Photo by Molly_350)
On Tuesday, House Republicans rejected a tax-relief bill passed by the Senate that would have forced the Obama administration to make a decision on the Keystone XL pipeline within 60 days, creating more uncertainty over when a final ruling will come.
If Congress does not act, the Keystone XL pipeline permit issue will wait until early 2013, the timeline set by the U.S. State Department.
Weis is among the environmentalists who see this maneuvering as more political game playing inside the Beltway.
"Neither political party is standing up to protect the American peopole from this toxic tar sands pipeline," Weis told ENS. "This decision comes down to President Obama, so all this stuff going on right now is a distraction. Congress doesn't make the ultimate decision. Only one person can do that – President Obama. He can deny that permit today, there is no reason for him to wait another day. There is nothing about it that is in our national interest. He is trying to put this off until after the election, and that is a political dodge."
On Wednesday, Weis pedaled the final leg of his journey, 21 miles from Beaumont to Port Arthur. "A few miles outside of Beaumont," he blogged, "a large hawk appeared seemingly out of nowhere and alighted on a utility wire not 20 feet away, wings spread wide and looking right down at me. Reminded me of the hawk in Boulder that suddenly appeared and helped inspire my ride last year. Very auspicious sign. A light rain was falling as I pedaled, which seemed to intensify the sulfur smell of the surrounding oil refineries."
In Houston on Tuesday, Weis spearheaded a mock-holiday demonstration in front of TransCanada's Houston, Texas headquarters. Twelve pipeline fighters lined up in front of the building and, one by one, opened gift boxes containing 12 of "the most egregious lies and abuses TransCanada is giving the world through their proposed Keystone XL pipeline and tar sands exploitation," blogged Weis.
"Here are the 12 Disgraces (in no particular order): 1) Toxic Tar (not oil), 2) Ecocide, 3) Human Rights Abuses, 4) Eminent Domain Abuses, 5) Lies about Jobs, 6) Lies about Energy Independence, 7) Pipeline Leaks, 8) Polluted Water, 9) Environmental Injustice, 10) Climate Chaos, 11) Higher Fuel Prices, and 12) Undermining the Green Industrial Revolution," he blogged.
"During the event, on the sidewalk outside the office building where TransCanada takes up several floors, several well dressed executives walked past with their security detail to their black, tinted window SUVs with dismissive smirks on their faces," blogged Weis. "For me, it immediately brought to mind the arrogance of Ken Lay and the Enron meltdown."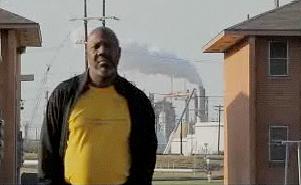 Hilton Kelley stands in a neighborhood on the fence line behind one of Port Arthur's many refineries. (Photo courtesy Goldman Prize)
On Wednesday, "overshadowed by the nation's largest cluster of oil refineries and chemical plants" Weis met with a group of West Port Arthur children who 2011 Goldman Prize winner Hilton Kelley, a native of Port Arthur, had brought to learn about the Keystone XL pipeline and see the rocket trike.
The rocket trike, also called a velomobile, is a recumbent tricycle wrapped in an aerodynamic body made in Germany by Beyss. Weis added a 350 watt electric motor "for a little help during those extra long ride days and especially challenging hills."
Weis says, "I chose this particular trike for my ride because it represents to me the creative potential of humans to do things differently. And it's fun."
Weis describes himself as "a social change agent" with 25 years of environmental and political organizing experience. He is president of Climate Crisis Solutions, an environmental consulting firm based in Boulder, Colorado.
Weis has worked for years in the wind energy industry, serving as strategic advisor to the president of the Board of the American Wind Energy Association. He received AWEA's 2009 Special Achievement Award for his role in creating the American Wind Wildlife Institute. He helped create the Colorado Renewables and Conservation Collaborative, and, from 1996-2003, served as national field director of Public Employees for Environmental Responsibility.
Now that his "Ride for Renewables" is complete, Weis says he will take a holiday break at home in Boulder and then "circle back with the pipeline fighters I've met over the past 10 weeks and figure out what to do next."
Copyright Environment News Service (ENS) 2011. All rights reserved.
© 2011 – 2012, Jim Crabtree. All rights reserved.