Endangered Species Perish While Governments Debate Trade Rules
DOHA, Qatar, March 15, 2010 (ENS) – The future of the world's remaining tigers, elephants, rhinos, and polar bears, bluefin tuna, sharks, and coral as well as rosewood, mahogany, and holywood will be decided over the next 10 days by delegates from 175 countries meeting in Doha.
The delegates represent countries that are Parties to the Convention on International Trade in Endangered Species, CITES. They meet only once every three years to decide trade rules for animals and plants at risk of extinction due commercial trade.
The CITES treaty offers varying degrees of protection to some 34,000 species of animals and plants in trade, through a system of permits and certificates.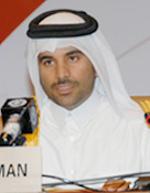 Qatar Environment Minister Abdullah bin Aaboud al-Midhad (Photo courtesy CITES)
Species are included in one of three lists – Appendix I allows no commercial trade, Appendix II allows trade by permit, and Appendix III lists species that are protected in at least one country, which has asked other CITES Parties for help in controlling the trade.
The year 2010 marks the International Year of Biodiversity and the role of CITES in regulating the global trade in plant and animal species is viewed as central to promoting the dual goals of conservation and sustainable use.
In his welcoming remarks to CITES delegates, Qatar's Environment Minister Abdullah bin Aaboud al-Midhad, highlighted the success story of the Arabian oryx, which was extinct in the wild by the early 1970s.
"Qatar has had a great role in keeping some creatures that are endangered to be extinct, including the Arabian oryx," said al-Midhad. "It was resettled in natural reserves, and now it is deemed to be the biggest oryx herd in the Arab world." More than 1,300 oryx are now in existence, he said, and Qatar has given animals from this herd to "neighboring and friendly countries."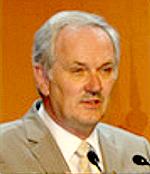 CITES Secretary-General Willem Wijnstekers (Photo courtesy CITES)
After May 1, CITES will have a new leader. After 10 years in the job, Secretary-General Willem Wijnstekers will retire to be replaced by John Scanlon, a top advisor at the United Nations Environment Programme. An Australian national, Scanlon has served in environmental law, policy and management at national and international levels.
In his opening remarks to the delegates, Wijnstekers pointed out that the CITES budget of $5 to $6 million is not enough to cover the increasing number of activities and results that Parties and others expect from CITES.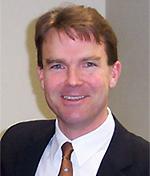 Incoming CITES head John Scanlon (Photo courtesy CITES)
"In the absence of necessary core funding," Wijnstekers said, "CITES will not be able to fully exploit its great potential and we seriously risk to let down not only the many animal and plant species we appear to attach such great importance to, but we also risk to let down the developing world in its struggle to conserve wildlife from the many threats it faces."
In Doha, more than 42 proposals are on the table, indicating a high level of international concern about the accelerating destruction of the world's biological diversity and the potential impacts of climate change on the biological resources of the planet.
The perilous situation of the world's 3,200 remaining wild tigers is in the spotlight as 2010 is the Year of the Tiger in the Chinese lunar calendar.
The CITES Secretariat and the international policing agency, INTERPOL, are asking countries to submit information about crimes against tigers, so that they can be analyzed and effective anti-poaching strategies developed.
In the early 1900s, tigers were found throughout Asia and numbered over 100,000. In the 1970s, the world woke up to the fact that wild tigers were disappearing. Between the 1970s and 2010, governments and conservationists spent tens of millions of dollars trying to save tigers in the wild and millions continue to be spent. But wild tigers are still falling to poachers.
"If we use tiger numbers as a performance indicator," says CITES Secretary-General Willem Wijnstekers, "then we must admit that we have failed miserably and that we are continuing to fail. How have we let this happen?"
"Although the tiger has been prized throughout history, and is a symbol of incredible importance in many cultures and religions, it is now literally on the verge of extinction," Wijnstekers said. "2010 is the Chinese Year of the Tiger and the International Year of Biodiversity; this must be the year in which we reverse the trend. If we don't, it will be to our everlasting shame."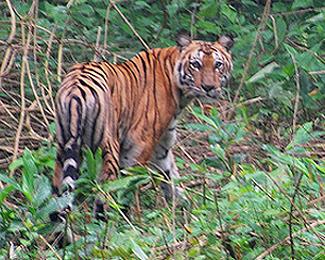 Wild tiger in Kabini Wildlife Sanctuary, Karnataka, India (Photo by Fasohan)
Tigers are today primarily poached for their skins but almost every part of a tiger's body can be used for decorative or traditional medicinal purposes. Most tigers are now restricted to small pockets of habitat, with several geographical populations teetering on the brink of extinction.
At a symposium in Beijing on Friday, the World Federation of Chinese Medicine Societies, WFCMS, issued a statement urging its members not to use tiger bone or any other parts from endangered wildlife.
"Tiger conservation has become a political issue in the world. Therefore, it's necessary for the traditional Chinese medicine industry to support the conservation of endangered species, including tigers," said Huang Jianyin, the federation's deputy secretary.
The WFCMS is an international academic organization based in Beijing, with 195 member organizations in 57 nations where traditional Chinese medicine is used.
In its statement, the federation said some of the claimed medicinal benefits of tiger bone have no basis. The use of tiger bones was removed from the traditional Chinese medicine pharmacopeia in 1993, when China first introduced a domestic ban on tiger trade. China is among the 175 countries that are Parties to the CITES treaty.
As an international traditional Chinese academic organization, the WFCMS said it has a duty to research the conservation of endangered species, including tigers. "We will ask our members not to use endangered wildlife in traditional Chinese medicine, and reduce the misunderstanding and bias of the international community," said Huang.
"CITES governments should be encouraged by this statement and use the opportunity they have at this meeting to pass measures, that if properly enforced, can help put an end to tiger trade," said Dr. Colman O'Criodain, wildlife trade analyst, WWF International.
"The societies' public declaration is a clear signal that the traditional Chinese medicinal community is now backing efforts to secure a future for wild tigers," said Professor Xu Hongfa, head of the wildlife monitoring network TRAFFIC in China.
WWF and TRAFFIC are calling for a permanent ban on all trade in tiger parts and products, and for a curtailment of commercial captive breeding operations.
Delegates to the CITES meeting also will review progress in the conservation of the great apes, Asian big cats, and the Tibetan antelope.
The escalation of rhino poaching and strategies for fighting criminal networks trading in their horns in parts of Africa and Asia is also on the CITES agenda.
In the 1990s, rhino numbers grew in many of its range states, but in the mid-2000s, rumors emerged that rhinoceros horn could stave off cancer or halt its spread. The CITES Secretariat says that rhinos in India, South Africa, Nepal and Zimbabwe now appear to be killed by organized crime groups that control the smuggling of rhino horns to the Asian Far East, where they are sold on the black market for thousands of dollars.
"The 'shoot to kill' policy adopted by some governments in Africa does not seem to be deterring poachers and one national park store was even robbed at gunpoint, so that horns removed by park staff from rhinos that had died naturally could be stolen," the Secretariat said.
Elephant poaching and the ivory trade will occupy the delegates once again. At the last CITES conference in 2007, Parties agreed to a nine-year moratorium on any further trade in ivory. Yet proposals have been submitted from Tanzania and Zambia seeking permission for a one-time sale of 112 tons of ivory.
With or without permission, these two countries are hoping to open the door for future ivory trade by 'down-listing' their elephant populations from Appendix I to Appendix II.
At the same time, says the International Fund for Animal Welfare, there has been an escalation in seizures of illegal ivory since the last meeting, and an increase in poaching of elephants in central and eastern Africa.
"To permit any step towards further trade in ivory makes no sense whatsoever," said IFAW's Jason Bell-Leask. "It flies in the face of every basic conservation principle and is contrary to the agreement made at the last meeting."
The African Elephant Coalition of 23 African elephant range countries opposes the proposals for the one-time sales. This group insists that the nine-year ivory trade moratorium agreed in 2007 provides all African range states the opportunity to cooperatively secure elephants in their habitats and assess the impacts of the previous legal sales.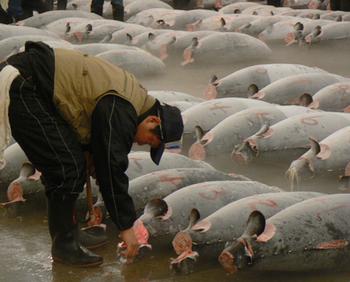 Bluefin tuna at the Tsukiji Fish Market, Tokyo (Photo by Amir Jina)
Marine species are also high on the CITES agenda this year.
"CITES will address a number of critical issues relating to the international trade of species, but many will focus on marine issues," says Simon Stuart, chair of International Union for the Conservation of Nature, IUCN, Species Survival Commission. "The number of marine species affected by illegal, unmanaged and unreported fishing, as well as bycatch, is contributing to many species such as sharks and commercial fish becoming threatened."
Delegates will discuss whether or not to place a ban on international trade in the commercially valuable Atlantic bluefin tuna. The large fish is valued in the lucrative sushi trade, one was sold in January for over $120,000, but overfishing is threatening the species.
All 27 European Union member states agreed last week to support a ban on the bluefin tuna trade by placing the species on CITES Appendix I. The EU countries join a growing list of supporter, including the United States, but not Japan, where more than 80 percent of all bluefin tuna is consumed.
Other species to be discussed include the spiny dogfish, which appears on fish and chips menus in the UK, and is threatened with over-exploitation. The fate of the porbeagle shark, again under threat from overfishing, will also be decided at CITES.
"CITES COP15 will address a number of critical issues relating to the international trade of species, but many will focus on marine issues," says Simon Stuart, chair of IUCN's Species Survival Commission. "The number of marine species affected by illegal, unmanaged and unreported fishing, as well as bycatch, is contributing to many species such as sharks and commercial fish becoming threatened."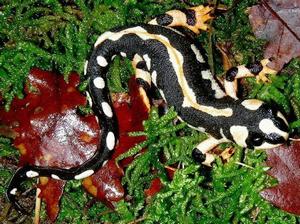 Kaiser's spotted newt (Photo courtesy CITES)
A little-known Iranian salamander could become the first species protected by CITES because of e-commerce, a new threat to endangered wildlife.
The Kaiser's spotted newt, found only in the Zagros Mountains of Iran, is considered Critically Endangered and is believed to number fewer than 1,000 mature wild individuals. Iran is proposing the amphibian for an Appendix I listing.
The newt is sought as a pet by collectors and numbers have dwindled by more than 80 percent in recent years. In 2006, an investigation by TRAFFIC into the sale of Kaiser's spotted newts revealed 10 websites claiming to stock the species. One Ukrainian company claimed to have sold more than 200 wild-caught specimens in one year.
"The Internet itself isn't the threat, but it's another way to market the product," said Ernie Cooper of TRAFFIC Canada. "The Kaiser's spotted newt, for example, is expensive and most people are not willing to pay US$300 for a salamander. But through the power of the Internet, tapping into the global market, you can find buyers."
WWF and TRAFFIC are concerned about online trade in elephant ivory, and precious corals, including overharvested red and pink coral, currently proposed for listing on CITES Appendix II. All 31 species of red coral are vulnerable or endangered.
Delegates to the CITES meeting will consider whether to take a more proactive approach to regulating the online trade in endangered species. This may include the creation of an international database of the trade, scientific research to gauge the correlation between wildlife loss and online trade, and closer collaboration with INTERPOL.
Copyright Environment News Service (ENS) 2010. All rights reserved.
© 2010 – 2012, Jim Crabtree. All rights reserved.