Ertharin Cousin of USA to Lead World Food Programme
ROME, Italy, January 17, 2012 (ENS) – The world's largest humanitarian agency fighting hunger today welcomed the appointment of Ertharin Cousin of the United States as its incoming executive director.
Cousin will head the UN's World Food Programme announced Secretary-General Ban Ki-moon and Jose Graziano da Silva, the director-general of the UN Food and Agriculture Organization.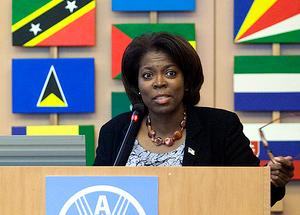 Ambassador Ertharin Cousin introduces a speaker at a World Food Day event in Rome, October 14, 2011 (Photo by Giulio Napolitano courtesy FAO)
Cousin, who has more than 25 years of national and international corporate, nonprofit and government leadership experience, is currently the U.S. Ambassador to the UN agencies that have food and agriculture mandates and are based in Rome. These include the 10,000 employee World Food Programme, WFP.
Jim Harvey, president of WFP's Executive Board, said, "We have known and appreciated her as a colleague in Rome and we now look forward to working with her in her new role."
Cousin will replace Josette Sheeran, also a U.S. national, whose five-year term as World Food Programme's executive director expires in April. Sheeran will take a position as vice-chairman and member of the Managing Board of the World Economic Forum.
"Leading WFP is a great honor and a critical link to the world's most vulnerable," said Sheeran. "I offer every support to Ertharin Cousin and wish her the greatest success at this critical time for the world's most vulnerable nations and people."
In 2011, the WFP reached close to 90 million people with food assistance in more than 70 countries.
U.S. Secretary of State Hilary Clinton said of Cousin, "She has been central to designing and implementing our country's food security policies. I am confident that she will continue to be a powerful voice in the global fight against hunger and lend her energy, optimism and experience to the World Food Programme."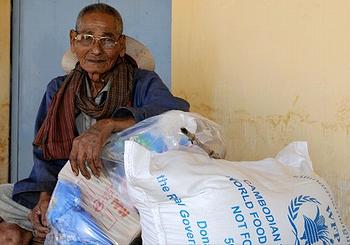 A Cambodian flood survivor receives food delivered by the World Food Programme from NGO partner, Save the Children, October 2011. (Photo courtesy WFP)
Voluntarily funded, the WFP goes into action in emergencies, getting food to survivors of floods, storms and drought, saving the lives of victims of war, civil conflict and natural disasters. After emergencies have passed, WFP distributes food to help communities rebuild their shattered lives.
Cousin was nominated as Ambassador by President Barack Obama on June 19, 2009 and sworn in on August 17, 2009.
Immediately prior to this appointment, she was president of The Polk Street Group, a national public affairs firm located in Chicago, Illinois.
Cousin previously served as executive vice president and chief operating officer of the largest U.S. domestic hunger organization, Feeding America, then known as America's Second Harvest.
She lead the organization's response to Hurricane Katrina, an effort which resulted in the distribution of more than 62 million pounds of food to survivors across the Gulf Coast region.
Cousin is experienced also in the retail food sector. She served as senior vice president of chain grocery Albertsons Foods and she also served as president and chair of the company's corporate foundation, managing the organization's philanthropic activities.
Cousin worked for the Clinton administration for four years, including as deputy chief of staff for the Democratic National Committee and White House liaison at the State Department. In 1997 she received a White House appointment to the Board for International Food and Agricultural Development.
Cousin is a native of Chicago and a graduate of the University of Illinois at Chicago and the University of Georgia School of Law.
Copyright Environment News Service (ENS) 2012. All rights reserved.