White-nose Syndrome Bat Death Toll Soars to 6.7 Million
WASHINGTON, DC, January 17, 2012 (ENS) – As many as 6.7 million bats have now died from white-nose syndrome, biologists from across the United States and Canada believe.
The new mortality estimate was agreed upon by more than 140 tribal, state and federal biologists and bat researchers who gathered last week at the Northeast Bat Working Group's annual meeting in Carlisle, Pennsylvania, in one of the states hit hardest by the bat die-off.
White-nose syndrome is wiping out bat populations across eastern North America, with mortality rates reaching up to 100 percent at many sites. First documented in New York state in 2006, the disease has spread quickly into 16 states and four Canadian provinces.
Biologists said they expect the disease to continue to spread.
"This startling new information illustrates the severity of the threat that white-nose syndrome poses for bats, as well as the scope of the problem facing our nation," said U.S. Fish and Wildlife Service Director Dan Ashe.
"Bats provide tremendous value to the U.S. economy as natural pest control for American farms and forests every year, while playing an essential role in helping to control insects that can spread disease to people," Ashe said. "We are working closely with our partners to understand the spread of this deadly disease and minimize its impacts to affected bat species."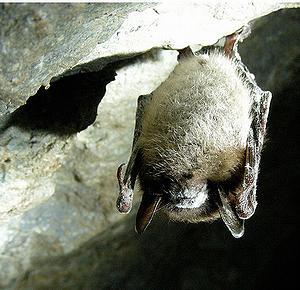 Little brown bat with white-nose syndrome in Greeley Mine, Vermont, March 26, 2009 (Photo by Marvin Moriarty courtesy USFWS)
The outbreak is the worst wildlife disease epidemic in North America's history and it has environmentalists concerned that extinction is ahead for several species of the flying mammals.
"This number confirms what people working on white-nose syndrome have known for a long time – that bats are dying in frighteningly huge numbers and several species are hurtling toward the black hole of extinction," said Mollie Matteson with the Center for Biological Diversity, which has filed several petitions to save bats and stem the spread of the disease.
Congress recently directed the Department of the Interior to allot $4 million for research and management of the disease, which biologists believe is caused by a fungus.
"America's bats are in the throes of an unprecedented crisis and some species face the very real prospect of extinction," Matteson said. "While it's heartening to see some money allocated for white-nose syndrome, today's new mortality estimates are a wake-up call that we need to do more, and fast."
White-nose syndrome has affected six bat species to date; it kills them during their hibernation period, when they occupy caves and mines in a state of suspended animation.
Scientists have estimated that bats save farmers between at least $3.7 billion and up to $53 billion per year on pesticides that did not have to be used on crops like corn, cotton, vegetables and fruit.
Since the bat disease has only shown up in the Midwest and South in the last two years, the full effects of declining bat numbers on regions more strongly dominated by agriculture than the Northeast may take some time to show up.
Copyright Environment News Service (ENS) 2012. All rights reserved.