Elephant Poachers in Kenya Kill Rukinga Ranch Ranger
NAIROBI, Kenya, January 17, 2012 (ENS) – Kenya Wildlife Service and Kenya Police are pursuing suspects believed to have fatally shot a community ranger and seriously injured another during a shoot-out near Voi town.
On Friday morning, the Kenya Wildlife Service received information from Rukinga Ranch that gunshots had been heard from within the ranch.
Eight KWS security officers immediately sent to the area were joined by eight unarmed conservation rangers from Rukinga Ranch. The joint team came across the blood of an injured elephant and human footprints believed to be those of poachers.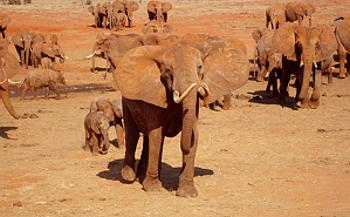 Elephants in a protected area on Rukinga Ranch (Photo courtesy Wildlife Works)
They followed the footprints, which headed towards Taita Ranch, and continued tracking the suspects. After about five hours, the joint security team was suddenly ambushed and two of the Rukinga Ranch rangers were injured in the exchange of gunfire.
The team's attention was diverted from pursuing the poachers to rescue and evacuation of the wounded team members and the poachers escaped.
The injured men were evacuated to a safer area where first aid was administered before they were driven to an airstrip and flown to the town of Voi for hospital treatment.
One of the Rukinga Ranch rangers, Abdullahi Mohammed, has died of his wounds. The other, Ijema Funan, is being treated at a Nairobi Hospital.
After the rescue and evacuation, KWS personnel followed the poachers until dark, laying ambushes for them along possible exit routes.
On Saturday, the suspects' footprints were followed until they exited the ranch to the Nairobi Mombasa Highway between Bachuma and Maungu.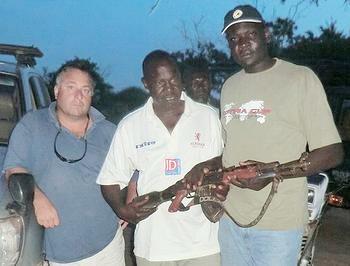 The poachers' weapon is displayed for the camera by Rob Dodson, VP African Operations, Wildlife Works, and Rukinga Ranch rangers. (Photo courtesy Wildlife Works)
On Sunday, KWS intelligence personnel got information that led to the arrest of one suspect believed to have been involved in the incident. The suspect is in custody and is "helping with investigations" said Kenya Wildlife Service spokesman Paul Udoto.
Following this intelligence, authorities from KWS and Rukinga Ranch found an AK47 rifle with two magazines and 61 rounds of ammunition buried under a bush on Taita Ranch.
Both ranches are in the Kasigau Corridor, located in Coast Province, Taita Taveta District, about two hours drive northwest of Mombasa.
Rukinga Ranch is a private leasehold estate given by the Kenyan government to Rukinga Ranching Company Ltd.
On the ranch is a garment factory owned and operated by Wildlife Works Inc., which has a conservation easement on the property and is one of the ranch's shareholders through an offshore trust.
Wildlife Works' stylish carbon-neutral T-shirts, hoodies and accessories are made at the company's Eco Factory on Rukinga Ranch, which employs 38 women and men from the local community. The garments and carbon offsets for forest protection are sold on the company's Facebook store and on its website.
Wildlife Works employs rangers to protect its wildlife reserve, the 80,000-acre Rukinga Wildlife Sanctuary. This area is now the core of the company's 500,000 acre Kasigau Corridor forest restoration project, undertaken through the United Nations program, Reducing Emissions from Deforestation and Forest Degradation in Developing Countries, REDD.
In addition to protecting the forest, the REDD project secures a wildlife corridor that allows animals to travel between Tsavo East and West National Parks.
Wildlife Works founder Mike Korchinsky said, "On Friday, January 13th, elephant poachers opened fired on our unarmed conservation rangers who were patrolling the Kasigau Corridor project area in Kenya. One of our rangers, Abdullahi Mohammed, was fatally shot and another ranger, Ijema Funan, was injured by the gunfire."
"At the time, our rangers, along with members of the Kenya Wildlife Service, were tracking the poachers after discovering a wounded elephant in the protected project area," he said.
"This is the first time in 15 years that any of our rangers have been killed in the line of duty," Korchinsky said, "and it reflects an escalation in violence caused by the increasing demand for ivory in the far eastern markets, especially China."
Rukinga Ranch reports that Funan "is comfortable, eating well, and seems to be on his way to a full recovery."
"This appalling and heart wrenching incident underscores the real threat to the community and wildlife of this region," said Korchinsky. "As long as an illegal market for ivory remains, they are in grave danger, so we will continue to support brave Kenyans in their struggle to protect their local environment. We will never forget the sacrifice that Abdullahi Mohammed, Ijema Funan and their families made today in the name of wildlife conservation."
Korchinsky says the REDD project forest that his rangers patrol is part of his vision to safeguard threatened forests and endangered wildlife and help uplift impoverished communities at the same time.
The Wildlife Works Kasigau Corridor REDD project is based on funding of up to US$50 million provided by an agreement reached in September 2010 between BNP Paribas, a European banking and financial group, and Wildlife Works Carbon LLC.
Wildlife Works is currently developing a portfolio of additional REDD projects in Africa with the goal of protecting five million hectares of native forest that will mitigate 25 million tons of carbon dioxide emissions annually, create thousands of sustainable jobs for rural Africans and secure markets for the products they produce.
Copyright Environment News Service (ENS) 2012. All rights reserved.