EPA Administrator Offers New Clean Water Strategy
WASHINGTON, DC, March 22, 2010 (ENS) – The U.S. EPA is developing a new strategy to strengthen public health protection from contaminants in drinking water, Administrator Lisa Jackson told 100 water utility executives today in a speech at the Association of Metropolitan Water Agencies annual conference.
To mark World Water Day, Jackson also announced the agency will revise existing drinking water standards for four contaminants that can cause cancer.
"To confront emerging health threats, strained budgets and increased needs – today's and tomorrow's drinking water challenges – we must use the law more effectively and promote new technologies," said Jackson.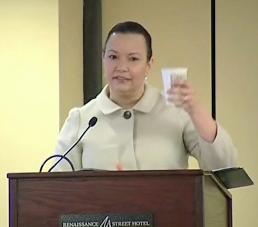 EPA Administrator Lisa Jackson addresses the Assn. of Metropolitan Water Agencies. (Photo courtesy EPA)
The new vision is meant to streamline decisionmaking and expand protection under existing law and promote cost-effective new drinking water treatment technologies to meet the needs of water-stressed communities and address health risks posed by contaminants.
"That means fostering innovation that can increase cost-effective protection. It means finding win-win-win solutions for our health our environment and our economy," she said. "And it means broad collaboration. To make our drinking water systems work harder, we have to work smarter."
The new strategy will address water contaminants as a group rather than one at a time so that enhancement of drinking water protection can be achieved cost-effectively, Jackson said.
EPA's current approach to drinking water protection is focused on a detailed assessment of each individual contaminant of concern and can take many years. Jackson said addressing contaminants as a group would be quicker and more cost-effective.
The authority of multiple statutes will be used to help protect drinking water. And Jackson said she would partner with states to share more complete data from monitoring at public water systems.
In the newly finalized review of existing drinking water standards, Jackson said the EPA has determined that scientific advances allow for stricter regulations for the carcinogenic compounds tetrachloroethylene, trichloroethylene, acrylamide and epichlorohydrin.
Tetrachloroethylene and trichloroethylene are used in industrial and textile processing and can be introduced into drinking water from contaminated ground or surface water sources.
Acrylamide and epichlorohydrin are impurities that can be introduced into drinking water during the water treatment process.
Within the next year, EPA will begin rulemaking to revise the tetrachloroethylene and trichloroethylene standards using the framework of the new strategy. Revision of epichlorohydrin and acrylamide standards will follow later.
Jackson said the EPA is in the process of improving 14 other drinking water standards. The agency is considering further revisions to the lead and copper rule in order to better address risks to children.
EPA also has ongoing health risk assessments or information gathering for chromium, fluoride, arsenic, and the pesticide atrazine.
EPA continues to consider whether to regulate perchlorate, a component of explosives and rocket fuel that adversely affects human thyroid function.
Senator Barbara Boxer, a California Democrat who chairs the Senate Committee on Environment and Public Works, said, "I am pleased to see that the administration is proposing steps to improve drinking water protections for dangerous contaminants that can harm the health of our families, including children."
Senator James Inhofe of Oklahoma, the Ranking Minority member of the Environment and Public Works Committee, expressed support for the goal but not for the methods Jackson said she would use to protect drinking water.
"EPA's goal to strengthen protection for the drinking water Americans use is both laudable and necessary, and one that I certainly share," Inhofe said. "I am concerned, however, by the manner in which EPA is attempting to achieve this goal."
"Using the Safe Drinking Water Act to leverage other statutes that regulate chemicals is not the most effective way to provide safe drinking water or regulate chemicals," Senator Inhofe said.
"In the coming weeks, I will be seeking information from the agency as to how it developed this proposal, including how well EPA assessed the impact on small, rural drinking water systems, many of which cannot afford to meet existing standards, and whether it engaged and sought input from stakeholders such as farmers and small businesses."
Jackson said she plans to use the EPA's regulatory authority under the Federal Insecticide, Fungicide, Rodenticide Act and Toxic Substance Control Act to ensure that decisions made for new and existing industrial chemicals are protective of drinking water and provide relevant health effects and exposure data.
She intends to use FIFRA registration actions to develop risk assessments, generate missing data, and develop analytical methods to support the development of drinking water regulations. And she will tighten FIFRA pesticide registration requirements when occurrence data approaches or exceeds levels of concern.
Finally, Jackson said that to regulate contaminants before they get into drinking water, she will more fully explore EPA's chemical action plans being developed and implemented to identify synergies that can help to improve and better understand drinking water quality.
In February, Inhofe introduced the Small System Drinking Water Act of 2010, a bill to help water systems in Oklahoma and throughout the country in complying with federal drinking water standards. Oklahoma has municipalities struggling with the 2002 arsenic rule, he said, adding that many small systems also are having difficulty with the disinfection byproducts rules.
The Inhofe bill reauthorizes the technical assistance program in the Safe Drinking Water Act. And it requires the federal government to pay for unfunded mandates created by drinking water laws and regulations.
Currently, the EPA assumes that families can afford water rates of 2.5 percent of their annual median household income, or $1,000 per household to cover these costs. For some families, paying $83 a month for water may not be a hardship but for many more, it is nearly impossible, Inhofe said.
The Inhofe bill directs EPA to ensure that the affordability criteria are not more costly on a per-capita basis to a small water system than to a large water system.
Copyright Environment News Service (ENS) 2010. All rights reserved.