Elephant Ivory Sales Denied to Halt Worldwide Poaching Crisis
DOHA, Qatar, March 23, 2010 (ENS) – There will be no sales of stockpiled elephant ivory for at least the next three years, decided government delegates from 175 countries at the ongoing triennial meeting of the Convention on International Trade in Endangered Species, CITES, in Doha.
Zambia withdrew its request to sell legal government stockpiles of ivory during the debate Monday over its proposal to allow a one-time sale.
Still, Zambia tried to win support for downlisting its population of African elephants from CITES Appendix I, which bans all commercial sales, to Appendix II, which allows sales under a permit system. The downlisting proposal was rejected in a vote of 55 in favor, 36 against, 40 abstentions.
Delegates also voted to continue protection for Tanzanian elephants by rejecting a request for a one-time sale of 89 tonnes of stockpiled ivory to China and Japan and retaining their listing on CITES Appendix I.
In a final effort to win votes, Tanzania separated its proposal for a one-time sale from its request to downlist Tanzanian elephants from their current Appendix I listing to Appendix II to allow for trade in elephant trophies, live animals, and noncommercial elephant products.
Tanzania failed to achieve the two-thirds majority needed to downlist its elephants by a vote of 57 in favor, 45 opposed, and 32 abstentions.
Delegates were persuaded to reject Tanzania's proposals by evidence presented during the meeting that challenged Tanzania's elephant management and law enforcement capabilities to control elephant poaching and illegal ivory trade.
In fact, much of the more than more than 20 tonnes of elephant ivory seized by law enforcement officials in 2009 originated in Tanzania, according to forensic analysis of the confiscated contraband.
"The Parties have made it quite clear that there should be no trade in elephant ivory," said Will Travers, CEO of the Born Free Foundation and president of the Species Survival Network. "Any legal trade in elephant ivory incentivizes elephant poaching and illegal ivory sales. Intelligent elephant management dictates that the species be protected from trade in tusks. It's just that simple."
"Downlisting would have sent a horrible message to poachers and criminal syndicates Africa," Travers said. "I am relieved that Zambia's revised proposal did not succeed, and this view is shared by the majority of African elephant range states."
"While the issue of whether sales should be allowed to proceed or not has dominated much of the discussions here in Qatar, WWF and TRAFFIC believe the key driving force behind the ongoing elephant poaching is the continued existence of illegal domestic ivory markets across parts of Africa and Asia," said Steven Broad, executive director of TRAFFIC, the wildlife trade monitoring network of WWF and International Union for Conservation of Nature, IUCN.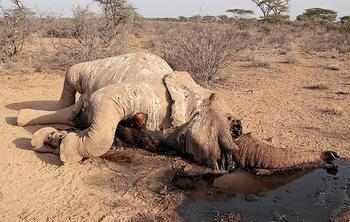 Elephant shot and tusks removed by poachers in Sweet Waters Reserve, Kenya. July 6, 2009. (Photo by Miha Krofel)
Conservationists have long argued that permitting legal sales of elephant ivory masks and encourages poaching and illegal sales. After nearly a decade without any legal ivory sales, CITES permitted four auctions in 2008 during which Namibia, Zimbabwe, South Africa and Botswana sold a total of about 116 tons of ivory.
As a result, conservationists say the world now is in the throes of an elephant poaching crisis.
They base this conclusion on a new analysis of 14,364 elephant product seizure records from 85 countries or territories since 1989 contained in the Elephant Trade Information System, the world's largest collection of elephant product seizure records.
Presented to CITES delegates in Doha last week, the analysis shows that the illegal trade in ivory, which has been increasing in volume since 2004, moved sharply upward in 2009.
Increasing threats from organized crime and the presence of unregulated markets have resulted in a "highly significant correlation" between large-scale domestic ivory markets in Asia and Africa and poor law enforcement, the report suggests.
"Poaching and illegal ivory markets in central and western Africa must be effectively suppressed before any further ivory sales take place," said Elisabeth McLellan, species program manager with WWF International.
New data released Monday from park rangers and WWF field staff on the ground in Cameroon, documents a recent increase in poaching and use of high-caliber weapons.
In February, two unarmed game guards and 14 elephants were gunned down in Bouba Ndjidda National Park in northern Cameroon. During the past few months at least 40 elephants in and around protected areas were killed for their ivory and it is estimated that about 400 elephants have been killed within the last four years in three national parks in Cameroon alone, WWF says.
"The grim situation in Central Africa will not be addressed until domestic markets in that region are brought under control," WWF said.
The sight of ivory openly on sale in many cities of Central and Western Africa sends a potent signal to poachers, smugglers and consumers that it is legal to buy and sell unregulated ivory, WWF warns.
The new analysis of the Elephant Trade Information System data was made by region rather than by country. It was carried out to align the data with that of another CITES tool, MIKE, which stands for Monitoring the Illegal Killing of Elephants.
Both databases show that the Central African region is losing the most elephants.
The analysis indicates that coordinated enforcement in Central and West Africa and Southeast Asia is crucial to addressing the illicit ivory trade.
Copyright Environment News Service (ENS) 2010. All rights reserved.