New Zealand National Parks Could Be Opened to Mining
WELLINGTON, New Zealand, March 22, 2010 (ENS) – The New Zealand government proposed today to allow mining in 7,000 hectares (27 square miles) of high-value conservation land in national parks and other currently protected areas. Horrified conservationists warn such mining would destroy precious, irreplaceable ecosystems and New Zealand's valuable image as a clean, green tourist destination.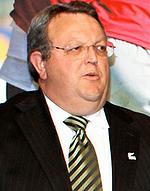 Energy & Resources Minister Gerry Brownlee (Photo courtesy NZ National Party)
Energy and Resources Minister Gerry Brownlee and Conservation Minister Kate Wilkinson today released a discussion paper containing a suite of measures to facilitate the "environmentally responsible development" of New Zealand's mineral estate.
"Our mineral resources, even excluding coal and other hydrocarbon-based minerals, are estimated to be worth approximately $194 billion," Brownlee said.
The government is interested in extraction of gold, silver, gemstones and rare earth minerals such as dysprosium, terbium, erbium and ytterbium, which are used in technologies such as hybrid and electric cars, wind turbines, computer disk drives, fiber-optic telecommunication cables, low-energy light bulbs and military equipment.
The ministers said a preliminary government assessment of land in Schedule Four of the Crown Minerals Act, where all mining other than minimum impact activity is prohibited, and other areas beyond, concluded that:
New Zealand is mineral rich and the environmentally responsible development of this potential is a very real possibility.
Much of the country's mineral potential is concentrated, often in public conservation areas with high conservation and cultural values.
The mineral potential of Schedule Four lands could be developed with only a very small proportion of the land being directly impacted.
Information on New Zealand's mineral potential is limited and government has a role to improve our knowledge of the mineral estate.
Wilkinson said that while the government is proposing removing 7,058 hectares from the 4.6 million hectares in Schedule Four, it is also proposing to add a further 12,400 hectares – a net gain in protected areas of 5,342 hectares.
"The areas being considered for removal are small and any mining on conservation land is subject to strict environmental tests," Wilkinson said. "It has been made clear that any future mining applications will be considered on a case-by-case basis and conservation and environmental management remain a key consideration."
But New Zealand's largest conservation organization, Forest & Bird, said today, "Despite the government's rhetoric about responsible mining, the proposals allow open-cast mining and tailings dams. There will continue to be no public notification or consultation before mining access is granted on conservation land."
Forest & Bird Advocacy Manager Kevin Hackwell says protection for the 12,400 hectares is not a new move by the government. "These areas, which include national park additions, Hauraki Gulf islands and marine reserves, are simply areas that have been waiting for official protection since the last review in 2008," he said.
"They should not be seen as trade-offs for high-value conservation land being removed from Schedule 4 because none of the expected 12,000 hectares has significant mining potential," said Hackwell.
On the list for mining consideration are the West Coast's Paparoa National Park, Great Barrier Island and the Coromandel Peninsula.
The Coromandel is one of the most mineral rich areas of New Zealand with production value of gold and silver alone in excess of $17 billion to date, the ministers said.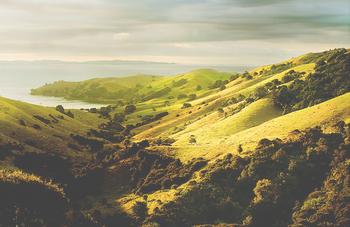 The Coromandel Peninsula in the Waikato region of New Zealand's North Island (Photo by Aftab Uzzaman)
More than 400,000 hectares (1,544 square miles) of other top conservation land, including parts of Northland, the Kaikoura Ranges, Dun Mountain east of Nelson, the Longwood area in Southland and Rakiura National Park on Stewart Island, will be studied over the next nine months for their mining potential.
Forest & Bird wants to see the ongoing protection of these special areas and other parts of the country's conservation estate, which are being targeted.
"Mining these areas will further imperil our threatened species and leave us with contaminated waterways, scarred landscapes, subsidence and erosion problems and an almighty clean-up bill from 'orphaned mines' the conservation group warned.
Minerals targeted in the government's assessment are found in low concentrations so Hackwell warns that "open-cast mining, not surgical mining, is the most likely way to extract them."
"Open-cast mines remove all vegetation, soil and rock above the material that is mined, sometimes leaving massive scars," Hackwell said. "At the West Coast Stockton mine, Mt. Augustus was completely removed for mining."
Currently, there are 82 mineral extraction operations operating on Department of Conservation-administered land as of September 2009.
Wilkinson said the government is proposing to create a dedicated Conservation Fund based on a portion of future royalties it receives from mining in public conservation areas.
The budget for the fund would be 50 percent of royalty revenue from minerals, other than petroleum, from public conservation areas, with a minimum of $2 million per year for the first four years and a maximum of $10 million per year.
The ministers said the purpose of releasing the discussion document is to gather feedback to inform final recommendations to Cabinet before decisions are made in mid-2010. The opportunity for public submissions on the proposals closes at 5:00 pm on May 4, 2010.
Click here for the government's mining discussion paper and maps.
Copyright Environment News Service (ENS) 2010. All rights reserved.