U.S.-Chinese Consortium Chooses Nevada for Wind Turbine Factory
LAS VEGAS, Nevada, March 15, 2010 (ENS) – A consortium of U.S. and Chinese companies has announced plans to build a factory in the Las Vegas area for manufacturing wind turbines that would employ about 1,000 people.
One partner is A-Power Energy Generation Systems, Ltd., a Nasdaq-listed alternative energy company based in Shenyang, an industrial hub in northeast China. A-Power has built a China's largest wind turbine manufacturing operation in Shenyang.
The American partners are the U.S. Renewable Energy Group, a U.S.-based private equity firm that mobilizes and facilitates the participation of international financing and investment in large-scale renewable energy projects within the United States, and American Nevada Group, which is among the largest real estate companies in Nevada.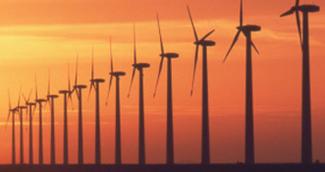 Wind turbines at sunset (Photo courtesy A-Power)
American Nevada will identify potential sites for the facility and will develop the facility for the group.
When A-Power selects a suitable site, it intends to arrange the financing of the costs of site acquisition and the construction and operation of the assembly facility from its own funds.
In their announcement Thursday, the partners said the commitment of U.S. Senator Harry Reid to renewable energy was a factor in their choice of Nevada as a site for the factory.
The Nevada Democrat, who serves as Senate Majority Leader, said, "I urged A-Power to choose our state as the site for the plant because I believe Nevada can be a world leader in clean energy. This industry will help us create jobs immediately, while diversifying our state's economy for the long-term."
The production and assembly plant is designed to supply highly advanced wind energy turbines to renewable energy projects throughout North and South America. It is planned for an annual production capacity of 1,100 megawatts of wind energy turbines, enough to power about 330,000 homes.
Jinxiang Lu, CEO and chairman of A-Power, said, "Senate Majority Leader Reid's vision for the development of clean energy industries in his home state, Nevada's position relative to the major wind corridors, and the strength and sophistication of Nevada's skilled workforce made Nevada the best option for our headquarters and assembly plant for North and South America."
"When Senator Reid found out US-REG and A-Power wanted to build a wind turbine manufacturing plant in the United States, he told us that Nevada was poised to be at the epicenter of America's commitment to renewable energy technology," said Ed Cunningham, US-REG Managing Partner.
"With a strong commitment to renewable energy and business-friendly climate, we felt that Nevada would be the ideal place to invest in this manufacturing hub," Cunningham said. "This multi-million dollar investment in Nevada will further advance the Senate Majority Leader's clean energy initiatives while allowing out of work Nevadans to re-enter the work force in high-paying, stable, green jobs."
In addition to production and assembly at the new plant, most of the key wind turbine components will be made by domestic U.S. manufacturers.
"We are committed to clean energy development and this partnership, which will allow us to expand our presence in the American renewable energy sector and create over a thousand jobs in Nevada," said John Lin, A-Power's director and COO. "A-Power highly values the opportunities in renewable energy in America and this state-of-the-art facility will be our first major manufacturing plant in the United States."
The U.S. Renewable Energy Group and A-Power Energy Generation Systems already have a agreement to build a $1.5 billion, 600-megawatt wind farm across 36,000 acres in Texas that would supply energy for 180,000 homes.
On February 12, A-Power disclosed in a Securities and Exchange Commission filing that a subsidiary made an initial cash capital contribution of $36.6 million for the Texas project.
But that project has run into concerns that U.S. stimulus money it has attracted would create jobs in China, not in the United States.
On March 3, the U.S. Renewable Energy Group issued a statement saying that a minimum of 70 percent of each wind turbine, including the tall towers and blades, would be manufactured in the United States from American steel.
U.S. Renewable Energy Group Managing Partner Cappy McGarr said, "It is incorrect to assume that the hundreds of additional jobs created aside from the direct construction and operation of the Texas plant would be outside the U.S."
"In addition to supplying clean energy for 180,000 American families, the $1.5 billion investment will ripple through the U.S. economy, providing millions of dollars in revenue to landowners, construction workers, engineers, developers, and local governments as well as, hundreds of millions of dollars in additional federal tax revenue that will be paid out over the life of the project," said McGarr.
"Without even considering the job creation and the many other economic benefits," he said, "the wind farm will more than pay back any incentives through the taxes it will pay to the U.S. government over the course of the project."
Copyright Environment News Service (ENS) 2010. All rights reserved.