Banned: Four Giant Exotic Snake Species Injuring the Everglades
MIAMI, Florida, January 17, 2012 (ENS) – The U.S. Fish and Wildlife Service today banned the importation and interstate transportation of four nonnative constrictor snakes that threaten the Everglades and other sensitive ecosystems across the United States
Secretary of the Interior Ken Salazar announced the ban at a location on the Tamiami Trail near Miami, joined by a snake-sniffing dog, a 13-foot-long Burmese python, Florida Senator Ben Nelson and FWS Director Dan Ashe.
The rule lists the Burmese python, the yellow anaconda, and the northern and southern African pythons as injurious wildlife under the Lacey Act in order to restrict their spread in the wild in the United States.
By enacting a rule and declaring the snakes "injurious," Secretary Salazar eliminates the need for congressional approval of a ban.
"Thanks to the work of our scientists, Senator Bill Nelson, and others, there is a large and growing understanding of the real and immediate threat that the Burmese python and other invasive snakes pose to the Everglades and other ecosystems in the United States," said Salazar.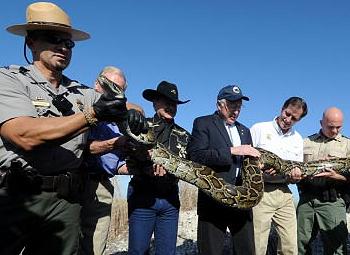 Interior Secretary Ken Salazar, in baseball cap, and Senator Bill Nelson, in white shirt, with wildlife officials, display a Burmese python while announcing the ban on import and transport of four exotic snakes, January 17, 2012 (Photo courtesy DOI)
"The Burmese python has already gained a foothold in the Florida Everglades, and we must do all we can to battle its spread and to prevent further human contributions of invasive snakes that cause economic and environmental damage," he said.
The four species were assessed by the U.S. Geological Survey, USGS, as having a high risk of establishing populations and spreading to other geographic areas in a 2009 report, "Giant Constrictors: Biological and Management Profiles and an Establishment Risk Assessment for Large Species of Pythons, Anacondas, and the Boa Constrictor."
"These snakes sure-as-heck don't belong in the Everglades. And they certainly don't belong in people's backyards," Senator Nelson said, referring to an incident shortly after Christmas, when a family in south Florida found a huge python in their pool.
Nelson filed a bill to ban pythons three years ago. But, he says "a small-yet-powerful lobby of reptile keepers stalled the legislation." Still, Nelson did get lawmakers' attention during a July 2009 congressional hearing when he unrolled the skin of a 17-foot-long constrictor killed in the Everglades.
It was that same month that a two-year-old Central Florida girl was killed in Sumter County by an 8.5-foot-long albino Burmese python – a family pet.
Pythons are believed to have been introduced to the swamps of Florida by pet owners who decided to free their imported reptiles into the wild. Some of the snakes have been traced back to reptiles that escaped after Hurricane Andrew swept through the area in 1992.
The big snakes have caused a major problem for the Everglades' ecosystem. They compete with natural predators and kill other species indigenous to one of America's most unique national parks.
Recent reports found pythons now have the ability to swim from the Everglades to the Florida Keys. The study, conducted by USGS researchers, shows pythons can tolerate saltwater for at least the duration of such a swim.
Burmese pythons on North Key Largo have killed and eaten endangered Key Largo wood rats, and other pythons prey on endangered wood storks.
"Burmese pythons have already caused substantial harm in Florida," said Ashe. "By taking this action today, we will help prevent further harm from these large constrictor snakes to native wildlife, especially in habitats that can support constrictor snake populations across the southern United States and in U.S. territories."
In the Everglades alone, state and federal agencies have spent millions of dollars addressing threats posed by pythons – an amount far less than is needed to combat their spread. If these species spread to other areas, state and federal agencies in these areas could be forced to spend more money for control and containment.
Interior and its partners, including the Florida Fish and Wildlife Conservation Commission, FWC, and the South Florida Water Management District, are committed to controlling the spread of Burmese pythons and other large nonnative constrictors.
The FWC recently implemented the use of the "snake sniffing" dog present at today's news conference to help in its efforts to find and eradicate large constrictor snakes.
Sixty days after publication of the final rule in the Federal Register, interstate transport and importation of live individuals, gametes, viable eggs, or hybrids of the Burmese python, northern and southern African pythons and yellow anaconda into the United States will be prohibited. None of the four snake species is native to the United States.
Copyright Environment News Service (ENS) 2012. All rights reserved.