Obama Administration Proposes 'Tough Choices' EPA Budget for 2012
WASHINGTON, DC, February 14, 2011 (ENS) – President Barack Obama sent a proposed fiscal year 2012 budget of $3.7 trillion budget to Capitol Hill today that cuts programs in every environmentally-related agency. The common theme in statements from administration officials is "tough choices."
The President's FY 2012 budget would cut deficits by $1.1 trillion over the next decade, the White House estimates. Two-thirds of the deficit cuts would come from spending reductions; a third would come from tax hikes.
President Obama has directed the U.S. Environmental Protection Agency and other federal agencies to reduce funding levels out of an understanding that the same sacrifices are being made by Americans families, said EPA Administrator Lisa Jackson at a news conference today.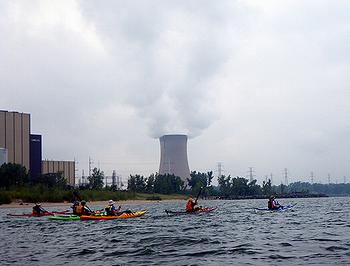 Paddlers on Lake Michigan pass Indiana's coal and gas fired Michigan City power plant as it emits greenhouse gases and other pollutants into the air, August 2010. (Photo by merlin-3d)
"As millions of families are cutting back and spending less, they expect the same good fiscal sense out of their government. That is why this budget reflects the tough choices needed for our nation's short and long-term fiscal health – and allows EPA to maintain its fundamental mission of protecting human health and the environment," said Jackson.
Under the President's budget, the EPA would have to make do with $8.973 billion – about a 13 percent decrease from the FY 2010 budget of $10.3 billion.
"This budget focuses our resources on the most urgent health and environmental challenges we face," Jackson said. "Though it includes significant cuts, it provides EPA with what we need to fundamentally protect the health of the American people."
The EPA's FY 2012 budget cuts deepest into the combined budget for the Clean Water and Drinking Water State Revolving Funds. The FY 2012 proposal of $2.5 billion is a decrease of $947 million below the 2010 funding level.
But that seems like a small cut compared with what House Republican leaders proposed last week in a plan to slash the federal government's fiscal year 2011 budget by $100 billion compared to President Obama's request.
Under the Republican proposal, EPA would face a funding level about $3 billion below its FY10 appropriation of $10.3 billion – a 29 percent reduction.
The Drinking Water and Clean Water State Revolving Fund programs would be hard-hit, with cuts totaling $1.967 billion compared to FY 2010, reducing both programs to roughly the same amounts they received in FY 2009.
House Republican leaders plan to hold a vote this week on a continuing resolution including the cuts that would fund the federal government for the remainder of the fiscal year, which runs through September.
The government is currently operating under a temporary extension of FY 2010 appropriations, which are scheduled to expire on March 4.
The House proposal will not be the final word on the FY 2011 budget, as the Democrat-controlled Senate will weigh in with its own spending plan. But leaders in both chambers will feel pressured to reach a deal before March 4 to avoid a government shutdown.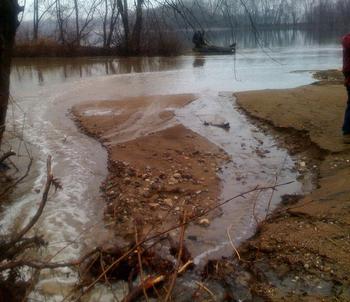 Discharge from collapsed wastewater treatment plant outfall pipe to a Massachusetts river. December 2008. (Photo courtesy MassDEP)
The National Association of Clean Water Agencies said today that budget cuts of any kind at this time to the Clean Water Act program "ignore the very real financial constraints of states and municipalities to implement a growing array of increasingly costly CWA requirements."
"While NACWA recognizes the austere budgetary times under which the federal government must operate, these same circumstances are being experienced in municipalities and rate-paying households across the country," said the association, which represents 300 public agencies and organizations.
The EPA, the Government Accountability Office, and the Water Infrastructure Network estimate a $500 billion funding gap over 20 years between what is needed to upgrade and repair the nation's wastewater infrastructure and how much funding is available at all levels of government.
The EPA's Superfund budget is cut to $1.2 billion – a $70 million reduction – for cleanup of public health and environmental hazards at the nation's highest priority hazardous waste sites.
One of the cuts Jackson said it was hardest for her to make is in funding to reduce threats to people's health in the Great Lakes ecosystem. Only $350 million is budgeted – a $125 million decrease from FY 2010, the first year of the program.
There are several increases in the EPA's proposed FY 2012 budget.
EPA is asking for an increase in resources to address upstream pollution resources in the Mississippi River Basin. The Mississippi River Basin Program is funded at $6 million and will focus on nonpoint source program enhancements to spur water-quality improvement. This is supported by $600,000 for enforcement activities in the Basin.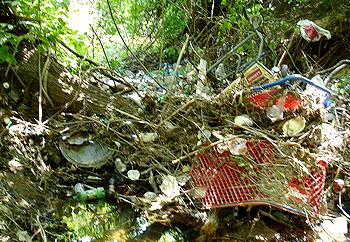 Trash in Bread and Cheese Creek, a tributary of Baltimore's Back River, which flows into the Chesapeake Bay, July 2010. (Photo by Kharstin)
The budget for the Chesapeake Bay Program is increased by $17.4 million to $67.4 million to support EPA's work under the President's Executive Order on the Chesapeake Bay, for implementing a strategy to restore Bay water quality.
There is a $27.5 million increase in enforcement and compliance, allowing for investments to increase efficiencies and streamline enforcement by using the latest e-reporting and monitoring tools. EPA will increase oversight and inspections at high risk chemical and oil facilities, Jackson said.
The EPA budget includes a $16.1 million increase to reduce chemical risks, increase the pace of chemical hazard assessments, and provide the public with greater access to chemical information for informed decision making.
State and tribal grants are increased $84.9 million over FY 2010 to a proposed $1.2 billion. This funding will help communities take steps to meet the pollution standards EPA has developed under the Clean Air Act and the Clean Water Act.
This includes an additional $21 million for Water Pollution Control grants that support states as they develop water quality standards, identify impaired waters, develop of Total Maximum Daily Loads for use in permit actions, and targeted enforcement to address the most serious cases of noncompliance.
The EPA budgeted an additional $46 million for regulatory efforts to reduce greenhouse gas pollution and implement greenhouse gas reporting requirements under the Clean Air Act. This includes $25 million for states and $5 million for EPA to address greenhouse gases in Clean Air Act permitting activities.
The FY 2012 EPA budget provides $584 million to support research and innovation into new and emerging environmental science. This includes a $24.7 million increase to Science to Achieve Results grants to ensure that EPA is using the best science to protect air, water and land. Jackson said EPA's research program is being restructured to ensure that scientific work is conducted more efficiently and effectively.
Kim Knowlton of the Natural Resources Defense Council said Sunday that the House Republicans' continuing resolution "would undermine EPA programs that have protected the nation's health for the last 40 years."
Knowlton cited an analysis by the White House Office of Management and Budget that estimated EPA's regulatory work "has helped prevent millions of cases of respiratory illnesses each year, along with hundreds of thousands of asthma attacks, even hundreds of thousands of premature deaths annually among Americans."
Click here for more information on EPA's proposed FY2012 budget:
Copyright Environment News Service (ENS) 2011. All rights reserved.