Dirty Bunker Fuel Banned for Large Ships in U.S., Canadian Waters
LONDON, UK, March 26, 2020 (ENS) – The international body governing the shipping industry today approved rules to limit air pollution from large ships in most U.S. and Canadian waters. The rules will apply to container and cargo ships, oil tankers, and large cruise ships flying any and all flags.
"This toxic air pollution, produced by burning dirty, bottom-of-the-barrel bunker fuel to power ships, causes health problems ranging from asthma to cancer and heart disease for people onshore," said Erich Pica, president of Friends of the Earth, which has litigated and advocated for 10 years to achieve the rules approved today.
The rules adopted by the Marine Environment Protection Committee of the International Maritime Organization require large ships that operate in a designated Emission Control Area to use cleaner fuel and technology, leading to air quality and public health benefits that are expected to extend far inland.
The Emission Control Area rules were proposed in March 2009 by the U.S. and Canadian governments and the International Maritime Organization adopted them on the fastest possible timetable.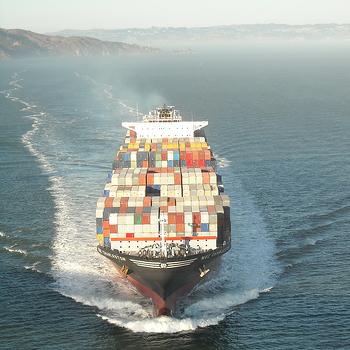 Container ship trailing polluting emissions sails through San Francisco Bay. August 2008. (Photo by Daniel Ramirez)
"This is a change that will benefit millions of people and set in motion new innovations for the shipping industry. We're gratified by the IMO's decision to help keep our air clean and our communities healthy," said EPA Administrator Lisa Jackson.
Jackson said that as a result of the cleaner air, nearly five million people will experience relief from acute respiratory symptoms in 2020 and as many as 14,000 lives will be saved each year.
Approval of the Emission Control Area is "a major victory" for Friends of the Earth, said Pica.
In 2000, the nonprofit Bluewater Network, now part of Friends of the Earth, challenged a U.S. EPA rule in federal court because it insufficiently regulated air pollution from ships in U.S. waters, as required by the Clean Air Act.
Friends of the Earth pursued further lawsuits in 2003 and 2007 to force the Bush-era EPA to reduce air pollution from ships.
Today's IMO decision is the first Emission Control Area adopted under amendments to an IMO treaty in 2008 that strengthened and expanded both the ECA emissions standards and the approval criteria.
In developing the U.S. proposal in 2009, EPA collaborated with partners at the departments of Homeland Security, Defense, State, Transportation, and Commerce, among others.
Today, Jackson expressed satisfaction that air pollution from ships will be controlled. "The sulfur, particulate emissions and other harmful pollutants from large ships reach from our ports to communities hundreds of miles inland, bringing with them health, environmental and economic burdens," said Jackson. "Cleaning up our shipping lanes will be a boon to communities across North America."
Large commercial ships, such as oil tankers, cruise ships and container ships, currently use fuel with very high sulfur content which, when burned, emits harmful levels of particulate matter and nitrogen oxide that can travel inland, causing severe respiratory illnesses.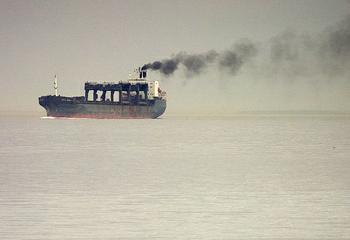 Ship lays a trail of emissions as it sails north through the Georgia Strait separating the U.S. and Canada. (Photo by YVRJohn)
These ships, most flying the flags of other countries, make more than 57,000 calls at more than 100 U.S. ports annually, said Jackson. More than 30 of these ports are in metropolitan areas that fail to meet federal air quality standards.
Enforcing the Emission Control Area standards will reduce sulfur content in fuel by 98 percent – slashing particulate matter emissions by 85 percent, and nitrogen oxide, NOx, emissions by 80 percent.
To achieve these reductions, tougher sulfur standards will phase in starting in 2012, reaching no more than 1,000 parts per million by 2015.
Also, new ships must use advanced emission control technologies beginning in 2016 which will help reduce NOx emissions.
"Large ships, including foreign-flagged ships, will no longer be allowed to wantonly pollute our air and harm our health," said John Kaltenstein, marine program manager at Friends of the Earth.
"While much of the shipping industry, including the World Shipping Council, supported the rules adopted today, the cruise industry opposed it, showing once again that its claims of environmental stewardship and industry leadership are nothing more than hot air," Kaltenstein said.
In a paper explaining the importance of the upcoming Emission Control Area decision, World Shipping Council president and CEO Christopher Koch said his organization supports the IMO designation because the shipping industry wants to see the international body maintain its position as the leading regulatory authority for establishing environmental standards applicable to international shipping.
Failure of the IMO to designate an Emission Control Area might "resuscitate influential political voices in the U.S. to call for unilateral regulatory action, arguing that the IMO cannot be relied on to act on such matters in a timely manner," warned Koch, adding, "This would be most unfortunate."
The rules created today do not directly address emissions of greenhouse gases or black carbon. Friends of the Earth plans to fight for additional regulations to address these pollutants.
Copyright Environment News Service (ENS) 2010. All rights reserved.
© 2010 – 2012, Jim Crabtree. All rights reserved.