Worst Ice Year Kills Canadian Seals Before Hunters Can
CHARLOTTETOWN, Prince Edward Island, Canada, March 26, 2010 (ENS) – Thousands of harp seal pups are presumed dead in Canada's Gulf of St. Lawrence and starving pups are being found abandoned on the beaches of Prince Edward Island, victims of the worst ice conditions ever recorded in the region.
Environment Canada said March 16 that ice conditions in the Gulf were the lowest in the 41 years it has kept records.
Off Newfoundland, Canada's other seal hunting ground, ice has formed only off the Northern Peninsula when, by now, it has usually extended along the island's northeast coast.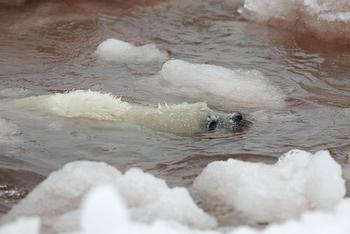 Evolved to live its first months on ice, seal pup struggles through slushy water in the Gulf of St. Lawrence. March 22, 2010. (Photo courtesy IFAW)
Observers from the International Fund for Animal Welfare report that the Gulf of St. Lawrence, the annual birthing ground of hundreds of thousands of harp seals, is "essentially devoid of both ice and seals."
"The conditions this year are disastrous for seal pups. I've surveyed this region for nine years and have never seen anything like this," said Sheryl Fink, a senior researcher with IFAW.
"There is wide open water instead of the usual ice floes, and rather than the hundreds of thousands of seal pups that we normally encounter, only a handful of baby harp and hooded seals, animals that are normally found on ice, remain on the beaches," she said.
Other observers report that the lack of ice has left seal mothers with few places to bear their young or to feed their pups. Many people have seen the newly born pups stranded on beaches instead of being born out on the ice-covered Gulf where they have entered the world for hundreds of years.
Yet the federal government increased the quota for this year's seal hunt just a few days after federal Fisheries Minister Gail Shea told the Canadian Broadcasting Corporation March 10 that poor ice conditions could cause the cancellation of this year's Gulf of St. Lawrence seal hunt. It usually begins at the end of March.
On March 15, Shea increased the total allowable catch of harp seals by 50,000, to 330,000 animals. She said the current estimate of the harp seal population is approximately 6.9 million animals, or more than triple what it was in the 1970s.
The minister's announcement was criticized by animal welfare organizations, conservationists, and sealers, in what Fink calls "a rare moment of agreement."
"Our government recognizes the importance of the sealing industry to the people and the economies of Canadian coastal communities," said Shea. "Ongoing efforts are made to ensure our management decisions include the perspective of our scientists, as well as the input of Canadians in Atlantic Canada, Quebec and the North who work and depend on the industry for their livelihood."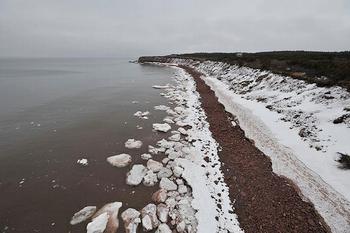 No ice, no seals in this stretch of the Gulf of St. Lawrence. March 23, 2010. (Photo courtesy IFAW)
The one year total for the harp seal TAC includes a developmental allocation of 20,000 seals to support three value-added projects proposed by the sealing industry in Atlantic Canada, Shea said.
The Canadian Sealers Association says, "Improved handling and processing of fur and leather have occurred and a significant market breakthrough has occurred in China. Oil is rich in Omega-3 fatty acid and amino acids and the refining of oil is continuing and offers some real possibilities in the health industry."
But extremely high pup mortality is happening again this year. In 2007, 99 percent of harp seal pups born in the Southern Gulf of St Lawrence are thought to have died due to lack of ice.
"It is reckless and irresponsible for the government to allow the hunt to proceed this year, given the high pup mortality that is expected," she said.
"Under a precautionary approach, we should be protecting the few pups that might escape the devastating lack of ice this year," said Fink. "Given the almost complete lack of demand for seal skins, allowing the commercial slaughter of these survivors to proceed is simply adding insult to injury."
Scientists with IFAW are concerned that the cumulative effects of high pup mortality due to the poor ice conditions, and high numbers of pups killed during Canada's commercial seal hunt could be devastating to the species.
Copyright Environment News Service (ENS) 2010. All rights reserved.
Environment News Service (ENS) © 2010 – 2012 All Rights Reserved.