Earth's Hour of Darkness Illuminates Need for Climate Action
GLAND, Switzerland, March 26, 2010 (ENS) – A 24 hour-long wave of darkness will sweep around the globe as people and corporations turn out the lights from 8:30 to 9:30 pm local time on Saturday, March 27 to mark Earth Hour – sponsored by the World Wildlife Fund to promote effective climate change action.
New Zealand's Chatham Islands will be the first place to start Earth Hour – the South Pacific island of Samoa will end the sweep 24 hours later.
Calling it "the greatest global action on climate change ever witnessed," WWF says this year 3,100 cities in 121 countries on all seven continents have confirmed that they will turn off their lights for Earth Hour.
Participating cities include Athens, Bangkok, Cape Town, Delhi, Dubai, Geneva, Hong Kong, Istanbul, Manila, Moscow, Rome, Seoul, Singapore, Sydney, Tel Aviv, Toronto and Washington DC. First time Earth Hour cities include Stockholm and Hiroshima.
Countries and regions involved for the first time this year include Cambodia, Czech Republic, Ecuador, Madagascar, Mongolia, Nepal, Paraguay, Saudi Arabia, and the U.S. Commonwealth of the Northern Marina Islands in the Pacific Ocean.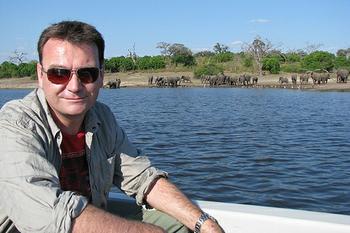 Earth Hour Executive Director Andy Ridley in Botswana, 2008. (Photo courtesy Earth Hour Global)
"Earth Hour brings together cities, communities, businesses and individuals on the journey to positive action on climate change," said Earth Hour Executive Director Andy Ridley.
In the United States, 30 U.S. states and 150 municipalities are officially supporting Earth Hour.
"Earth Hour sends a message that it's time for America to switch to a cleaner, safer and more secure future," said WWF-US President and CEO Carter Roberts. "We expect tens of millions Americans all across the nation will take part because they care about our country, our planet and our future."??
"Simple individual actions such as turning off a light can amount to a collective and profound impact on energy conservation," said Michael Sole, who heads the Florida Department of Environmental Protection. "Earth Hour reminds us of the harmful effects of climate change, and how worldwide action can alleviate this issue both in the present and for the future."
U.S. landmarks such as Mount Rushmore in South Dakota, St. Louis' Gateway Arch, Sea World in Orlando, The Strip in Las Vegas, New York's Empire State Building, Washington DC's National Cathedral, and the Space Needle in Seattle are among the hundreds of sites that will turn off non-essential lighting for the hour.
In the UK, intense lobbying by Members of Parliament has resulted in Big Ben and the Houses of Parliament pledging to switch off their lights for Earth Hour.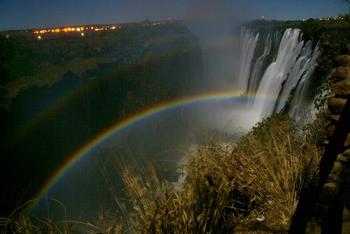 Victoria Falls where a candlelight vigil will be held on Saturday, March 27 to mark Earth Hour (Photo courtesy WWF)
A candlelit vigil with music will take place at one of the world's largest waterfalls, Victoria Falls, on the border between the African nations of Zambia and Zimbabwe. Organized by the NGO Environment Africa the event will be attended by hundreds of schoolchildren, community members and dignitaries to recognize what organizers call Earth Hour's "unifying global message of hope and action for a better healthier planet."
Other world icons observing Earth Hour include the Eiffel Tower in Paris, New York's Empire State Building, the Trevi Fountain in Rome, the Sydney Opera House, Cape Town's Table Mountain, Rio's Christ the Redeemer statue, the Hiroshima Peace Memorial, and the world's tallest building, Burj Khalifa in Dubai, United Arab Emirates.
Earth Hour originated in Sydney, Australia three years ago, when more than two million residents turned off their lights for one hour. Last year, nearly one billion people jointly participated in Earth Hour.
This year, corporate support for Earth Hour has taken root with Canon, Coca-Cola, HSBC, Nokia Siemens Networks, PriceWaterhouseCoopers, Wallenius Wilhelmsen Logistics and Wells Fargo among the early adopters.
"As the most recognized brand in the world, The Coca-Cola Company lends its weight to the most important issue facing our planet today," said Roberts. "By helping to support Earth Hour, Coca-Cola joins WWF and millions of people around the world to send a clear message about the problem of climate change and the urgent need for solutions."
"Forging real progress toward a cleaner future will require behavioral changes from consumers and business," said Muhtar Kent, chairman and CEO of The Coca-Cola Company. "Earth Hour is an important, symbolic event that demonstrates that even small steps, when taken on a global scale, can make a difference in addressing climate change."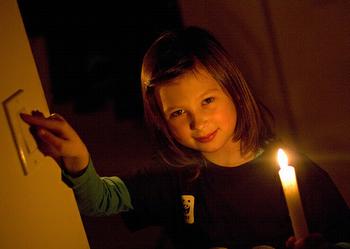 This young British Columbia resident lights her way with a candle for Earth Hour 2010. (Photo by Jeremiah Armstrong courtesy WWF-Canada)
Headquartered in London, the banking and financial services organization HSBC will switch off the lights in its 8,500 office locations across 86 countries to inspire the behavioral change and corporate accountability the company feels is required to address the ongoing indiscriminate threat of global warming.
"Climate change remains a clear challenge to human society, and the symbolic act of powering down our offices for an hour is a way of heightening awareness of the need for everybody to act responsibly and cohesively to manage the challenge," said Simon Martin, head of group corporate sustainability for HSBC.
Communications giant Nokia Siemens Networks will urge its offices worldwide to "flick the switch" for Earth Hour, and will encourage its 64,000 strong staff and worldwide customer base to be part of a global resolution to climate change.
Beer giant Molson Coors will observe Earth Hour by turning off all non-essential interior and exterior lighting and signage at the Denver headquarters and the breweries and offices at Molson Coors Canada and Molson Coors UK.
PricewaterhouseCoopers, the world's largest professional services firm, has conducted a study of the international business community's attitudes toward climate change.
Entitled "Appetite for Change," the survey, published in January, shows that 84 percent of the corporate executives who responded believe global warming will change the way they do business over the next two to three years.
PricewaterhouseCoopers itself has developed a program of measured carbon emission targets to meet the coming changes to the international business landscape. The company will show its commitment to climate action by engaging its offices in more than 150 countries to switch off their lights for Earth Hour 2010, while encouraging its 163,000 staff to participate individually in the worldwide show of action to control global warming.
"On past experience, participation is more than what we know about before the event, particularly when it comes to cities and communities," said Earth Hour's Ridley. "We are already overwhelmed by how the people of the world have committed to Earth Hour 2010 but we won't know the full extent of its impact until after it takes place across the globe."
Copyright Environment News Service (ENS) 2010. All rights reserved.
© 2010 – 2012, Jim Crabtree. All rights reserved.