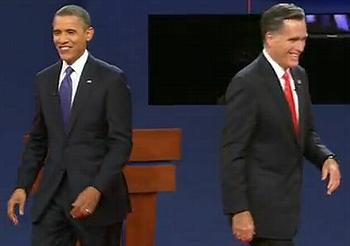 DENVER, Colorado, October 3, 2012 (ENS) – The deep division between President Barack Obama's green energy policies and his Republican challenger Mitt Romney's preference for coal and tar sands oil were apparent in their first presidential debate tonight in Denver.
Challenged by Obama to explain his plan for the country if he is elected on November 6, Romney replied, "My plan has five basic parts. One, get us energy independent, North American energy independent. That creates about four million jobs."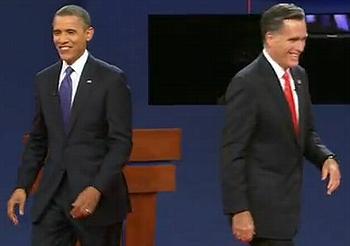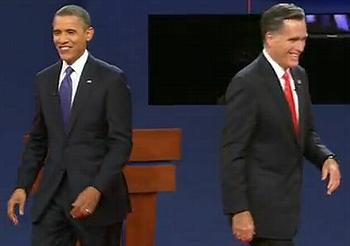 Obama responded, "On energy, Governor Romney and I, we both agree that we've got to boost American energy production, and oil and natural gas production are higher than they've been in years. But I also believe that we've got to look at the energy sources of the future, like wind and solar and biofuels, and make those investments."
"So all of this is possible," said Obama. "Now, in order for us to do it, we do have to close our deficit, and one of the things I'm sure we'll be discussing tonight is, how do we deal with our tax code? And how do we make sure that we are reducing spending in a responsible way, but also, how do we have enough revenue to make those investments?"
After the two candidates sparred about who gets taxed and how much and how deficit reduction is to be accomplished, the debate turned again to energy production and its environmental consequences.
Romney said, "Energy is critical, and the president pointed out correctly that production of oil and gas in the U.S. is up. But not due to his policies. In spite of his policies."
"Mr. President," said Romney, "all of the increase in natural gas and oil has happened on private land, not on government land. On government land, your administration has cut the number of permits and licenses in half. If I'm president, I'll double them, and also get the – the oil from offshore and Alaska. And I'll bring that pipeline in from Canada."
The pipeline Romney refers to is TransCanada's Keystone XL pipeline that would carry diluted bitumen from the Alberta tar sands to refineries on the Gulf Coast. Late last year, President Obama rejected TransCanada's first application for a presidential permit, required for a transborder pipeline, in part because House Republicans were pushing him to approve it before the State of Nebraska had settled on a route that would protect the environmentally sensitive Ogllala aquifer that supplies drinking and irrigation water to eight Midwestern states.
In September, TransCanada submitted a new route for the project and the Alberta-based company has reapplied for a presidential permit.
Romney was not accurate in his statement that "all of the increase in natural gas and oil has happened on private land."
Instead, according to an analysis of government data released in February by the right wing energy think tank Institute for Energy Research, "In FY2011, oil and natural gas production on federal lands declined from their 2010 levels: oil production on federal lands declined by 11 percent and natural gas production on federal lands declined by 6 percent. Meanwhile, there was a 14 percent increase for oil production on private and state lands and a 12 percent increase for natural gas production on private and state lands."
"Natural gas production on federal lands in FY2011 declined by 27 percent from its FY2009 level, when it peaked at 6.82 trillion cubic feet, while natural gas production on state and private lands increased 28 percent over that time period," the Institute's analysis shows.
"And, by the way," said Romney, "I like coal. I'm going to make sure we can continue to burn clean coal. People in the coal industry feel like it's getting crushed by your policies."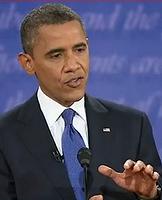 For years, the U.S. coal industry has objected to what it calls the Obama Administration's "war on coal." The coal industry claims that U.S. Environmental Protection Agency policies are blocking mining operations, causing coal companies to lay off coal miners.
But in fact, the coal industry's percentage of power generation has dropped since Obama took office due to the rise of cheap natural gas, rather than to the polices of the Obama Administration.
Obama called for an end to government subsidies for oil and gas companies, saying, ""The oil industry gets $4 billion a year in corporate welfare. Basically, they get deductions that those small businesses that Governor Romney refers to, they don't get."
"Now, does anybody think that ExxonMobil needs some extra money, when they're making money every time you go to the pump? Why wouldn't we want to eliminate that?" asked Obama.
Romney responded, "First of all, the Department of Energy has said the tax break for oil companies is $2.8 billion a year. And it's actually an accounting treatment, as you know, that's been in place for a hundred years. Now…"
Obama broke in, saying, "It's time to end it."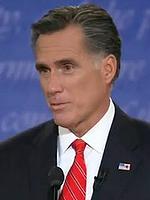 Romney continued, "And in one year, you provided $90 billion in breaks to the green energy world."
"Now, I like green energy as well, but that's about 50 years' worth of what oil and gas receives," Romney said. "And you say Exxon and Mobil. Actually, this $2.8 billion goes largely to small companies, to drilling operators and so forth."
Romney indicated that under his plan to lower the tax rate on corporations, the oil and gas subsidy could indeed be cut. "You know, if we get that tax rate from 35 percent down to 25 percent, why that $2.8 billion is on the table," he said. "Of course it's on the table. That's probably not going to survive if you get that rate down to 25 percent."
"But don't forget, you put $90 billion, like 50 years' worth of breaks, into – into solar and wind, to Solyndra and Fisker and Tesla and Ener1. I mean, I had a friend who said you don't just pick the winners and losers, you pick the losers, all right? So this – this is not – this is not the kind of policy you want to have if you want to get America energy secure," Romney charged.
In the debate, Obama did not defend these investments in the electric car companies Fisker and Tesla, neither of which have proven profitable as yet, or in Solyndra, a California solar energy company that borrowed $535 million before it went bankrupt in August 2011.
Solyndra is now the target of a federal criminal investigation to determine whether the company was awarded the massive loan due to undue political influence, despite what critics said were signs the company was already in financial trouble.
Romney criticized Obama for these investments, saying, "And these businesses, many of them have gone out of business, I think about half of them, of the ones have been invested in have gone out of business. A number of them happened to be owned by people who were contributors to your campaigns."
Romney mentioned Ener1, the parent company of EnerDel, maker of lithium-ion battery systems that received a $118.5 million energy grant in August 2009. In January, Ener1 filed for bankruptcy protection after handing six-figure payouts to top executives.
Obama's Department of Energy also helped to finance other green energy companies that went bankrupt – after the firms gave big payments to executives, found an investigation by the Center for Public Integrity and ABC News.
The nonprofit Citizens Against Government Waste points to nearly 20 energy companies that received federal loan guarantees or grants that have had layoffs, losses or bankruptcies.
But Romney exaggerated the $90 billion figure that he says Obama put into green energy investments.
The $90 billion figure for government investment and tax incentives does appear in a Council of Economic Advisers document on the White House website and represents the financing available in the Obama stimulus package, the American Recovery and Reinvestment Act of 2009.
Not all that money has been spent. The Energy Department received $35 billion under the act but has spent only $26 billion to date. Some of the green energy funds were appropriated during the Bush Administration, but not spent until Obama took office. And some funded programs signed into law by Bush, but not financed until Obama took office.
Much of the rest has been spent to lay the foundation for the clean energy economy of the future: energy efficiency retrofits in low-income homes; installation of wind turbines and solar panels; smart grid modernization; domestic manufacturing of advanced batteries, vehicles and fuels; traditional public transit and high-speed rail; research, development, and demonstration of carbon capture and sequestration technologies; job training; and Clean Energy Equipment Manufacturing tax credits that partner with private investment.
Environmental groups stress the contrast between the two candidates.
Frances Beinecke, president of the NRDC Action Fund, said, "The candidates laid out a clear choice. President Obama wants to invest in energy efficiency and renewable power while protecting our health. Governor Romney would bet our future on the fossil fuels of the past. This is a choice between responsibility and recklessness, and the choice is ours to make."
Also head of the Natural Resources Defense Council, Beinecke was speaking in her role as head of the NRDC Action Fund, which works to "achieve the passage of legislation that jump-starts the clean energy economy, reduces pollution, and sustains vibrant communities for all Americans."
Michael Brune, executive director of the Sierra Club, which engages in a "Beyond Coal" campaign, slammed Romney for his energy and environment policies and backed Obama.
"Romney, whose energy plan was written by Big Oil, said he'd double the amount of destructive oil and gas drilling on public lands and that he would approve the dirty Keystone XL tar sands pipeline. He attacked investments in clean energy and even flat out said that he 'likes coal,'" fumed Brune.
"President Obama vowed to double down on the energy sources of the future, like wind and solar, and boldly stated that Big Oil does not need the $4 billion per year it gets in corporate welfare," he said.
 
"Tonight's debate only underscored what we've known for weeks now – the choice this November couldn't be clearer, and the importance of this election cannot be overstated for the millions of Americans who want a secure climate future, a prosperous clean energy economy and clean air and water."
Outside the University of Denver debate venue, several dozen youth demonstrators rallied to demand that the candidates explain their plans for addressing the destabilization of our planet's climate.
The rally followed the delivery Friday by nine environmental organizations of 160,000 signatures to debate moderator Jim Lehrer urging him to ask a question about climate change during the first presidential debate.  
"Climate change is one of the most important issues for young people, but addressing it has been shockingly absent from the campaign. Young voters across the country are calling on President Obama and Mitt Romney to break the silence on climate change and stand up to Big Oil and King Coal by offering plans for clean energy that match the scale of the climate crisis," said Whit Jones, campaign director for PowerVote. org and Energy Action Coalition.
Neither of the presidential candidates has yet explained his plans for addressing the issue.
"The climate crisis and continued over-dependence on fossil fuels are crippling our economy, health, foreign policy, and national security," said Micah Parkin, Colorado Organizer for 350 Action Fund, one of several groups organizing the rally. "It's time for our nation's leaders to wake up, take responsibility, and chart a determined new course – one that breaks our fossil fuel addiction, transitions us to a sustainable energy future, and ensures a healthy, livable planet for this and future generations."
Copyright Environment News Service (ENS) 2012. All rights reserved.